Top Product Reviews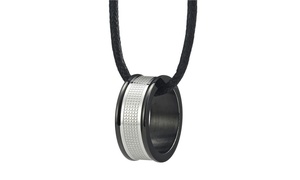 The natural variations in the stone are absolutely beautiful. The leather cord is pretty stiff and not very long, so I may restring the pendant.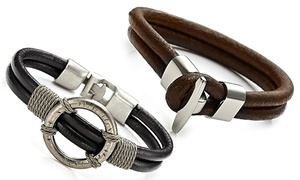 My man love it. Perfect fit. Very good quality. My co worker requested me to order him one.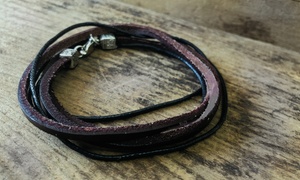 Perfect fit, easy to put on. Looks great especially when paired with other bracelets.
Accessorize with Men's Jewelry from Groupon
Of all the
jewelry and watches
on Groupon, men's jewelry is perhaps the boldest in terms of style and materials. Many pieces of jewelry for men manage to toe the line between rugged and elegant by shaping such materials as leather and titanium into iconic designs evoking classical fine jewelry. And the pieces tend to stick to timeless styles, too, as seen in the enduring popularity of the gold chain necklace. On the left-hand menu, you can filter the selection by material, price range, or metal type, as well as narrow down any category to include your favorite brands such as Steve Madden or Triton.
Manly Materials
Unlike women's engagement rings, in which a diamond is usually the centerpiece, men's
rings
tend to keep things simple—at first glance. Instead of gem inlays, men's wedding bands may draw the eye with unconventional materials such as onyx, white tungsten, or stainless steel, while even more traditional gold rings may do so with flashy symbols such as lions and skulls. Likewise, men's
bracelets
display your creative side with braided leather or steel links layered with black rubber.
Suit accessories
are generally intended to complement
formalwear
, but sometimes a pair of steel cufflinks with Mother of Pearl inlay can add a playful accent to french cuffs.
Silver and Gold
Despite so many funky materials, men's jewelry still has its fair share of timeless items made with classic metals, such as silver
earrings
glittering with cubic zirconia. The gold standard for men's
necklaces
remains the classic chain, and you'll find plenty on Groupon—from Italian 14K gold chains to diamond-cut chains in the pavé Cuban style. For a more unique presentation, stand out by sporting diamond-cut rosaries and silvertone crosses or personalized jewelry for men such as dog tags and monograms.