Top Product Reviews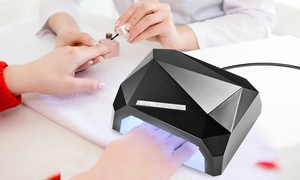 I really love this item, and would definitely buy it again. It saves me so much time. And I don't get those ridges that make my natural nails split from those nail drills that are used in the nailery. Because I don't add nails or acrylic, most nail technicians don't know how NOT to use the drill. Now, I just do my own.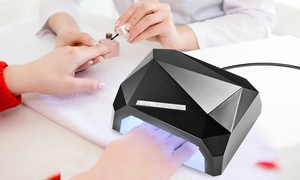 It works really good. I'll save a lot of money doing my own gel manicures.
Shop Nail Products Every Day on Groupon
With so many deals on
nail salons in your area
, Groupon makes it easy to get a professional mani-pedi—but what if you want to work on your own nails at home? We can help with that, too, thanks to an ever-changing selection of nail products that fit right into your
beauty
routine. Whether you're looking for
conservative or creative nail ideas
, our collection covers the basics of what you need to craft the perfect cuticles.
Staying in Shape
Maintaining your own nails at home means having the right equipment. Once you've decided on
what kind of nail shape suits you best
, it's a simple matter of upkeep—something with which an electric nail file or emery board can help. Your maintenance routine might also benefit from a cuticle cutter or the many other items found in Groupon's assortment of manicure kits.
Colors Galore
With a variety of both budget-friendly and higher-end nail products, Groupon carries a range of nail polish sets to add dazzle to your digits. The top nail polishes tend to vary
depending on the category
, but we can help you filter our selection to some of the top brands available:
,
OPI
, and
Revlon
, for example. Another factor to consider: whether you want your
fingers and toes to match
. If that's the case, Groupon also carries plenty of pedicure-specific supplies and toenail polishes as well, including helpful items such as toe separators.
Getting Creative
Taking care of your nails at home is also an opportunity to play with different designs. Among the many
tools to make your own nail art
are colorful rhinestones or nail stencils and stickers that are just as easy to remove as they were to apply. Sometimes you might just want to apply your polish and forget about it, though, in which case it's simple to apply
long-lasting, no-chip polish
at home with gel polish and nail dryers that harness UV light to cure the polish for quick drying.