Top Product Reviews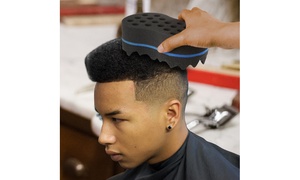 A must have for my coily textured short hair! I recommend using it about 30min after applying whatever styling crème you use to set your mane. This prevents the product from soiling the sponge, thus extending the quality of the brush.
Shop Men's Haircare Every Day on Groupon
Men's haircare may not necessarily take as long as it does for women, but that doesn't mean it's any less important, especially if you need to make a big impression for a job interview or first date. Manage your mane with Groupon's great deals on
men's grooming products
, including hairbrushes, styling products, and products that encourage hair health and growth.
Stock Up On Essentials
A few grooming essentials can go a long way toward maintaining and improving the health and look of your hair. A blow dryer can cut down on your prep time in the morning by quickly eliminating excess moisture after a shower. Once your hair is dry, apply your preferred brand of
hairstyling product
or run a brush through to help achieve your unique style and remove any knots.
Nourish Any Hair Type
If you suffer from dandruff or dry scalp, pick up haircare products that can nourish your hair while giving you a younger, more vital look. Castor oil, for example, can help improve circulation in the scalp and promote hair growth. For dry, brittle hair and dandruff, massage argan oil into the scalp once a week to help add moisture and protect against sun damage.
Rebuild Your Hair
The bald look works for many a man, but if it doesn't work for you, check into Groupon's collection of hair-growth products. These can include serums or foams with minoxidil, a common product used in hair regrowth, or even less traditional methods such as hair-regrowth helmets that use lasers to stimulate follicles.