14-Day Enrichment Cruise through Europe - Belgium, Netherlands, Ireland, and the UK
14-Day European Cruise with Meals and Onboard Lectures and Workshops from The Institute for Shipboard Education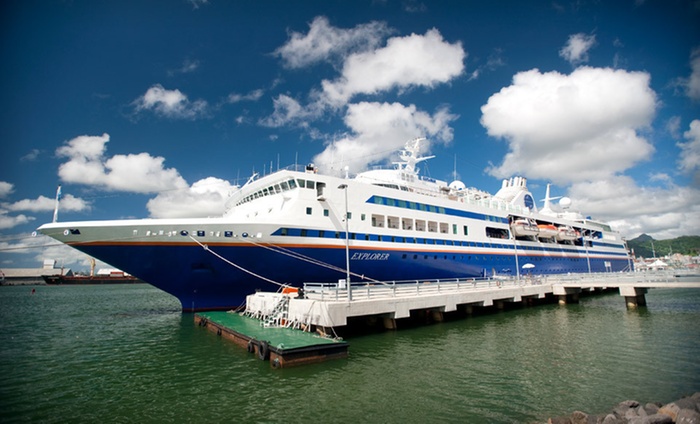 Country-Hopping Cruise to Belgium, the Netherlands, and the United Kingdom with Expert Speakers
The Institute for Shipboard Education was born from an idea to create a floating campus that reflected the ideals of the United Nations and the realities of globalization. As Chinese shipping magnate C. Y. Tung put it, "Ships can transport more than cargo—they can carry ideas." Over the years, the institute has attracted world-famous guest speakers including Mikhail Gorbachev, Mother Teresa, and Nelson Mandela. The Institute for Shipboard Education also administers the study-abroad program Semester at Sea. Today, the cruising university offers two-week Enrichment Voyages for adventurers of all ages, with educational programming that digs deep into each port of call's culture and history.
With this Groupon, you can set out on a 14-day voyage exploring continental Europe and the United Kingdom. The cruise incorporates both lectures and hands-on exploration.
The ship retains vestiges of its former life as a commercial liner. There are barstools in the 9,000-volume library, a nod to the space's former role as the ship's tavern. Despite the emphasis on education, the ship provides several opportunities to relax. The Wellness Center spa, for example, offers massages, manicures, and other pampering services.
See the itinerary for a day-by-day schedule. This deal is only for Segment II, beginning on May 12 and ending May 25.
May 12–17: From Le Havre, you'll cruise north up the English Channel to Antwerp, Belgium. Stroll the cobblestone streets between centuries-old Gothic buildings, or drop in on one of the many designer boutiques and chocolatiers downtown. The next two days are spent in Amsterdam, where a network of scenic canals weaves past cafés and historic sites, including the Anne Frank House.
May 18–25: The ship travels north to Edinburgh, allowing passengers a glimpse of Scotland's seaside bluffs, verdant meadows, and legendary castles. The United Kingdom leg of the tour includes stops in Belfast, Northern Ireland, as well as Dublin. Dublin Castle's stone ramparts have been a lasting symbol of Ireland's rich history since the 13th century. On Grafton Street, pubs hum with traditional folk music as friendly tavern keepers pour frothy pints of Guinness. After Dublin, the trip continues on to your final destination, Dover, England.
Read the Fine Print for important info on travel dates and other restrictions.
What You Get
14-day European cruise departing 5/12/13 from Le Havre, France. Valid for Travel with a Friend packages (two Groupons required), or pay an additional fee to travel solo. Read about package structures here.
Option 1: $1,499 per person, valid for an inside cabin (up to a $2,449 value)
Option 2: $1,899 per person, valid for an outside cabin (up to a $3,099 value)
Solo-Supplement Fee: $750 (option 1), $950 (option 2)
Book by: 4/22/13
Depart by: 5/12/13
Included in all options:
All onboard meals
All onboard lectures and most workshops
Read the Fine Print for important info on travel dates and other restrictions.
What Makes This Getaway Great
We're confident in your Groupon experience and back it with the Groupon Promise. Learn more.
Groupon-Exclusive Discounts. We negotiate directly with hotels and tour operators to get you the deepest discount available -- as only Groupon can.

Handpicked Travel. Our travel experts and writers research every getaway for you.

Booking Guarantee. If the merchant is unable to book the stay you want during the available dates and before the book-by date, we'll refund your purchase.
33 Questions
The Fine Print
Book by 4/22/13 or promo value expires
Depart by 5/12/13
Limit 1/person, + multiple as gifts
Limit 1/visit
Valid only for option purchased
Reservation req'd, subj to avail
91-day cancellation req'd or fee of 25% of Groupon price; 61-day or fee up to 50% of Groupon price; 31-day or fee up to Groupon price
Must be 18+ to check in, 2+ to stay
CC req'd at booking/check-in
Must use promo value in 1 visit
Suggested daily gratuity of $8 not included
Fee to travel solo: $750 (option 1), $950 (option 2)
Solo travelers may request to be matched with stranger, based on availability.
Merchant is solely responsible to purchasers for the care and quality of the advertised goods and services.
See the rules that apply to all deals.
Other Details
Room Details
Two twin beds
Standard occupancy: 2
Maximum occupancy: 2–3 on a case-by-case basis during reservations, based on availability
Adding occupants above standard: in a limited number of cabins, each additional occupant 17 or older may be added for $795 per trip plus $280 in port fees; each additional occupant 16 or younger may be added for $395 per trip plus $280 in port fees.
Fridge, phone, and safe
Built-in desk and wardrobe
Closed-circuit TV with movies
Private bathroom with blow dryer
110- and 220-volt outlets
Outside rooms include picture windows or portholes
Closet-size shower
Hotel Policies
Rollaways: not available
Smoking policy: no smoking in cabins; smoking restricted to the designated area
Pet policy: pets are not allowed onboard.
Accessibility: handicap-accessible cabins are available upon request during booking.
Room upgrades: guests can pay a solo-supplement fee (additional 50% of Groupon price) to have their own cabins with single occupancy. Rooms for up to 4 people may be purchased for an additional fee.
Getting There
Beginning airport: Deauville Saint-Gatien (DOL) outside of Deauville, France
Beginning port: Terminal Croisière, Le Havre, France
Final port: Dover, England
Final airport: Heathrow Airport (LHR)
Traveler's Tips
A passport is required for all travel outside the U.S. Passports must be valid for 6 months past return date.
Before international travel, always check the State Department's website for important info on the destination and its entry/exit requirements.
Those traveling alone may participate in the Roommate Share to avoid paying the solo-supplement fee.
The Groupon Guide to: Ointments
We can all agree that the hardest pill to swallow is any pill at all. Ointment provides all of the medical benefits of a pill, but you spread it directly on your skin where it gets absorbed into your heart. Here are just a few of the things ointment can cure:
Raging itch

Nervous twitch

Hit by a switch

Married to a witch

Computer glitch

Transparent skin

Not ready for prime time

Too cool to care

Coleslaw belly

Grotesque

Not enough mustache luster

All out of time