The Chelsea - Atlantic City, NJ
One-Night Stay for Two in a Luxe Bay-View Room with Solarium Passes and In-Room Movie. Combine Up to Three Nights.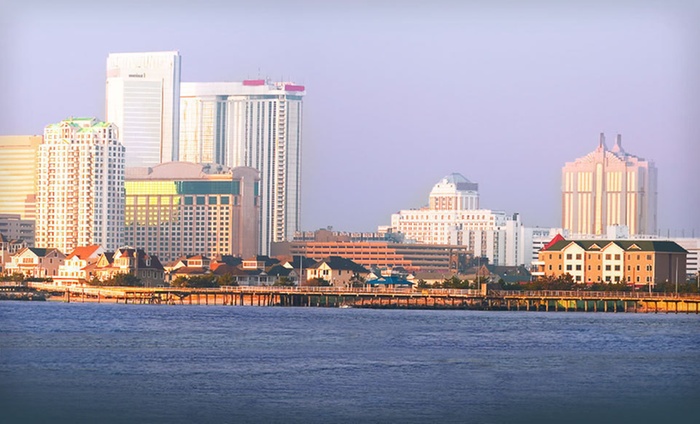 Fine Dining and Nightlife amid Chic 1940s-Style Decor at 4-Star Atlantic City Hotel
Purple neon lights cast a glow onto a slender, 20-story tower topped by a violet-colored sign reading "the Chelsea" in cursive lettering. This is the centerpiece luxe tower of The Chelsea, a 4-star hotel that looks like it was plucked from a film-noir classic and placed right along the ocean, just a short walk from Atlantic City's iconic boardwalk. Inside, retro-chic decor—such as crystal chandeliers in the ballroom and abstract lamps elsewhere—fits right in with the city's glamorous past. Each chic luxe king or queen room embodies the hotel's signature style and overlooks the bay. This deal also includes two passes to the Sea Spa's Solarium, which has a co-ed jacuzzi, a sauna, and a steam room.
Named after the hotel's first owners, the onsite restaurant Teplitzky's serves classic American diner fare and cocktails to guests seated on vintage barstools, and it's also a casual spot to enjoy breakfast in the morning, with entrees ranging from huevos rancheros to apple and pecan whole-wheat waffles.
Atlantic City, New Jersey: Casinos and Carnival Rides Lining Historic Beachside Boardwalk
No trip to Atlantic City is complete without a stroll along its signature boardwalk, which stretches for 6 miles along New Jersey's eastern coast. Originally built in 1870 to keep sand out of hotel lobbies, the boardwalk grew in popularity as a place where you could drink and gamble during Prohibition without much trouble from the police, as depicted in HBO's Boardwalk Empire. The boardwalk is still popular for its casinos, but it's family-friendly, too. Visitors can peruse amusement parks, arcades, and carnival-style food vendors, with several businesses open year-round.
On the boardwalk, it's worth it to check out the Absecon Lighthouse, which is more than 150 years old. Climb its 228 steps to the top for sweeping views of the city skyline and the sea. Down at the base, you'll find a replica of the original light keeper's lonely cloister and the collection of sock puppets he created to keep him company.
Proving further that Atlantic City isn't all nightclubs, boardwalk, and casinos is Gardner's Basin, a maritime village along the bay. Here, artisans use seashells and driftwood to hand make items such as wind chimes and picture frames. However, the basin's biggest claim to fame is the 25,000-gallon Atlantic City Aquarium swimming with turtles and rays.
Atlantic City was damaged only minimally during Hurricane Sandy. The city and its casinos are ready for business and anticipating a successful 2013 season. Read more in this press release from the Atlantic City Alliance. The Alliance notes that the Boardwalk is "still intact and as beautiful as ever."
Read the Fine Print for important info on travel dates and other restrictions.
What You Get
One-night stay in a luxe bay-view king or queen room
Option 1: $79 to check in Sunday–Thursday (up to $214 value)
Option 2: $99 to check in Friday (up to $244 value)
Option 3: $199 to check in Saturday (up to $344 value)
Book by: 3/22/13
Travel by: 4/15/13


Included in all options:
One in-room movie
Two Solarium passes
Read the Fine Print for important info on travel dates and other restrictions.
Amenities
Onsite restaurant
Bicycles available for use
Full-service spa
Fitness center
What Makes This Getaway Great
We're confident in your Groupon experience and back it with the Groupon Promise. Learn more.
Groupon-Exclusive Discounts. We negotiate directly with hotels and tour operators to get you the deepest discount available -- as only Groupon can.

Handpicked Travel. Our travel experts and writers research every getaway for you.

Booking Guarantee. If the merchant is unable to book the stay you want during the available dates and before the book-by date, we'll refund your purchase.
Be the first to post!
The Fine Print
Book by 3/22/13 or promotional value expires
Must complete travel by 4/15/13
Not valid 2/16 or 2/22
Limit 3 per person, may buy 2 additional as gifts
Limit 3 per visit
Valid only for day of the week purchased
Reservation required, subject to availability
72-hour cancellation notice required or fee up to Groupon price applies
Must be 21 or older to check in
Credit card required at booking and check-in
Not valid with other offers
$1 per day city fee and 14% tax not included.
Merchant is solely responsible to purchasers for the care and quality of the advertised goods and services.
See the rules that apply to all deals.
Other Details
Room Details
Luxe Bay-View Room
One king bed or two queen beds
Standard occupancy: 2
Maximum occupancy: 2 in king rooms; 4 in queen rooms
Adding occupants above standard: $25 for each additional guest
Hotel Policies
Check-in: 4 p.m.
Check out: 11 a.m.
Parking: free lot parking available; valet available for $10 per night on Thursday and $15 per night on Friday and Saturday
Rollaways: available for an additional $30 per night
Smoking policy: no smoking inside the property
Pet policy: pets are not allowed inside the property.
Accessibility: handicap-accessible rooms are available upon request during booking.
Room upgrades: not available
Getting There
By plane: about 15 miles from Atlantic City International Airport (ACY) 
By cab: about $35 from ACY
Traveler's Tips
The Sea Spa is closed Monday through Thursday, but the Solarium remains open daily.
The Groupon Guide to: Famous Haunted Attractions
Many historical landmarks claim to have undead residents, but none are so infamously haunted as these famous destinations:
Winchester Mystery House
Built: 1884–1922
The Ghastly Details: Construction of the maze-like Winchester mansion was overseen by the widow of the Winchester rifle's inventor so that the restless spirits killed by her husband's creation could have a place to crash after their own haunted houses were ordered by the mayor to be blown up with dynamite.
The Ludlow Lighthouse
Built: 1790
The Ghastly Details: Said to have a will of its own, the Ludlow Lighthouse willfully misguided countless ships onto its rocky banks, killing hundreds of seafarers—thus tethering their spirits to the macabre monument and necessitating that it be blown up with dynamite in 1995.
The Carousel of Souls
Built: 1909
The Ghastly Details: After a mule unexpectedly kicked over a kerosene lamp onto a pan of waffle oil, this carousel is the only surviving structure untouched by the Great World's Fair Fire of 1909. Some say that late at night you can still hear laughter, leading experts to recommend that this obviously possessed attraction be safely dynamited later this month.