All-Inclusive Jamaican Vacation with Airfare - Jamaica
Four- or Seven-Night All-Inclusive Jamaican Vacation with Airfare from Vacation Express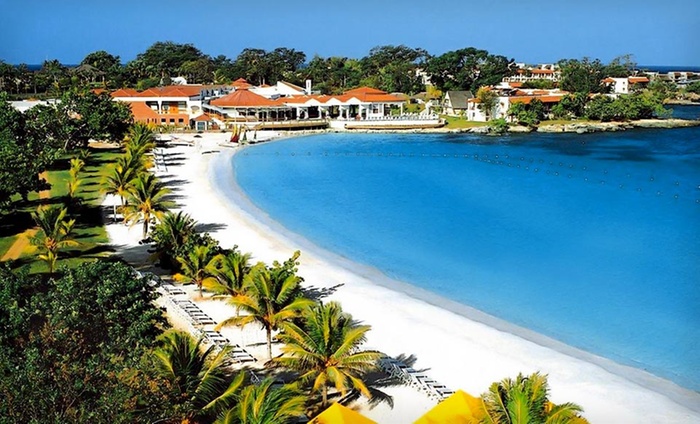 All-Inclusive Resort on Jamaica's Bloody Bay Beach
This trip includes:
Round-trip airfare
Four or seven nights in a deluxe junior suite at Grand Lido Negril
All meals and snacks
Unlimited international premium drinks
Stocked, in-room mini bar
Non-motorized water sports
Access to fitness center and tennis courts
Daily organized activities
Nightly entertainment
Hotel taxes and gratuities
Grand Lido Negril occupies a prime location on the shores of Bloody Bay Beach in western Jamaica. This all-inclusive package covers meals and drinks as well as windsurfing and snorkeling in the bay. The resort has five outdoor Jacuzzis and two swimming pools, including one that's located in the clothing-optional area of the beach. Head to the onsite spa to indulge in soothing treatments ranging from seaweed wraps to reflexology.
All-inclusive privileges give you free rein at any of the resort's restaurants. Reggae Café serves up jerk chicken and other Jamaican treats, while the open-air Grand Terrazza features a lavish buffet. You can enjoy French cuisine by candlelight at Piacere or savor lamb chops in a treehouse-inspired setting at Timber House. In the evenings, the resort's outdoor bars come to life with nightly live entertainment.
Negril, Jamaica: Laid-Back Beach Town with Picturesque Sunsets, Snorkeling, and Cliff Diving
Located on Jamaica's western coast, Negril is known for its white sand beaches, dramatic rugged cliffs, and coral reefs lying just offshore in the Caribbean. Its underwater beauty makes the town a popular spot for scuba diving and snorkeling at Negril Marine Park, and anglers have found the sea filled with blue marlin, wahoo, and mahi-mahi. The city has a front-row seat to some of the world's most beautiful sunsets, and people often climb to the top of waterfront cliffs just to watch. At Rick's Cafe, which is listed in the book 1,000 Places To See Before You Die, groups congregate every night to watch the sun dip below the horizon; some brave adventurers even leap off the 35-foot cliffs into the water.
Often called "the capital of casual," Negril is best defined by its laid-back vibe, from the slow and steady rhythm of the indigenous reggae music to its unofficial uniform—swimsuits and flip-flops. Running along the town is Seven Mile Beach, a stretch of powdery, white sand coastline that earned a spot on Frommer's Best Beaches in the Caribbean list. The town center comprises a shopping mall and a craft market where visitors can pick up locally produced goods.
Farther inland, the mountainous terrain harbors several eco-tourism attractions including hiking, ziplining, and waterfall tours. Take a 60- to 90-minute drive east to reach the cascading YS Falls or Mayfield Falls, where you can wade in 21 natural pools shaded by exotic tropical flowers and ferns. Or stay close to Negril by visiting the Royal Palm Reserve, where 300 acres of swamp forests and wetlands shelter more than 300 types of birds, butterflies, and flowers.
Read the Fine Print for important info on travel dates and other restrictions.
What You Get
Starting at $799, all-inclusive Jamaican vacation with airfare.
19 options available, including departures in May, June, July, August, September, and October from ATL, BNA, MIA, IAD, JFK, ORD, MSY, BOS, CVG. Click here to see all options and departure dates.
Note: All options priced per person and valid for a Travel with a Friend package (two Groupons required), or pay an additional fee to travel solo: $340 for four-night stays in May, June, September, or October; $550 for seven-night stays in May, June, September or October; $400 for four-night stays in July or August; $685 for seven-night stays in July or August. Read about package structures here.
---
Policies and Fees
For all options, book by: 5/17/13

Blackout dates: No blackout dates

Cancellation policy & fees: All cancellations subject to $50 fee per person. 45-day cancellation notice required or fee equal to 50% of Groupon price applies; 31-day cancellation notice required of fee up to Groupon price. Airfare cancellations non-refundable 24 hours after booking.

Taxes: tax included.

Additional fees: $340 or $550 solo travel fee for four- or seven-night stays in May, June, Sept, or Oct; $400 or $685 solo travel fee for four- or seven-night stays in July or Aug

Read the Fine Print for important info on travel dates and other restrictions.
Amenities
Five restaurants
Six bars and lounges
Two pools
Five jacuzzis
A la carte spa services
Beauty salon
Clothing-optional beach area open through 6/1/13
What Makes This Getaway Great
We're confident in your Groupon experience and back it with the Groupon Promise. Learn more.
Groupon-Exclusive Discounts. We negotiate directly with hotels and tour operators to get you the deepest discount available -- as only Groupon can.

Handpicked Travel. Our travel experts and writers research every getaway for you.

Booking Guarantee. If the merchant is unable to book the stay you want during the available dates and before the book-by date, we'll refund your purchase.
103 Questions
The Fine Print
Book by 5/17/13 or promo value expires
Travel by 6/30/13, 8/31/13, 9/30/13, or 10/31/13, per option bought
2/person, +2 as gifts
1/visit
Valid only for option bought
Reservation req'd, subj to avail; options may be cancelled with refund, per group size
$50 fee pp to cancel
45-day cancellation req'd or fee of 50% of Groupon price; 31-day req'd of fee up to Groupon price
Airfare non-refundable 24hr after booking
18+ to check in, 16+ to stay
CC req'd at booking/check-in
Solo travel fee: $340/$550 for 4-/7-night stays in May, June, Sept, or Oct; $400/$685 for 4-/7-night stays in July or Aug.
Merchant is solely responsible to purchasers for the care and quality of the advertised goods and services.
See the rules that apply to all deals.
Other Details
Room Details
Deluxe Junior Suite
One king bed or two twin beds
Standard occupancy: 2
Maximum occupancy: 2
Adding occupants above standard: N/A
Hotel Policies
Parking: not available.
Rollaways: not available.
Smoking policy: no smoking inside the property.
Pet policy: pets are not allowed inside the property.
Accessibility: call the property to ask about handicap-accessible rooms.
Room upgrades: not available.
Getting There
By plane: includes round-trip airfare from Atlanta (ATL), Nashville (BNA), Miami (MIA), Washington Dulles (IAD), New York (JFK), Chicago (ORD), New Orleans (MSY), Boston (BOS), and Cincinnati (CVG)
Traveler's Tips
A passport is required for all travel outside the U.S.
Before international travel, always check the State Department's website for important info on the destination and its entry/exit requirements.
The Groupon Guide to: Partying Hard
There's always one person at every party who's having the most fun. Here's how you can be the life of the party and make it an event that people will be talking about until they move on from the partying phase of their lives and buy a nice condo in an up-and-coming part of town:
Knock over a bowl of Doritos.

Introduce yourself to all of the ladies at the party as Dirty Vito.

Tell the DJ you'll be doing a guest set, then put two pizzas on the turntable.

Dance on top of a table to get the crowd going, then forget where you are and start crying until everyone walks away.

Kiss the host on the mouth and say "That's for throwing such a beautiful party."

Take off all of your clothes and jump in the pool. Stay there until you feel like you're starting to get an infection.

Pass out on the couch until you're woken up by the sound of your parents crying about their house.