Things to Do in Holland
---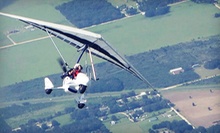 A certified flight instructor pilots a lightweight two-person aircraft on a soaring flight above fields and rolling terrain
---
Recommended Things to Do by Groupon Customers
---
Surfari Joe's—a safety-focused, safari-themed water park under new management—helps families to splash to their hearts' content with 18,000 square feet of indoor opportunities to get wet. A pair of extreme slides flings riders out of the building before funneling them back inside, where colorful runs for tykes share space with low-speed attractions such as Lino's Lagoon, a plesiosaur-free pond that warms guests with an 84-degree embrace. Between thrills, visitors can explore a video arcade or refuel at The Water Hole Bar & Restaurant, which teems with hearty sandwiches, housemade pizzas, and fiber-rich faux palm trees. Surfari Joe's happily handles parties and special events, and its onsite hotel reaches out to dedicated water sliders with cozy suites featuring flat-screen TVs, free WiFi, and access to a fitness center for burning off any steam remaining after a day on the slides.
8258 Arnt Blvd.
Watervliet
Michigan
269-463-7946
Engines start to roar, propellers spin, and a large parachute expands into the sky, carrying a light aircraft and its passengers toward the clouds. Silver Lining Aviation's certified instructors create adventures like this every day as they teach visitors to soar behind the controls of sport aircrafts such as powered parachutes, weight-shift trikes, and gyroplanes. Led by licensed FAA flight instructor Craig Ewing, Silver Lining's team takes prospective pilots on introductory flights that allow them to experience aircrafts such as the Airwolf 912 and nibble on different flavors of clouds. The aviation experts also sell sport aircrafts, which patiently wait onsite as customers work through custom ground- and flight-training programs. In most cases, the flight instructors prepare their pupils for aerial navigation in as little as two weeks. They also assist new pilots with replacement parts, provide 24/7 support, and cook oil soup to feed hungry aircraft.
3001 W Airport Rd.
Hastings
Michigan
616-647-7171
At the 6,532-yard Pigeon Creek Golf Course, few trees border the fairways and 11 lakes dominate the wide-open layout. The water-laden design forces players to demonstrate deft control off the tee or convert underperforming wedges into fishing poles with divot-tool lures. If players can stay on dry land and efficiently roll their golf balls into the welcoming confines of the cup, they can make a play for the course par of 71.
Course at a Glance:
18-hole, par-71 course
Total length of 6,532 yards from the back tees
Course rating of 71 from the back tees
Course slope of 116 from the back tees
Four sets of tees per hole
Scorecard
10195 120th Ave.
West Olive
Michigan
616-875-4300
Brothers and co-owners Joel and Jared Fulton see themselves foremost as educators. They recognize that firearms and defense tactics can overwhelm people, so they guide clients step-by-step to help them feel comfortable with using and owning a firearm. Joel even remembers sitting at the pro-shop counter once for three hours, answering every question a customer had about firearms and the meaning of life.This approach also extends to the six-lane, 50-foot indoor pistol range, where Joel and Jared—both NRA-certified Chief Range Safety Officers—and their team of instructors supervise open shooting and lead NRA-sanctioned training courses. Training courses include the Hunter Safety Program and the Eddie Eagle GunSafe Program, a class for kids from pre-kindergarten through the third grade. Back at pro shop, they advise clients on personal firearms use by encouraging them to consider how owning a firearm would impact their lives, asking questions such as, "How well do you handle recoil?" and "How will you need to store it?" This patient approach reflects the brothers' belief that an armed society should also be an informed and polite society, and has earned them a steadfast following—every ladies' night, for example, draws between 50 and 90 shooters who share lady secrets while practicing their marksmanship.
539 Capital Ave. SW
Battle Creek
Michigan
269-968-4229
Imagine holding a king salmon so heavy you can barely lift it for a picture, only to hear the captain yell a new fish just took another trolling rod down. The guides of Captain Hook's Charter Fishing, family owned and in operation since 1980, venture into Lake Michigan for such trophies, taking anglers out for perch fishing, sport fishing, and salmon mooching. Operating one of the state's largest charter fleets, the captains can take up to 40 perch fishers on a climate-controlled party boat, or accommodate smaller groups of 4–5 anglers on a 31-foot Chris-Craft boat, starting at $400. A FAQ page preps guests before going out, covering topics such as how to get a fishing license and what pattern suit is customary fishing attire.
220 Anchors Way
St. Joseph
Michigan
269-208-9660
Wood Menders' staff of furniture specialists refurbishes the woodworked gems of homes and offices through enhancement, refinishing, and restoration services. The crew of wood rehabilitators performs furniture fixes on location or in the shop, applying darker sealants to chairs or removing gouges in conference tables caused by too much jostling for free bagels. Wood Menders' technicians have compiled an online repository of care tips that detail what to do when furniture begins to warp or sealant begins to peel; these tips offer a taste of the expertise the specialists dole out during wood-refurnishing workshops.
2438 Union Ave. SE
Grand Rapids
Michigan
616-805-9663
---