Ask an Expert: Caring for Curly Hair
BY: Mae Rice |
Oct 21, 2013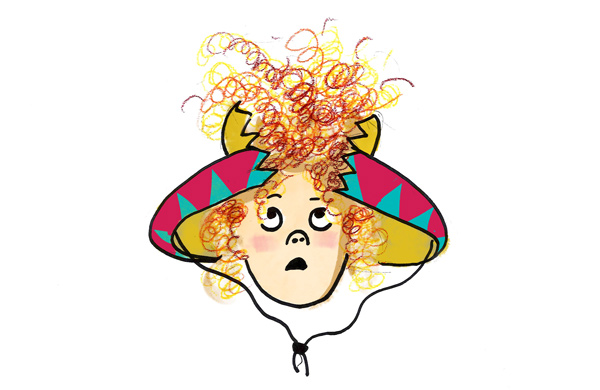 The Guide's first style question comes from a woman who, thanks to a unique problem, hasn't cut or styled her curly hair in years. In response,
Curls and Company
owner and curly-hair expert Cally Raduenzel dishes on her favorite gel, the best layering techniques, and why you should throw away your brush.
Dear The Guide,
I have a problem. For the past 10 years, I haven't been able to cut or style my curly hair, dating back to an unfortunate incident during my 12th birthday party.
Even at that age I had a rather large head, the kind that makes people say, "Cool! A padded wig!" So when the waiter at my favorite Mexican restaurant, Sombrero Rojo, crowned me with my birthday sombrero, it stuck. My hair has been trapped in the second story of a child's sombrero for a decade.
It wasn't so bad. After a while, I barely noticed it, unless I returned to Sombrero Rojo, where they mournfully gave me free refills on select sodas.
This year, though, on my 22nd birthday, came freedom. My head had finally grown enough to split the sombrero right down the middle. I was ecstatic—until I realized I had no idea what to do with my hair, which is so long and curly now that I often lose my balance. Do you have any tips for how to cut and style my curls?
--Suddenly Sombrero-less
Dear Suddenly, First off: congratulations on "splitting the hat"! According to some obscure Scandinavian religions, you are now a woman. And don't worry, many people struggle with their curly hair. Luckily, we were able to get in touch with Cally Raduenzel, the owner of Rogers Park salon Curls and Company and the perfect expert to answer your question.
Cutting
Callie is an advocate of
Devachan's
dry-cutting technique, which was designed for curls—it eliminates guesswork about how far the curls will spring up as they dry. But if you can't find a dry-cutting salon, wet cuts don't have to be a disaster. Callie says there are three curly cuts you want to avoid: the earmuff, the teepee, and the Christmas tree. For a more flattering silhouette, request a little layering, focused in the hair's middle section. "The center, underneath the
occipital bone
, is the best place to do your layering," she says. "When your hair falls over it, it's almost like you've built in suspension to lift it up." She also recommends asking your stylist to pull your layers forward, which creates a cascading effect. Cuts with razors and thinning shears, on the other hand, should be avoided at all costs. These tools separate natural curls, Cally says, leaving hair looking "frizzy and frayed."
Products
Cally recommends investing in Devachan's styling gel. "I don't like to use the word gel," she says, "because people think of stiff, Wall Street, tight-scary curls that will put your eye out." She says Devachan's formula is "more like a glaze," and never leaves hair feeling crunchy or hard. Cally also advocates for sulfate-free shampoo (the brand here is less important than the ingredient list). These shampoos don't lather, which makes some people think they're not as effective. But Cally says suds aren't actually cleansing agents—they just signal the presence of sulphates, which damage and dehydrate hair.
Styling
Cally says that styling your curls doesn't have to be a huge production, as curly hair's reputation for being hard to manage is overstated. "Use a couple clips," she says. "Put in the product while it's wet. Let it dry naturally. If you want to use a diffuser, you can. Once it's dry, you squeeze it, and you have beautiful hair." There are some caveats to this plan—don't brush or comb your hair while it's drying, for example. Curly hair is most vulnerable to damage when it's wet, and in the long term, brushing wet hair will cause frizz and abrade your ends. Cally recommends detangling hair in the shower instead, with your fingers and some conditioner. As far as your washing regimen, Cally recommends shampooing no more than twice a week, but wetting and conditioning your hair every day. There you have it. You're ready for a life of bouncy, hat-free curls. Do not waste it. Love, The Guide
Illustration: © Dav Yendler, Groupon
BY: Mae Rice
Guide Staff Writer
Mae Rice is a staff writer who writes about eyelash extensions, French food, what "business casual" even means, and other style and food topics.