Behind the Bar at Longman & Eagle
BY: Lisa Ladehoff |
Dec 19, 2013
Insights on the social experiment that is bartending—from pouring shots for regulars to doting on out-of-towners—at Logan Square's Michelin-starred bar
Name: Tylor O'Connor
Behind the Bar at: Longman & Eagle (2657 N. Kedzie Ave.)
For: just over a year now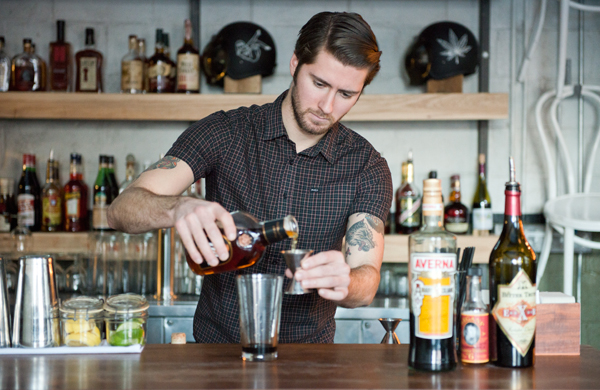 GROUPON: How long did you barback?
TYLOR O'CONNOR: I barbacked six to eight months, and then I got some bartending shifts here in the [OSB]…I just started bartending in the front bar about three months ago.
G: Was that an easy transition, moving into the front?
TOC: Barbacking at Longman…was the gnarliest job I've ever had. They just throw you into the grinder, there's so much going on. So yeah, I think it was an easy transition. The combination of barbacking and then bartending back here made it an easy transition.
G: What was the hardest part of barbacking? Was there a moment when you lost it?
TOC: A moment? (laughing) Yeah, it's called dinner service. Every weekend. Not even weekends, just on weekdays it gets so crazy. We do a call system here, so people who are making cocktails are making cocktails as well as bartending. But the barback has all the other duties—you're bartending as a barback, it's just not the title. You have all the same responsibilities. You just also have to do the grunt work.
G: You also work at Boiler Room (2210 N. California Ave.), and used to work at Bonny's (formerly at 2417 N. Milwaukee Ave.). What's it like working at such vastly different places all in the same neighborhood?
TOC: This is the job where I get to learn so much, and I'm around so many people who have been doing this for years. I'm learning about food, I'm learning about cocktails, I'm learning about spirits. At other bars like Boiler Room, it's beers and shots…it's a different environment, different atmospheres. It's cool, I get a change of scenery.
G: What's the best part about being on that side of the bar?
TOC: Bartending is…like a social experiment. You see the way people act to each other, you see how people act when they get drunk, you see how people act when they come in sober and leave drunk, you see a lot of human nature, and you see a lot of weird shit. It's just interesting—it's always interesting, every day is different.
G: If you could give everyone who's never worked in the service industry a hot tip, what would it be? What's one faux pas?
TOC: Probably the wave-down. Or shouting. There's so much…you don't see. I think what I've learned is to deal with other people's busyness. Even if they don't look that busy, there's always something you don't see. I've learned patience, I guess. When you're out, you're going to get taken care of.
G: Where do you like to go when you're not working?
TOC: As cheesy as it sounds, here. I feel more at home here than at any other bar. It's such a great place, and the staff is like a family. I feel very welcome here when I'm not on the clock, and I enjoy that. I guess as far as eating and that stuff goes, I love Yusho (2853 N. Kedzie Ave.). Yusho is great. I mean, I don't leave Logan Square so I'm pretty biased. This is my spot.
G: What's the hardest part about working at a bar that has a Michelin Star?
TOC: To keep that standard of service up while you're extremely, extremely slammed—in a bar environment. It's casual fine dining, it's not like coursed-out meals…it's a bar environment with that standard of service, to juggle both. Like, these guys just want Old Milwaukees and shots, those guys are just boozing and having a great time. But then right next to them is an older couple from out of town. And they've been hearing about [Longman & Eagle], planned their trip around dining here, and you want to give them all of your attention, and give them recommendations. Then you have some other dudes who are yelling and want cocktails—it's just keeping the standards of service up when you're in this stressful first-come, first-serve environment.
THE DRINK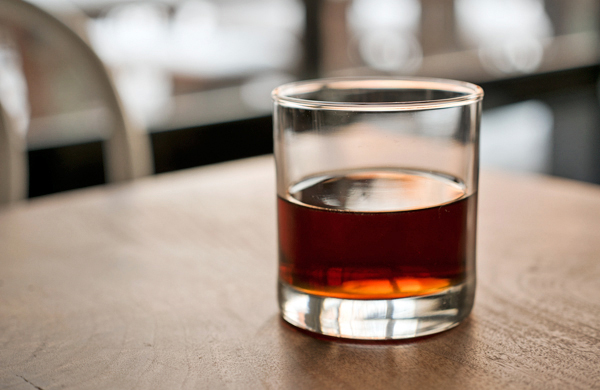 G: What do you like about this drink, why did you choose this one?
TOC: It's a great bourbon drink. It doesn't try to take any flavor away from the bourbon, the EXR and the amaro just add to the bourbon. The averna makes it smoother, the [EXR] adds a little spice, and the allspice...add[s] the aromas of just being a spicy and bourbon-heavy drink. You taste the bourbon, you get the spice, you get just enough citrus with the orange bitters and the orange zest. It's aromatic, and it's just a nice sipper.
The Slam Piece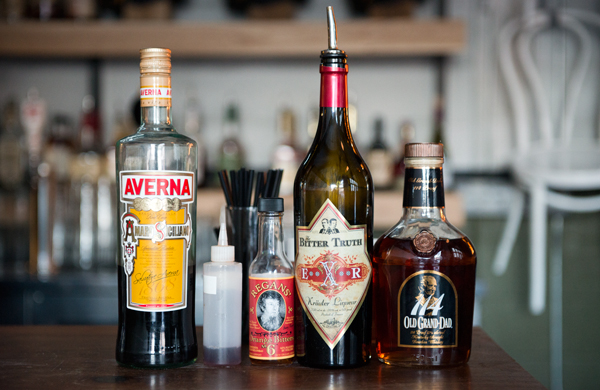 Original recipe by James Deia
1 dash Regan's orange bitters
1 dash St. Elizabeth's allspice dram
½ oz. Bitter Truth EXR
½ oz. Averna
2 oz. Old Grand Dad 114
G: So, what's your pipe dream? Does it involve a bar?
TOC: I mean, I would love to own my own bar, like an old Cheers-esque, mellow and fun beers-and-shots kind of place. But—I dunno, pipe dream? Can I get back to you on that one?
Photo credit: Andrew Nawrocki, Groupon