Beyond Sake Bombs and Hot Shots
BY: Lisa Ladehoff |
Mar 25, 2013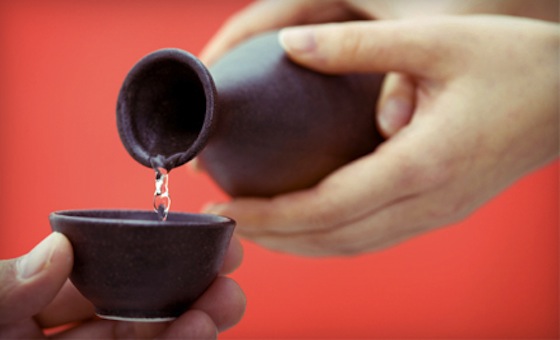 A centuries-old Japanese tradition, sake is far more complex than most Americans might think. It's not meant to be thrown back like a shot but rather sipped—preferably cold. As sake director of the anticipated contemporary Japanese restaurant Juno, Chiyo Takemoto, tells us, the "diversely aromatic" beverage is brewed and fermented more similarly to beer.
"Sake is unique in that it's the only beverage that ferments via a multiparallel fermentation process," Takemoto said. In other words, the saccharification and fermentation of the unrefined sake occur simultaneously in the same cask. But, she continues, it's more similar to wine, both in alcohol content and flavor profile.
"For the most part, [sakes are] clean and simple," varying in aroma depending on the type of yeast that is used and in flavor depending on the type of sake rice. The mellow, subtle flavors of sake make it an ideal component for cocktails, including the one Takemoto has shared with us—the Inugami. Named after a Japanese folklore character similar to a werewolf, her drink is a new take on a Salty Dog but, as she described, "spicy, smoky, and made with sake and mezcal instead of vodka."
The Inugami
What You Need
2 ounces Kikusui Funaguchi sake
½ ounce shishito-infused mezcal, made at home by soaking shishito peppers in mezcal for at least 24 hours; a longer infusion will lend a more flavorful result
½ ounce fresh grapefruit juice
½ ounce lime juice
½ ounce simple syrup
What You Do
1. Build in a shaker and shake hard for 15–20 seconds.
2. Serve in a cold martini glass rimmed with togarashi salt.
The new venture by visionary chef B.K. Park and partner Jason Chan, Juno features a highly anticipated menu with the conceptual, contemporary sushi that has become Park's signature. Slated to open in Lincoln Park in April 2013, Juno's 2,500-square-foot space will feature 80 seats, including a 16-seat sushi bar and a menuless, reservation-only cluster of 7 seats at the end for omakase—a Japanese phrase meaning "I'll leave it to you."
BY: Lisa Ladehoff
Guide Staff Writer
A native of the city of big shoulders, Lisa is a small-shouldered books and booze enthusiast living on Chicago's Northwest side with a large cat, a tiny bar, and a medium-sized library.