GROUPON GUIDE TO NEW YORK
Bocce Balls and Beers
BY: Sandra Kofler |
Apr 22, 2013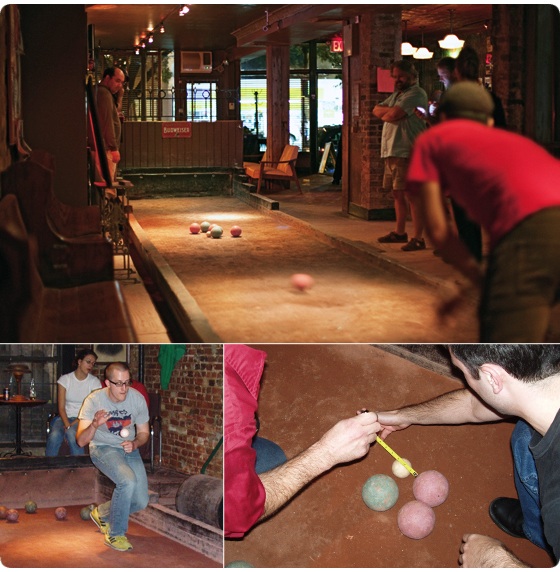 Floyd, NY
co-owner Andrew Templar wasn't a bocce-ball master before he and his business partner, Jim, decided to open a bocce bar—or two, if you count their more recent
Union Hall
. And if you come play, you don't need mad chops either, outside the art of drink lifting. Since opening in 2004, Floyd has become a mainstay for both casual and league bocce players who can't get enough of the nightly drama playing out on the bar's 40-foot red-clay court—whatever their skills.
GROUPON: Is there any correlation between the number of drinks people consume and their chances of playing well?
ANDREW TEMPLAR: Good question. I think half a pint of beer is a good start and it maybe picks up again at two and then nosedives until about five. Then it's really good again for about a minute.
G: What's the craziest thing you've seen someone do in the name of bocce?
AT: One of our long-running teams is called Cobra Kai—from the bad guy's team in
Karate Kid
. One year they made it to the finals, and the last guy to shoot on the team playing against Cobra Kai launched into the crane pose [from the movie] and made the winning shot of the game. It was super cinematic, just ridiculous.
G: Have any babies been born as a result of people meeting over bocce?
AT: I know people have been married, so bocce babies are definitely on the way. Winning a game of bocce puts one in a celebratory mood, and of course, that's where babies come from.
G: Other than your bocce bars, are there other New York spots where you get your bocce on?
AT:
Il Vagabondo
in Manhattan. It's an old Italian restaurant. We send our league there, that's our grand prize. Your whole team gets a limo and a clown for three hours.
G: Did you say a clown?
AT: Very few people took us up on the clown. So now we do a limo out, then dinner at Il Vagabondo. And we have a second prize called "A Night With Somewhat Smaller Balls," where we pay for a night at a pool hall.
G: Do you consider any local bocce bars to be your arch-nemeses?
AT: There's a retirement center, I think in Cobble Hill, that has a really nice court, but you can't get in unless you're a resident. Which I guess we will be soon enough. I would love to play in there, but for sure they would take us to the cleaners. Making a day of it? Check out some of Andrew's favorite pre-bocce Brooklyn spots:
South | South Slope
"They have the best bloody marys in the city."
Dizzy's | Park Slope
Andrew recommends the brunch, particularly Eggs Ben A Dizz with ancho-lime hollandaise.
Commonwealth | Park Slope
"They have the best jukebox."
Volleyball at Prospect Park
"To warm up."
Hamilton's | Windsor Terrace
"The kale salad is fantastic." He's also a fan of the adobo-braised chicken wings.
BY: Sandra Kofler
Guide Staff Writer
Sandra Kofler is a writer/editor in Chicago with a baking and biking streak. She hopes someday technology will allow her participate in all of these things at once.