Bollywood Goes to the Ballet with the Joffrey's Premiere of "La Bayadere"
BY: Stephanie McDaniel |
Sep 30, 2013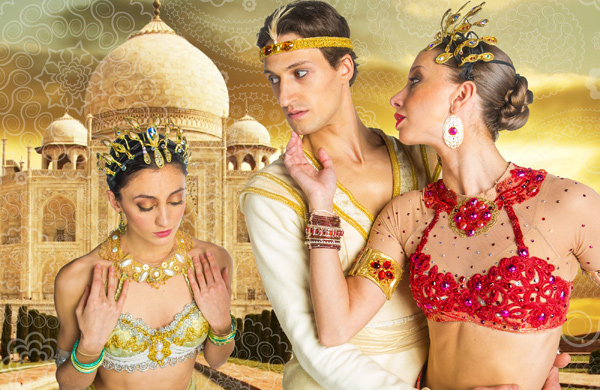 Live snakes and Indian dance moves: some things you just don't expect to see in a ballet. But this October, the
Joffrey Ballet
bends balletic expectations with its staging of
La Bayadere
. The show tells the story of a temple dancer who falls in love with a prince, betrays the Rajah to be with her love, and is subsequently poisoned via serpent. The production, which runs October 16–27 at the
Auditorium Theatre
, exemplifies the company's half-century tradition of nontraditional choreography and visual effects. We sat down with the Joffrey's artistic directior, Ashley Wheater, to talk about that tradition and how it is framed in the new show.
A Stage Full of Spectacle and Snakes
Though
La Bayadere
has long been a staple in Russia, it is rarely performed in the West. Premiering for the first time in Chicago, the Joffrey's rendition of
La Bayadere
will add a new layer of spectacle to the classic ballet. Since the story is set in India, Wheater explains, the company wanted to incorporate as many Indian art and design elements into the production as possible—it's "Bollywood goes to the ballet." The movements are "sensual," with shapes and gestures taken from traditional Indian dance. The costumes and sets, similarly, are "incredibly opulent"—not your standard billowing tulle. Most of the dancers are decked out in bejeweled bracelets, necklaces, and headpieces. The temple dancer wears a belly-dance costume. Painted backdrops invoke a palatial setting and, in the temple, fire appears to rage behind a god come-to-life. In one of the ballet's most stunning scenes, the temple dancer receives a deadly bite from a common krait snake. Not content with models or puppets, the company hired a professional snake trainer to bring live snakes on stage. (Wolf snakes stand in for the venomous krait.) Wheater, who otherwise loves the visual effect of the live snake bite, "just [hopes he doesn't] have to get near them."
A Style of Their Own
To an audience, it's surprises like live snakes that set the Joffrey apart from other companies; to dancers, it's the experimental choreography. Ballet has always been defined by a strict set of rules—how you hold your arms, point your toes, and orient your body—but the Joffrey is known for incorporating new styles and moving in unusual ways. In
La Bayadere
, for example, the dancers inject every step with expressive physicality to create and define their individual characters. Though unusual in classical ballet, these movements help pull the audience into the show. "You don't need a booklet about what each gesture [means] to understand what's going on," Wheater says. "For someone who is a novice to the ballet, this is a great spectacle to come and see." With productions such as
La Bayadere
—as well as the upcoming
Romeo and Juliet
and
Contemporary Choreographers
—the Joffrey hopes to continue pushing the boundaries of what to expect from such a storied art form. "It really looks like a 21st century company, not afraid to embrace new ideas," says Wheater. "I think that there are a lot of people that have the idea that ballet is very old-fashioned. They think of
The Nutcracker
and that's it. That's why they need to come and see what else we're doing. You're looking at fellow human beings doing extraordinary things."
Photo: © Christopher Duggan