Brush Off the Winter Chill with Hot Cocoa
BY: FIONA COXE | 1.7.2014 |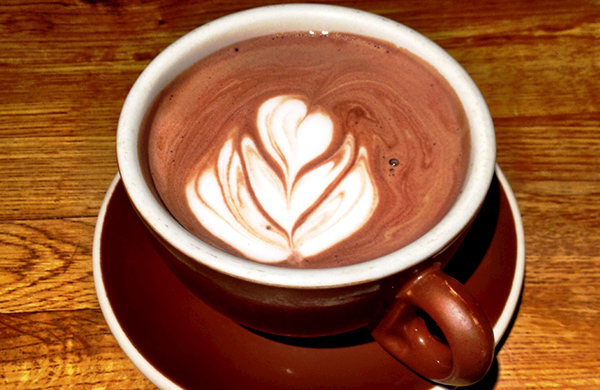 Winter is definitely here.  The icy temperatures and the snow filled sidewalks are here, and the residents of Boston are bundling up, flinging on scarves, lacing up boots and securing hats to ensure their outsides are warm and snug against the brutal temps.  Sometimes though, just layering on those woolen pieces doesn't quite do the trick and there is only one thing that will help shake that chill off: hot cocoa.  There is just something about a big steaming mug of liquid chocolate that truly warms the body from the inside out.  Of course, if you're going to indulge in the delicious drink, you want the good stuff.  You don't want some powder from a pouch hastily stirred into hot water you can make that at home!  You want something rich and decadent, something that lets you know that you're getting something special.
The Boston area has some fantastic options to check out, all over the city, that have unique and fantastic variations of hot chocolate.  First on everyone's lips when looking for recommendations is L.A. Burdick's, with locations in Harvard Square and Back Bay.  I stopped in during a bit of Christmas shopping, looking for a pick me up, a treat for the hard "work" I was enduring amid the crowded streets.  L.A. Burdicks is a bit of a sanctuary.  Entering their shops is like taking a step back in time, into a long forgotten chocolate shop where the chocolate is imported from France and Switzerland, and the confections are made by hand in small batches to ensure quality with every bite, or, in my case, sip.  I opted for a Madagascar Hot Chocolate featuring a dark chocolate base enhanced with notes of orange and vanilla. This was the thickest, richest hot chocolate I have ever tasted.  Each sip awarded me with a true chocolate blast, which would satisfy any chocoholic's desires.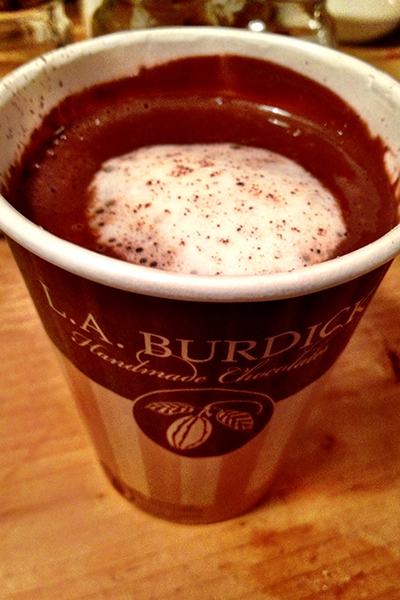 The Thinking Cup, with locations in the North End and on Tremont Street with views of Boston Common, is an independent coffee shop with coffees, teas, sandwiches and pastries to make the cast of Friends jealous.  As one of my favorite spots to relax with a cup of joe and hunker into some writing, I had high hopes for their hot chocolate.  I was not disappointed.  Their French style offering, featuring 64% Tainori Valhrona Drinking Chocolate, is exactly what I was looking for, chocolaty, but highly drinkable allowing me to savor every sip of the creamy drink.  Every sip brought me back to winter days of my childhood where a day of snowman building was rewarded with a delicious cup of hot chocolate.  The Thinking Cup delightfully combines our childhood memories with our more adult palates and creates a perfect marriage.
Max Brenner is an international chain that won a place in the hearts of the city of Boston when for weeks they offered all proceeds of the sale of their famous hot chocolate to marathon victims.  Max Brenner's specializes in all things chocolate, and has incredible seven different types of hot chocolate at all times on their menu. Each can be made with either white chocolate, milk chocolate or dark chocolate making it simple to customize your drink exactly as you want it.  Their unique creations feature a Mexican style boasting red chili, nutmeg and cinnamon for the ultimate in "warming" techniques, their Marshmallow is the ultimate in nostalgia as they melt gooey marshmallows right into your mug and their Salted Caramel creates the perfect decadence of sweet caramel, rich chocolate and salt to enhance it all.
No matter where the icy wind blows you this year, the Boston area has you covered to warm up with hot chocolate.  So dig out those mittens and scarves, bundle up and then find your favorite spot to warm up over a steaming hot mug of cocoa.
BY: Fiona Coxe
A Boston Food Diary
Fiona is a free-lance food writer living in the city of Boston.  Born with an extreme love of food, she put her passion to paper in 2008 with the creation of her own blog, A Boston Food Diary.  It began as a way to keep track of her own kitchen adventures, and record her dining experiences in and around Boston.  Since its inception, A Boston Food Diary, showcasing its extreme love of both food and the city of Boston, has become a well-known resource for both the people of Boston and visitors to the city.  Fiona has also written for various publications around the city, as well as spot pieces for national publications.