Emeril On His Foundation, His Mom, and The Best Po-Boy In New Orleans
BY: Mae Rice |
Jul 6, 2015
Every time chef Emeril Lagasse says "Bam!", he wins a new culinary award. Or at least, that's how it can seem. The star chef has won a James Beard Award, an Ivy Award, and been featured in a Smithsonian exhibit. It's no wonder he runs 10+ restaurants, is always on TV, and typically just goes by "Emeril"—a trick previously reserved for Madonna.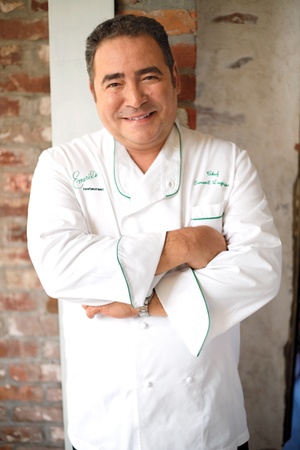 During our chat with him, in celebration of Groupon's Summer Tastes, we discovered one of Emeril's rare non-culinary secrets: he's a great storyteller. Check out a selection of his stories and snacking secrets below.
GROUPON: You first started learning to cook from your mom, Hilda. What did she teach you that you still use today?
EMERIL: Calde verde soup. It's a Portuguese kale soup that is still an essential in my house. My kids ask me all the time to make it and it always brings back a lot of memories. Soups in general are incredibly comforting to me and remind me of my mom and early days cooking together.
G: Who is a celebrity, in the food world or outside of it, who's made you starstruck?
E: Julia Child had me starstruck the first time we met. She is a culinary icon who was one of my first mentors. I was working at the Parker House when I first met her. She came in unannounced and wanted me to cook for her. I could definitely feel the pressure but was honored to be able to cook for her.
G: What's a not-super-healthy indulgence you'll never give up?
E: Potato chips, in particular plain Zapp's potato chips. And they are the best when they are frozen.
G: Through your foundation, you do a lot of work with disadvantaged kids. What's the most surprising thing they've taught you about "kids these days"?
E: Kids are very resilient and inherently have a positive attitude. I find it so rewarding to help provide tools and resources and empower kids to follow their passions. It's about helping kids create lasting habits to take with them in whatever endeavors they explore. Kids these days have so many options and opportunities but we have to help them achieve a strong foundation and confidence in order for them to realize these potentials.
G: When you're in New Orleans and not at your own restaurants, what are some of your favorites to dine at?
E: New Orleans has so many new restaurants and dining options. Some of my staples that I always go back to are The Galley Seafood (they have a killer seafood boil), Pho Tau Bay (they are currently in the process of relocating, but they serve the best Vietnamese I've ever had), and Domilise's Poboy's (best poboys in the city).
G: What's an easy way to "kick up" a meal?
E: Visit your local wine store and have your wine merchant suggest pairings that will go well with the dishes you've selected. This will elevate the meal to more of an event. (Another good trick is to finish savory dishes with a light sprinkling of flaky sea salt or fresh herbs.)
G: What is a kitchen tool that most home cooks don't have, but should?
E: A Japanese mandoline. These are inexpensive, easy to store, don't take up too much space, and allow you to make paper thin slices and/or perfectly uniform julienne of vegetables and fruits.

BY: Mae Rice
Guide Staff Writer
Mae Rice is a staff writer who writes about eyelash extensions, French food, what "business casual" even means, and other style and food topics.