Chicago Bruise Brothers: On a Mission to Block and Jam
BY: Sandra Kofler |
Jun 10, 2013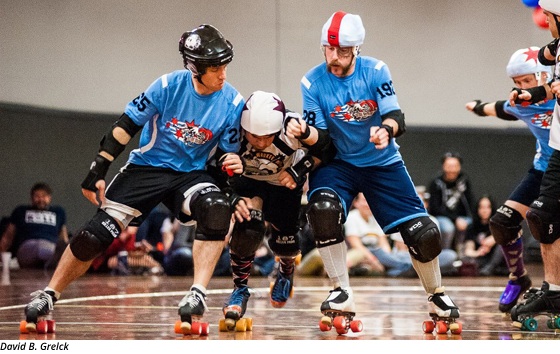 Zero Cool, known off the track as Jae Cox, is a player and interim league president for Chicago's newest all-male roller-derby team, the
Bruise Brothers
. He shares his thoughts on what it takes to become a Bruise Brother, why the "suicide seats" are the best spot for spectating, and how men's roller derby will stand the test of time. To see Zero Cool in action, come to one of the Bruise Brothers' next home bouts on August 17 or October 5 at the 
Lombard Roller Rink
.
GROUPON: This isn't the first time a men's roller-derby league has tried to get off the ground in Chicago. What's making it stick this time?
ZERO COOL: We've got the right group of guys who are willing to sacrifice a lot of time to make sure it does. It also helps that we've been getting the support of the local women's leagues. Their experience and help is definitely part of what's keeping us going.
G: This all-male team is still less than a year old. Without established local teams blazing the path before you, how did you get started in roller derby?
ZC: My wife Kellie, a.k.a.
Boo Meringue
, skated for the Windy City Rollers team Manic Attackers. She exposed me to the sport and got me excited about it. On top of that, my best friend was one of the founding members of the Bruise Brothers.
G: As a player, what are you most known for?
ZC: I don't know if I'm well-known for anything yet, but in the last few bouts I've really moved into a regular role as a jammer [the player who slips past defenders to score points]. I never thought I'd be a jammer when I started, because the job requires a ton of endurance, speed, and coordination. But I'm really enjoying it. Every time I'm jamming, I think about my wife and hope I'm making her proud.
G: What do the Bruise Brothers look for in new recruits?
ZC: We take anyone—you don't even have to know how to skate. We teach everyone from the ground up. When I started, I could barely stand up on skates.
G: Do you have any nemeses on other teams?
ZC: No, not really. But when I see a guy on another team who's got the same number as me, that puts a target on his back. Really, we're all kind of a family. After a bout, both teams usually hang out and get some beers and have a good time.
G: It's interesting to hear that you have these bonds, even with in-game rivals.
ZC: Oh yeah. We take the "Brothers" part of Chicago Bruise Brothers seriously.
G: What can a first-time spectator expect to see if they're sitting right up front at one of your bouts?
ZC: If you're right up front, you're in what we call the "suicide seats," in which case you're probably going to get a lot of sweat on you! I think it's by far the most exciting place to sit. I know I've been forced to slide into those people. Hopefully I didn't hurt anybody when I landed on them!
G: Maybe people will start to anticipate those collisions after a while.
ZC: Yeah. It's a bit cushier to land on a group of spectators than it is to land on the floor, so I appreciate that.