Chicago Turns Green for St. Patrick's Day
BY: Alison Hamm |
Mar 14, 2013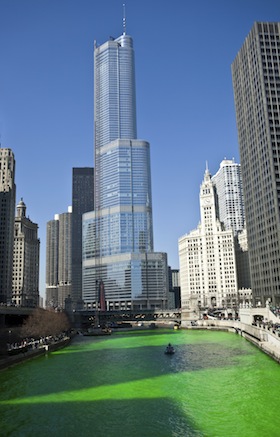 For one weekend every March, Chicago becomes an emerald city. Downtown, masses of green-clothed merrymakers celebrate the Chicago River's seemingly magic transformation from its everyday murky green to a vivid kelly green. Elsewhere, the city's Irish residents—including those Irish for only the weekend—revel in the opportunity to drink beer at (or before) noon with no judgment, just joy.
Dyeing the River
Many know the Chicago River is dyed that incredible Irish green each year. Few know it's also dyed orange—at least, for a quick moment. When a crew of Chicago Journeymen Plumbers spill their secret concoction into the river, it's orange. But the dye then swiftly transforms the waters into a brilliant emerald green.
When:
Saturday, March 16, 10 a.m.
Where:
Chicago River between Columbus and Lake Shore Drive. Note: this is a new location because of construction. So find a place along either side of the riverwalk, or grab a spot along the east side of the Columbus Street bridge.
Downtown Parade
Not long after the river goes green, the 58th annual St. Patrick's Day parade kicks off. Expect lots of music, floats (including one with the 2013 parade queen), an appearance from Notre Dame coach Brian Kelly, and thousands of people convinced of their Irish ancestry.
When:
Saturday, March 16, noon
Where:
Parade starts at Balbo and Columbus
Get Your Green Beer
After staring at that perfectly green river all day, it's inevitable that Chicagoans then develop their annual craving for a beverage with the complexion of a wheatgrass smoothie but none of its health benefits. Bars around the city will be slinging green beer, but for the ultimate St. Paddy's debauchery, buy a three-day pass to the Green Kegs & Hammered official St. Paddy's Day Bar Crawl, sponsored by BarCrawls.com. It's the one time of year when drinking beer for three days equals a bar crawl and not a bender.
Three-Day St. Paddy's Day Bar Crawl
When:
Friday, March 15 to Sunday, March 17
Where:
Lincoln Park (Choose one of three starting [locations](http://gr.pn/12PxOnN): Clarke's Bar and Grille; Mickey's; or Detention Chicago)