Choose Your Own Workout at RowFit Chicago
BY: Michelle Algeo |
Oct 17, 2013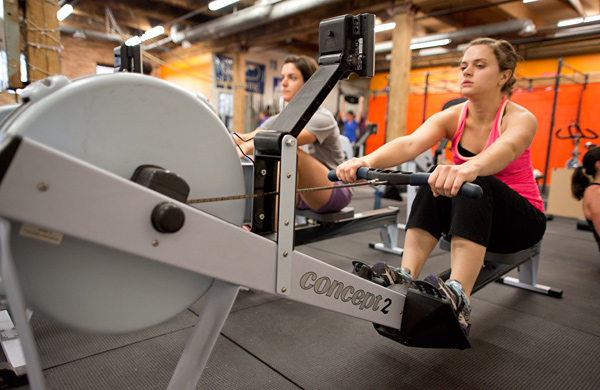 Coach Chauncey announced that time was up. I was 35 minutes into class and still 1,900 meters away from my rowing goal. But given that I'd already powered through 3,100 meters on the rowing machine, I didn't feel too disappointed. These are some of the perks of
RowFit Chicago
boot camp—you get to set your own pace and choose your own workout. Well, not entirely. No matter what, you'll be rowing until your arms burn and your shoulders ache. RowFit is held at a traditional CrossFit studio, but takes a unique approach to the popular craze by integrating a heavy rowing component into CrossFit's traditional functional movements. The extra burst of cardio keeps the heart rate up between strength moves for a more effective workout. Given this intense combination, I was a bit nervous as I tiptoed into the studio to meet with Chauncey before taking the all-levels RowFit boot-camp class. But Chauncey was welcoming and gave me a quick one-on-one rundown of the class's choose-your-own-adventure format (most new students are shown the moves at the start of class). In addition to 5,000 meters on the rowing machine (which, if rowing on the Chicago River, would get you from Navy Pier to about the southern edge of Goose Island), we'd have to incorporate burpees, pushups, kettlebell swings, jumping squats, and box steps.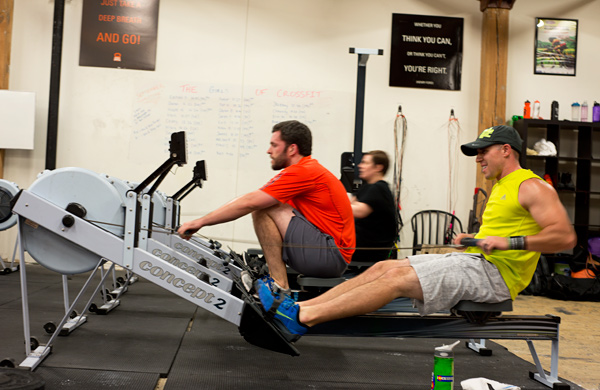 However, for each exercise, there was an alternative move (she never said it outright, but I got the impression I was always choosing the "easier" option), and we could complete them in whatever order we wished. A whiteboard laid out each move and how many reps were expected of us—75 kettlebell swings, 50 box steps (or jumps), 20 burpees (with an optional pull-up afterward, which I quickly opted out of), and so on. Chauncey demonstrated the moves for me—as well as the simpler, modified versions any time my eyes widened in alarm—and gave me a quick tutorial on the rowing machine. Once my classmates arrived, a group warm-up jog to the end of the block melted my nerves, and I was excited to start moving. After a few more warm-ups, we each grabbed a small whiteboard to mark off reps as we completed them. I claimed a spot on the floor with my teensy green kettlebell. I could already feel the adrenaline beginning to flow as I strapped my sneakers into a rowing machine. Chauncey gave us a 10-second warning, and we were off.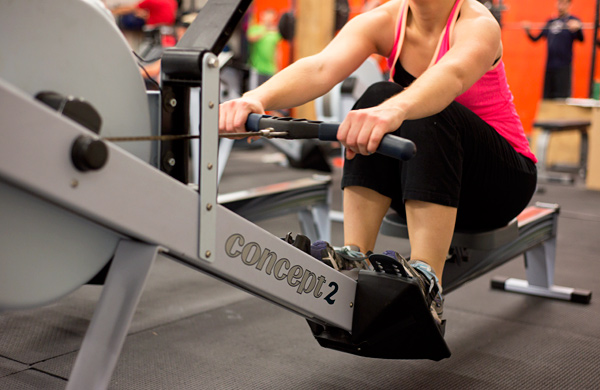 We had only 35 minutes to dash through as much of the workout as we could. I started with a slow, steady 500 meters on the rowing machine. Too slow. "Get your hands away from your chest faster," was Chauncey's constant call to me (and some of my classmates). She swept throughout the room as we worked, pointing out poor alignment here and there (mainly to me, as I was the only first-timer), but mostly offered affirmations. When class was over, I tried to peek at my classmates' whiteboards to see how I compared. I'd gotten through all of my box steps and pushups, almost all of my kettlebell swings and jumping squats, and more than 60% of my rowing meters. The number of burpees (perhaps my least favorite exercise
ever
) had barely been touched. But I still felt pretty accomplished walking out of that studio. And like I needed to ice everything immediately.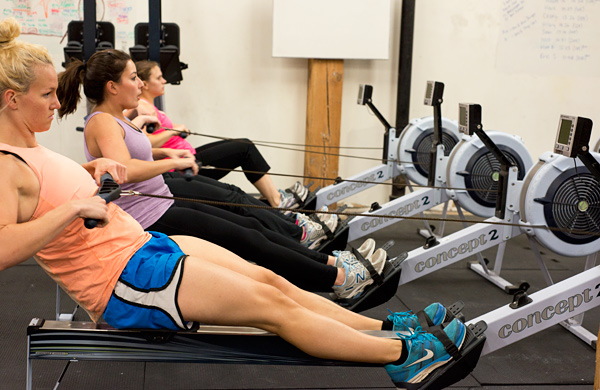 Try it if:
You're stuck in a strength-training rut at the gym
Don't go if:
You don't play well with others—you'll need to share equipment if the class is full
Beware of:
Going too hard in the first 10 minutes and burning out
Invite a friend who:
Will cheer you through your fifth set of jumping squats
Come prepared with:
A water bottle and a towel
Wear:
Comfy, breathable clothing—it heats up in the gym
Intensity level:
Take the next day off from working out and catch up on
Homeland
instead
Photo: © Timothy Burkhart, Groupon