Crystal Pepsi Turns 21, Gets Into Cocktails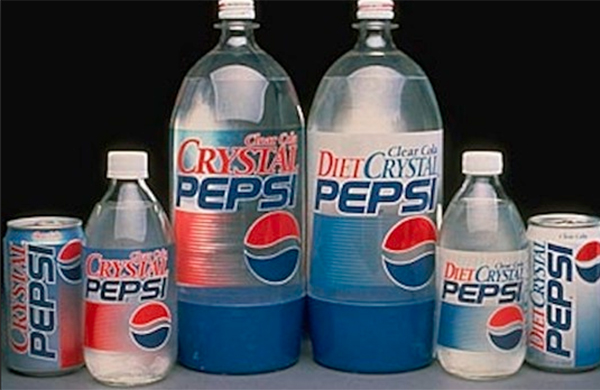 For those with the foresight to bury a few bottles of the legendary Crystal Pepsi, your time has come to start digging. As we reach the 21st anniversary of the clear beverage's nationwide release, the delicious drink can now legally be mixed with alcohol. Despite the risks involved, we unearthed our supply just in time in time for Crystal Pepsi's birthday to experiment with recipes for the perfect celebratory cocktail. Here are a few of our favorites:
The White Russian Versus the Invisible Man
Ingredients:
5 parts vodka, 2 parts coffee liqueur, 3 parts fresh cream, 1/2 bottle of Crystal Pepsi After making a traditional White Russian, pour it into the half-full bottle of Crystal Pepsi, cover, and shake vigorously. For an elegant finishing touch, serve by slicing off the top of the bottle with a Cossack fencing saber.
Sex on the Beach Under a See-Through Plastic Tarp
Ingredients:
2 parts vodka, 1 part peach schnapps, 2 parts orange juice, 2 parts cranberry juice, orange slice, 2 cans of Crystal Pepsi Bring the Crystal Pepsi to a rolling boil in a shallow pan, letting it evaporate until only a sugary Pepsi disc is left behind. Mix the cocktail in a tall glass over ice. Using a large knife, trim the Crystal Pepsi disc until it can be wedged into the glass opening. Chip a small hole in the disc, and slide a straw through. Garnish with an orange slice.
I Can See Clearly Now, the Hurricane Is Gone
Ingredients:
2 parts dark rum, 2 parts white rum, 1 part over-proofed rum, passionfruit syrup, lime juice, Crystal Pepsi Mix the cocktail over ice. After drinking, chug Crystal Pepsi until the rum taste is gone and/or sobriety is regained.
Harvey Wallbanger Buys a Glass House
Ingredients:
3 parts vodka, 1 part Galliano, 6 parts Crystal Pepsi In a Boston Shaker, combine vodka, Galliano, and ice. Shake. Position a bucket containing the Crystal Pepsi on the outside of a nearby window or glass door. Throw the shaker through the pane and into the Pepsi bucket. Serve in the bucket, taking care to remove any shards.
Mary's Hemoglobin Disorder That Makes Her Blood Transparent
Ingredients:
3 parts vodka, 6 parts Crystal Pepsi, 1 pouch of colorless tomato flavoring*, dash of worcestershire sauce, salt and pepper, celery (for garnish) In a shaker, combine vodka, colorless tomato flavoring, worcestershire sauce, salt, and pepper. Shake thoroughly. Pour into a glass of chilled Crystal Pepsi and serve with an informational pamphlet about this severe but treatable blood disorder.
* If no colorless tomato flavoring can be found, infuse a bottle of Crystal Pepsi with 8–10 whole cherry tomatoes for 24 hours before preparation.
Image from Examiner.com
BY: Peter Hopkins and Peter Papachronopoulos
Peter Hopkins and Peter Papachronopoulos