Don't Judge Dale Earnhardt Jr. Jr. by Their Name
BY: Dan Caffrey |
Mar 11, 2014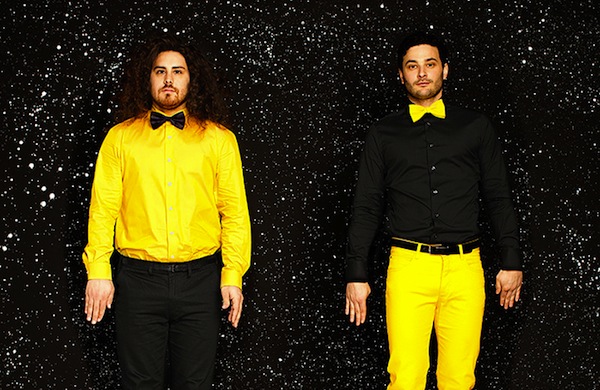 Though their live show may be whimsical and joyous, the electro-pop quartet remains serious when crafting their intricate beats and singing about love.
I really wanted to hate
Dale Earnhardt Jr. Jr.
It's nothing personal. It's just…that
name
. That stupid, stupid name. Formed in 2010, the one-time duo (now a quartet) comes from a long line of bands (usually of the electro-pop genre) with boneheaded, seemingly ironic monikers, words that are just named after things from pop culture.
Home Alone
,
Coach Bombay
, Universal Studios Florida (now
USF
)—the list continues. So, it would have been fairly reasonable to assume that the music of DEJJ would be goofy, lacking substance, and obsessed with a joke that wasn't all that funny to begin with. After all, their second album was called
The Speed of Things
. Were all their songs going to be about NASCAR? The reports are in: these guys aren't joking at all. Granted, their music isn't deathly serious—most of it focuses on good love, bad love, and no love—but they definitely take it seriously. That lack of pretension lets
The Speed of Things
breathe, highlighting its clean production and bubbling beats while still delivering direct, unfussy hooks. And dang, if there aren't hooks galore ("Run" could be the electro-pop descendant of Steely Dan's "Peg"). The lesson here? Don't judge a book by its cover, or more appropriately, don't judge a band by its crappy name. According to Dale Earnhardt Jr. Jr., that's the whole point of calling themselves Dale Earnhardt Jr. Jr. "People have no idea how we are going to sound, and so it gives them a reason to actually take some time to listen to the music," frontman Daniel Zott said in
a recent interview
with—who else—NASCAR.com. Well played, fellas. Maybe it's time to give Coach Bombay a try…
Dale Earnhardt Jr. Jr. plays The Metro (3730 N. Clark St.) on Friday, March 14, at 9 p.m., with an opening set by Chad Valley. Tickets are $16–$18, and can be purchased here.
Photo courtesy of the artist
BY: Dan Caffrey
Guide Staff Writer
Outside of Work, Dan is a playwright, Senior Staff Writer for Consequence of Sound, and contributor to The A.V. Club.