Drinking with Spirits: A Hunt for Chicago's Most Haunted Bars
BY: Collin Brennan |
Aug 9, 2013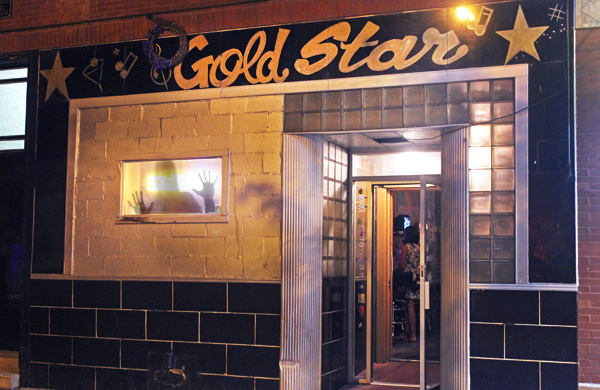 "If these walls could talk, they'd have a lot to say." That's Ryan, the Gold Star bartender. He flashed an impish look when I asked about the ghosts in his place of employment. These days, most newcomers to Gold Star stumble in to worship at the barstool of Nelson Algren, the working-class novelist who reveled in the grit and glitz of Polish Broadway. Ryan was used to speculating about Algren's love affairs and drinking habits, but tonight, my search was more supernatural in scope.
Gold Star Bar: Grisly Legends and a Woman in Green
It wasn't Algren's ghost I was looking for. In the 1950s, the 1700 block of Division Street was the shimmering brooch of Polish Broadway, a string of speakeasies-turned-polka-bars that smacked of sin and opulence. Gold Star Bar stood at the center of it all, its vertical neon sign a beacon to the lost souls of Wicker Park. As legend has it, a few of these souls were to remain lost eternally. The first belongs to one of Algren's contemporaries, a man who attempted to rob the bar but was shot and killed by the bartender on duty. Between sips of cheap Old Style, I asked Ryan if he knew anything about this. "I wouldn't be surprised," he said. "The same Polish woman owned this bar for nearly 75 years, and she essentially ran a brothel upstairs." He lowered his voice. "
A lot
went on up there." One man, Ryan told me, had died in the upstairs apartment and stayed there for a week before an unlucky bartender discovered his body. A young girl working at the brothel had been set on fire and killed in her bedroom, the motive unknown. And then there's the "Woman in Green." Not much is known about this apparition, other than the fact that multiple people have reported seeing her over the years. When it comes to ghosts, I'm cursed with skepticism. To borrow a phrase from Agent Fox Mulder, I want to believe, but logic seems always to get in the way. Even so, there's something undeniably
logical
about the ghosts that supposedly haunt bars and hotels. Both establishments exist in a kind of between-world, a place that people pass through on the way to the more permanent fixtures of home and work. Logic (I'm stuck on this hopeless word) would dictate that Gold Star, having served as bar and hotel over the years, is especially ripe ground for haunting. The chill on the back of my neck, the peeling yellow paint on the walls, and the flickering signage behind the bar only confirmed this. I had seen enough, and I was ready to continue my hunt at another allegedly haunted bar.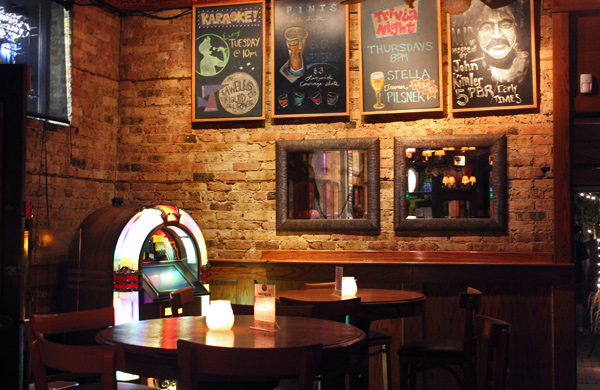 Bucktown Pub: The Specter of a Former Owner
Making my way north on a too-quiet stretch of Ashland, I played Ryan's stories back in my head and couldn't help but feel a bit rattled. This feeling dissipated when I arrived at Bucktown Pub. Unlike the nearly empty Gold Star Bar, the pub didn't fit the profile of a place that's supposedly haunted. A friendly bartender named Willie poured me a draft as the jukebox strained to compete with the white noise of chatter. Other whimsical touches, such as a goat head adorned with a leather-daddy hat, made me seriously question my decision to hunt for ghosts here. That all changed when I called Willie over and asked him the same question I had posed to Ryan a few hours earlier. Like Ryan, he seemed excited rather than put-off by the strange inquiry. "Sometimes, when I'm closing the bar at night, I feel this presence standing behind me. It's hard to explain." This was good stuff, so I pressed him a bit. "Nobody likes to close the bar. There's this door"—he pointed to a door just behind the bar—"that will sometimes just slam for no reason." The door-slammer in question is likely former owner Wally, who shot himself in the head in the upstairs bedroom. This grisly incident took place in 1986, and the bar remained empty for a number of years until current owner Krystine Palmer reopened and completely remodeled it. Try as she might, she couldn't seem to get rid of Wally's ghost. As unpleasant a man in death as he was in life, Wally is known for dropping beer signs on employees, throwing candles across the room, and generally acting like a sociopath. A commemorative plaque outside the bar bears his name, but this apparently hasn't been enough to cool his temper in the afterlife. Not everybody returns Wally's hatred. Willie actually says he's grateful for the ghost, as he was first hired to make sure the GM wasn't alone when she closed up at night. I was preparing to close my own night, disappointed in having failed to witness anything that I could
definitively
say was supernatural. As I was settling my bill and preparing to leave, I heard a familiar refrain: "Tamales! Tamales! Tamales!" Sometimes, usually at a bar and usually long past bedtime, people are prone to strange and unsettling revelations. As I stared at the ubiquitous Tamale Guy, making his rounds with a cooler the color of fresh blood, I knew that I had seen my first ghost.
Do you know of any legitimately haunted bars in Chicago? Email the details to collin@groupon.com, and I'll investigate.
BY: Collin Brennan
Guide Staff Writer
Collin is a senior editor and a staff writer for Consequence of Sound. He self-publishes zines and moderates writing workshops for The Chicago Publishers Resource Center (CHI PRC).