Family Friendly Improv in Austin
BY: Heidi Gollub |
Sep 25, 2013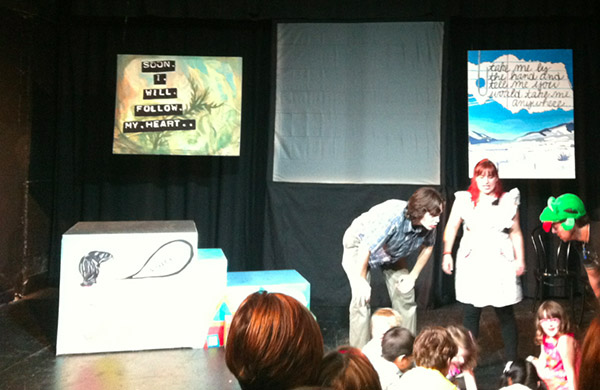 Improv comedy is all the rage right now in Austin.  So great, in fact, is the growing popularity of improvised theatre in Austin that a recent
KLRU Arts in Context episode
noted that the citywide movement is turning heads all across the nation. As is usually the case, when the arts are thriving in a community, we all benefit. A wonderful byproduct of our burgeoning improv scene has been the increase in local offerings of quality kid-friendly comedy.  These days, Austin families can enjoy a variety of G-rated improvised shows, performed for all-age audiences by fun-loving adult actors. Two local troupes are particularly passionate about sharing this theatrical art form with our city's littlest theatregoers.  Move Your Tale specializes in using kid oriented improv shows as a vehicle for creative storytelling and Flying Theater Machine gets families laughing together, one silly, interactive show a time.
Move Your Tale
Saturday mornings at 10 a.m., Move Your Tale welcomes kids to the intimate performance space at ColdTowne Theater for a fully improvised theatrical journey called
What's the Story Steve?
  A five-person comedy team joins one clever poodle named Steve for 45 minutes of audience directed tomfoolery.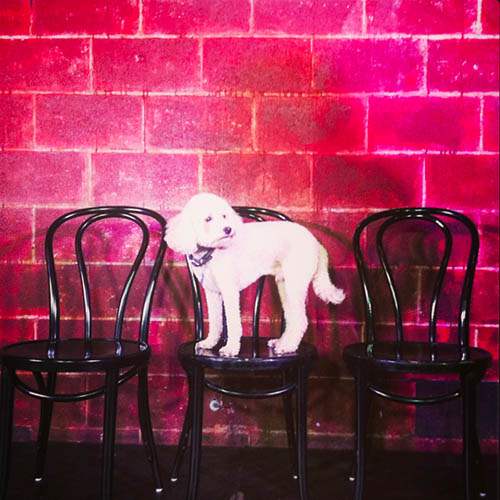 Upon arrival at the theatre, young audience members are invited to write a word or draw a picture, which may later be incorporated into the show.  When we last attended
What's the Story Steve?,
my son's picture of an apple was selected mid-show and became the theme for a fictional onstage investigation led by actors calling themselves "The League of Extraordinary Improvisers."  During the course of their investigation, it was revealed that Steve, the dog villain, was stealing apples to make delicious dog food.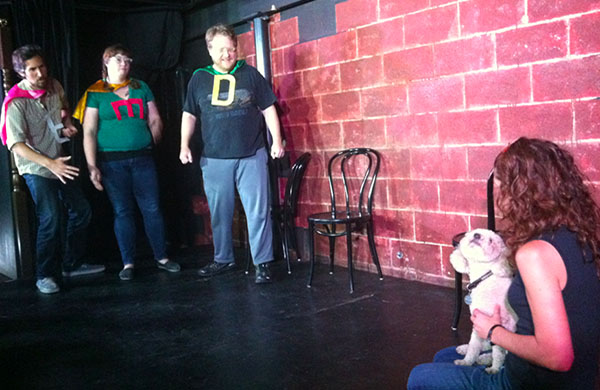 At several points throughout
What's the Story Steve?,
kids are called upon to make suggestions and every answer is worked into the story. No idea is too absurd.  In fact, the wackier the plot becomes, the louder the young audience giggles.
Flying Theater Machine
Sunday afternoons at The Hideout on Congress Avenue, families are invited to the theatre to see a nine-person improv troupe perform fast-paced interactive comedy.  Rather than long-form tales, Flying Theater Machine opts for rapid-fire improv games and shorter snippets of stories. This format provides ample opportunities for audience members to holler out suggestions and even hop up on stage to become a part of the action.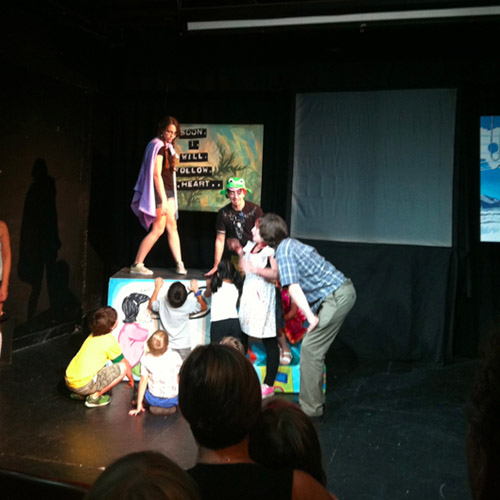 On a recent visit to see the Flying Theater Machine show
Fairly Silly Fairy Tales
, we saw
Jack and the Beanstalk
performed in 3 seconds, we watched a unique rendition of Snow White called
The Cheerful Salesman and the Seven Dragons
, and we even helped to create a brand new fairy tale about two horses who loved to play video games. My son was hooked on improv from the first show we attended, where we witnessed Rapunzel's prince picking his nose to create a mountain of boogers that he could climb up to rescue her from the tower.  With kids cooking up ideas for a story, you never know quite what you're going to get. And that, is the beauty of improv.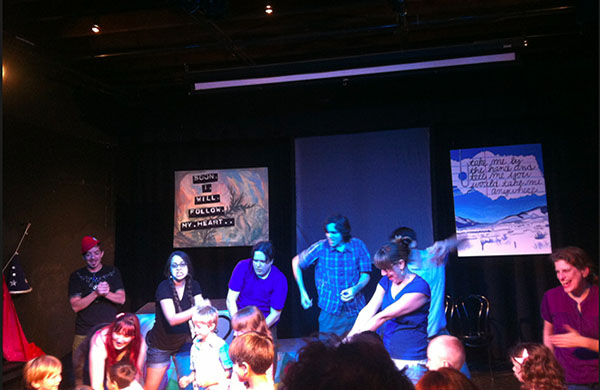 BY: Heidi Gollub
FreeFunInAustin.com was voted Best Hyperlocal Blog in the 2010 Austin Blogger Awards, was a Critics Pick in The Austin Chronicle's 2011 Best of Austin, was honored at The Statesman Social Media Awards in 2012, and has won Best Website in the Austin Family magazine awards for the past two years. Heidi Gollub started Free Fun in Austin in 2010 as a way to get out of doing housework.  Her theory was that running her five kids all over town on adventures for material to write about was a pretty awesome excuse for not doing dishes.  This worked swimmingly as her husband bought into her "I'm too busy being a good mother to bother with dusting" schtick and people not even related to her began visiting the website. Heidi's work on the website even led to other fun gigs, like writing for magazines and working as a True Local expert for the Austin Convention and Visitors Bureau.  All things considered, her kids don't really need clean clothes, do they?