Five Finds: A World of Odd Objects at Surplus of Options
BY: MEL KASSEL | 4.2.2013 |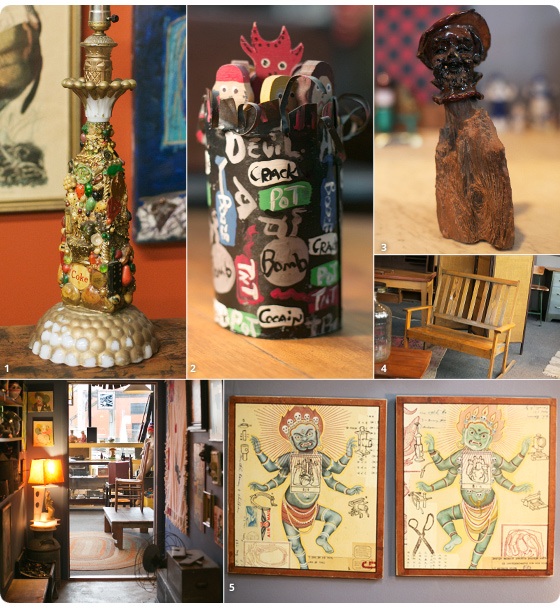 Twice a month, Sarah Kraut and Carlos Chavarria get in their pickup truck and go hunting for vintage knickknacks, furniture, and art. But make no mistake—they aren't pack rats. "We've been in enough places to see what can happen if you keep taking things home," says Sarah, referencing the abandoned houses and estate sales that yield much of the stock at Surplus of Options. The duo will scout more often during flea-market season, but otherwise, they wait for sellers—and their quirky treasures—to come to them.
The shop's only guiding motif is age—Carlos and Sarah try to display items from the '70s and earlier. However, Carlos also custom builds objects out of found materials, from tabletops made from slabs of zinc to lamps assembled from sheets of rust. As a result, Surplus of Options functions as both a shop and a gallery, what Sarah calls a "museum that you could buy stuff out of." On certain nights, it's even a performance venue for experimental jazz bands.
Though the shop's clientele typically consists of 50% browsers and 50% buyers, Carlos says that he doesn't begrudge the browsers at all. "I respect 'leave me alone and let me look around,' because you should do that with these sorts of spaces."
1. Carlos places this memory lamp ($60) as a holdover from the '50s or '60s, and likes to speculate what each adhered object represented to its creator. "This is something that people used to do a lot, find a bunch of objects, and they would just stick 'em on there…there's part of a steak, he must have really liked that steak!"
2. Ronald Cooper began carving folk art like this piece, titled The Devil's Hot Tub ($150), in the latter half of his life, finding inspiration after a nearly fatal car accident.
3. Sarah calls this tiny apple sculpture ($25) "the most unloved item" in the shop. It's stayed on the shelf for longer than most of their wares, despite its inventive use of the fruit, which has been glazed over to prevent it from spoiling.
4. A Craigslist ad led Sarah and Carlos to this rocking bench ($175) and to an ongoing business relationship with its owner, who often invites them over to peruse his belongings. "We'll go to his house, and he'll have everything in his little kitchen that he wants to sell that day."
5. There's a mystery behind these collages ($90 each). Carlos relates the story of a man who donated a suitcase to the Salvation Army, then received a call from a hotel years later. Another guest had left the suitcase behind after a stay, and the staff had found the original owner's business card inside, along with a set of surreal pictures. "They are not signed, they're not dated, and they're really, really bizarre…but they're awesome."
BY: Mel Kassel
Guide Staff Writer
Mel writes about food and beauty trends. She would rather give up chocolate than onions.