Fresh-Picked Fall Activities at Six Chicagoland Farms
BY: Stephanie McDaniel |
Oct 2, 2013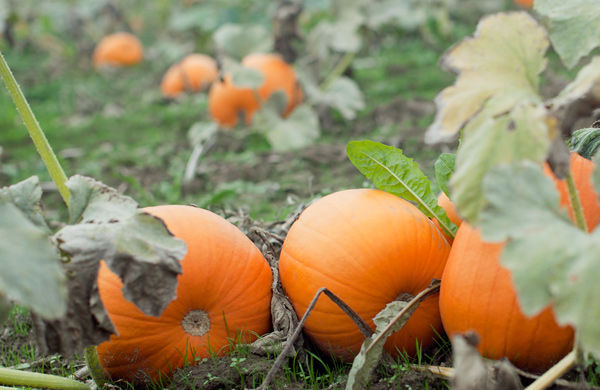 It's the same scene every October: a procession of jack-o'-lanterns lines the city's porches, and a procession of headless horsemen crowds the city's streets. This might strike some as the very essence of the season, but for others, autumn evokes so much more than Halloween. Across Chicagoland, October is a month reserved for apple orchards, cornfield mazes, and hayrides—haunted or otherwise. Whether your idea of fall involves pouring cider from the keg or picking pumpkins off the vine, here are six Chicagoland farms to help you celebrate every aspect of the season.
Richardson Adventure Farm: The World's Largest Corn Maze in Spring Grove
Drive Time from Chicago:
1 hour and 15 minutes (66 miles) You'll probably get hopelessly lost at Richardson Adventure Farm, but that's the point. The farm is home to the world's largest corn maze, which is actually four different mazes that twist and turn through a 33-acre cornfield. Maze games keep lost souls occupied with trivia questions and 24 hidden checkpoints. If you're directionally challenged, visit during the full moon on October 18–19. The maze stays open until midnight on these dates, giving you plenty of time to find a way out.
Odyssey Fun Farm: Ziplines and Zombie Hayrides in Tinley Park
Drive Time from Chicago:
35 minutes (30 miles) Odyssey Fun Farm's 5-acre courtyard is filled with activities for all ages, including pig races, a hay pyramid, and a cow train for kids. Parents can join in the fun as they mount a bouncy horse and race to the finish line, attempt to nail a distant target with a corn cannon, or plunge down a zipline from three stories up. At night, a zombie safari hayride challenges groups to defend themselves with 20 turret-style paintball guns.
Heap's Haunted Corn Maze: A Field of Screams in Minooka
Drive Time from Chicago:
55 minutes (51 miles) Heap's Haunted Corn Maze combines the thrill of getting lost with the more traditional horrors of Halloween. Dress up in your scariest costume (no masks allowed) and plunge into the terrifying maze, where scary scenes and monsters abound. The cornfield traps and disorients its victims as the lights go out, a blanket of fog rolls in, and the pathways gradually shrink. The farm's tractor-drawn hayride is decidedly less frightening, as is a flashlight maze that challenges visitors to find their way to an exit in the dark.
All Seasons Orchard: Pumpkins, Apples, and Pears in Woodstock
Drive Time from Chicago:
1 hour and 10 minutes (60 miles) As the name suggests, All Seasons Orchard prides itself on its apple orchard and pumpkin patch. The orchard is home to 11,000 apple and pear trees that yield 12 varieties of fruit, from the sweet honeycrisp apple to the juicy asian pear. Just across the farm, a pick-your-own-pumpkin patch boasts six varieties of gourds. Eager hands sift through the more than 30,000 pumpkins, most of which will end up in pies or perched on porches.
Siegel's Cottonwood Farm: Seasonal Farm Grub in Crest Hill
Drive Time from Chicago:
45 minutes (38 miles) "Farm" might be in the name, but Siegel's Cottonwood Farm isn't all fruits and vegetables. Nine food stalls and sit-down establishments sell everything from smoked turkey legs to six flavors of home-brewed soda. Take your deep-fried green beans or corn in a cup to the castle, where a massive troll named Bobo regales visitors with the story of Jack and the Sleeping Giant.
Kuipers Family Farm: A Path of Sweets and Spooks in Maple Park
Drive Time from Chicago:
1 hour and 5 minutes (58 miles) You don't need to stumble into a corn maze to get lost at Kuipers Family Farm. Just head to the Orchard Shop, where you'll be greeted with a labyrinth of shelves carrying everything from apple butter to Halloween decorations. One room contains caramel apples coated in nuts and sprinkles, with samples available for tasting. Fill up on these at your own risk, because just next door you'll find freshly baked apple pies and dozens of cider donuts drizzled with vanilla, chocolate, or apple-spice icing. The shop is also home to a full-size tractor set up for photos, but you'll have to go outside to find fresh-picked gala, honeycrisp, and swiss gourmet apples waiting to be carried away by the peck or half peck. But Kuipers isn't all about sweets—just ask those who wander off to the haunted trail, where skeletons drive tractors and animatronic farmers warn trespassers to stay away.
Photo: © Julie Goding, Groupon
BY: Stephanie McDaniel
Stephanie McDaniel is a political theorist-turned-novelist from South Carolina. On the rare occasion she's not writing, she spends her time folk dancing, singing, and adding sea salt to Lake Michigan.