Four Chicagoland Bike Destinations That Feel Far-Flung
BY: Daphne Sidor |
Jun 25, 2013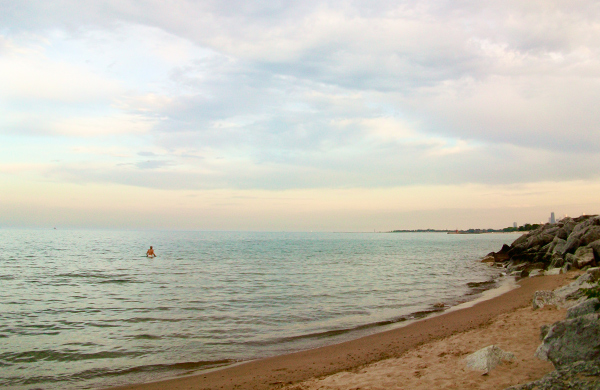 Chicago is famous for its bright and energetic summers, but with all the revelry comes just as much noise. And the city sometimes feels too big. Its enormous web of packed beaches and block parties can seem difficult to shake loose—especially if you don't have a car. But you don't need a full weekend and a van packed with camping gear to feel as though you're miles outside the city. The following mini escapes will make you feel like you're visiting an entirely different world, yet they fall within a leisurely 90-minute bike ride from downtown.
Visit a small resort island at Berger Park | Edgewater
Behind a pair of historical brick mansions lies a park unlike any other in Chicago. For one thing, the action continues well after dusk on summer evenings. Neighbors walk and chat on softly lit paths. Waiters in sailor caps deliver sandwiches and sangria from the Waterfront Café's coach-house kitchen to the picnic tables in the back, which is loosely fenced with rope and tiki torches. There, you'll often find dogs lazing at their owners' feet and parents keeping an eye on kids swinging from the playground equipment just beyond. And you needn't be a paying customer to enjoy the live jazz that drifts from the patio. Scramble down the rocks at the park's north end to a tiny secluded wedge of beach perfect for stretching out on a blanket, staring up at the rising moon, and listening to a duet of lapping waves and spanish guitar.
How to get there: Berger Park lies just a few blocks beyond the northern end of the Lakefront Trail, which is open until 11 p.m. Once it ends at Ardmore Avenue, continue west to avoid the fast traffic and narrow lanes of Sheridan Road. Turn right on Kenmore Avenue, then right on Granville Avenue. As you head into the park, be sure to look up at the vintage midrise buildings The Sovereign and The Grandeur.
Take the airs at a Victorian country estate at Douglas Park | North Lawndale
At the first sign of summer, you'll notice neighborhood residents toting grills to the lawns of this historical park. But at 218 acres, it should be possible even on the nicest day to get blissfully lost in the greenery. Douglas Park is part of the boulevard system that links the better-known Humboldt Park and Garfield Park, and it's equally saturated with architectural treasures and artistic vistas. Composed by the famed hands of architect William Le Baron Jenney and landscape artist Jens Jensen, ponds and lagoons wind through the flora, crossed by stone footbridges. As you coast along its paths and roadways, admire the formal gardens, reflecting pools, and immense pergolas emerging surprisingly from the trees. If you can sling your golf clubs across your back, there's even a small putting range.
How to get there: From the northeast, take the peaceful industrial corridor of Fulton Street west, then head south on California Avenue: the park's eastern boundary. If you're approaching from the south, follow California onto Marshall Boulevard, both of which form a long communal front lawn for the neighborhood's pop-up taco stands and impromptu soccer games.
Explore a Candy Land–like kingdom at the Riverside Water Tower | Riverside
The village of Riverside has something against straight lines. Residential streets curve and swoop along the contours of a wooded glen that seems to only incidentally contain houses. The village's design comes full circle in the enormous water tower in the center of town, built in 1871. Resembling the turret of a fairytale castle, the pastel-painted tower was functional until 2005, and its twin stone well-houses still stand. These hold the Riverside Historical Museum, open Saturdays. Among the ultra-quaint shops surrounding the square is Aunt Diana's Old-Fashioned Fudge (29 E. Burlington St.), a beloved local source of sweets ranging from gummy gators to chocolate-dipped everything.
How to get there: Ride west to Oak Park Avenue and head south—try Augusta or Washington if approaching from the north. Just south of Cermak, take a slight left on Riverside to begin your journey off the grid. (South Siders can take 26th Street directly to Riverside.) Riverside turns into Longcommon, which will deposit you right at the water tower. The old-fashioned gas lanterns that line the residential streets aren't very bright, so if it gets late, you and your bike can board the Metra—the station is just a gumdrop's-throw away.
Climb through a Disney version of the deep woods at Emily Oaks Nature Center | Skokie
Earth uses the 13 acres of Emily Oaks Nature Center efficiently. Just beyond where the two-car Skokie Swift train comically rumbles, bidding you a temporary goodbye from civilization, a pond adored by ducks and geese lies amid an abundance of wildflowers and wildlife, including herons, flying squirrels, foxes, and the occasional toddler chasing a chipmunk. The center's building hosts an exhibit called the Woodland Wander Inn, but the best entertainment may be to simply roam as far from the parking lot as you can get, find a bench or a log to sit on, and wait for what quiet creatures may appear.
How to get there: The largely bike-friendly Lincoln Avenue is a straight shot northwest, but traffic is swift on certain sections. For a more leisurely ride, take Lawrence to Francisco, turn north, and hop on the North Shore Channel Trail to meander through leafy neighborhood parks until you reach Howard and take a left. A right on Hamlin will lead you to sleepy Brummel, where the park lies.
BY: Daphne Sidor
When she's not busy writing, Daphne is an indie-pop musician, year-round bike commuter, and newbie gardener.