Going Whole Hog at the Bacon Takedown
BY: Nathalie Lagerfeld |
Sep 16, 2013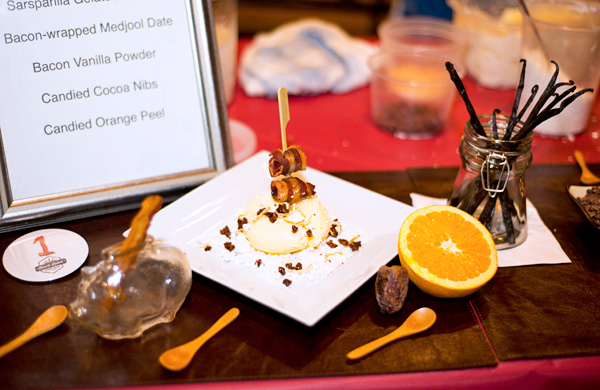 The fourth annual
Chicago Bacon Takedown
filled
Lincoln Hall
(2424 N. Lincoln Ave.) with the smell of sizzling pork this Saturday as more than a dozen amateur chefs showed off their most excellent bacon recipes. Contestants stationed on both floors passed out bite-sized samples of their dishes as attendees voted for their favorites via a provided ballot. Event cosponsor Hormel provided the bacon—15 pounds of it per contestant—as well as the prizes for the winner, which included a year's supply of free bacon as well as assorted cookware. Host
Matt Timms
kept exhorting the crowd to try every one of the dishes available, but that seemed like an impossible task—my stomach was full to bursting after visiting only five or six tables. The entries ranged from delicately plated scoops of bacon gelato to the rougher, but no less delicious, Fat Elvis Bacon Cup: a cone of crunchy bacon filled with a chunk of waffle, a banana slice, bacon crumbles, and a dollop of peanut-butter whip. Scroll down to the end of this article to find out the winner—I'm not giving it away up here! No worries if you missed out this time around: the Takedowns will return to the Windy City from Thursday, November 21, to Saturday, November 23, for the Chicago Food Film Fest. To whet your appetite, here are some highlights from this month's event:
The Tasters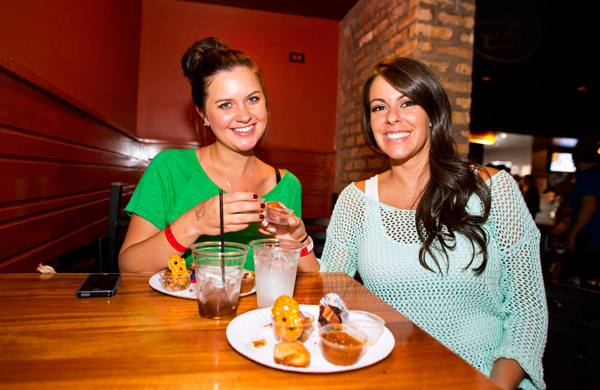 Names:
Kristen and Samantha
Why they're here:
They're friends with team No. 10—the reigning champions—as well as team No. 9, who are there to challenge them.
What they're eating:
Team No. 10's twisted bacon breadstick and team No. 9's Hevin Bacon, a ball of deep-fried, bacon-wrapped risotto
Their favorite:
"I'm going to say it on the record right now: No. 9 is the bomb."
Why:
The freshness of the Hevin Bacon, which comes straight out of the deep-fat fryer, seemed to impress these two. They also praised its intense bacon flavor. "You really get the bang for the bacon."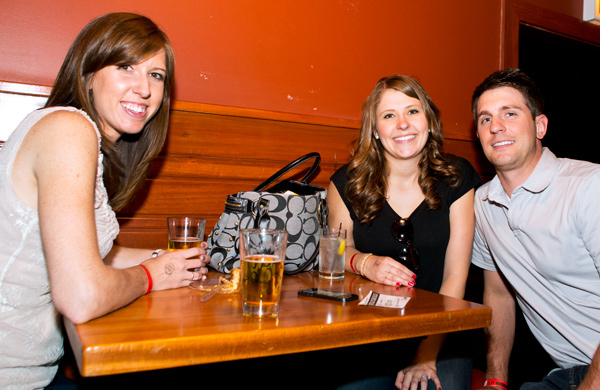 Names:
Marie, Jeremy, and Ashley
What they're eating:
Team No. 12's bacon pecan pie—cheesecake topped with a sugary bacon-pecan crumble
Their unanswered questions:
"We want to ask, is there just bacon on top, or is there bacon incorporated all into the pie?" "It's kind of cheating a little bit if you just top something with bacon." "Like, did they buy like an Eli's cheesecake or Eli's pecan pie and just throw bacon on it?"
Their favorites:
Bacon pecan pie, unless it's a "sham"; Hevin Bacon; or team No. 9's breadsticks, which Ashley calls "supercreative."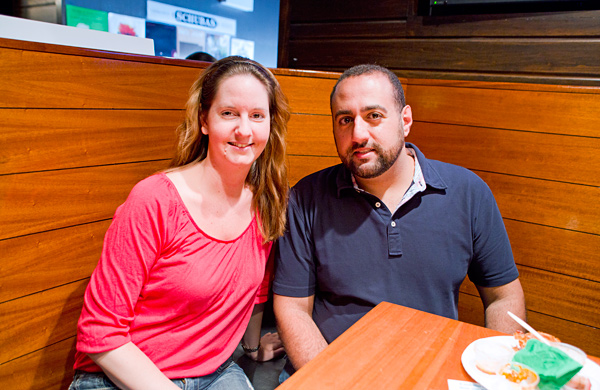 Names:
Tyler and Matt
What they're eating:
Team No. 16's bacon apple pie and another team's bourbon bacon apple bites, a phyllo dessert with apples, bacon crumble, and Jack Daniel's honey whiskey
Their favorites:
Tyler said she was "kind of torn between both apple desserts right now." "I think they managed the sweet and savory balance really well between the two. The apple-pie dessert has bacon in the crust, which is pretty awesome, too."
Their least favorites:
Matt wasn't a fan of a rosemary-bacon chocolate he and Tyler both agreed was "too firm." He also said that the chocolate "overpowered the bacon flavor."
The Competitors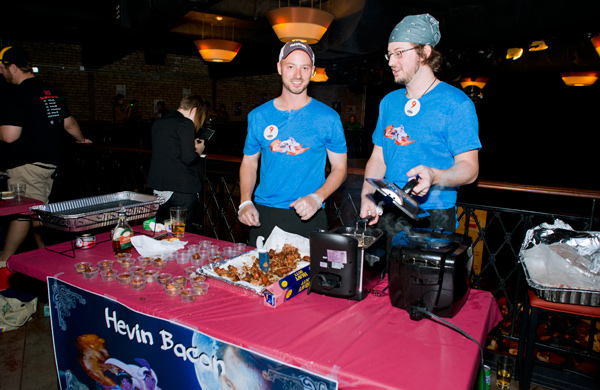 Names:
Kevin and Sean (team No. 9, Hevin Bacon)
Why they're here:
To take on their friends on team No. 10, of course.
"We were sitting around and joked about the old Chicago Bulls three-peats back in the '90s. We said, 'There's no more three-peats in Chicago.' So we came in to try to thwart their efforts."
Fun fact:
Their homemade T-shirts show Aladdin and Jasmine riding a magic carpet of bacon.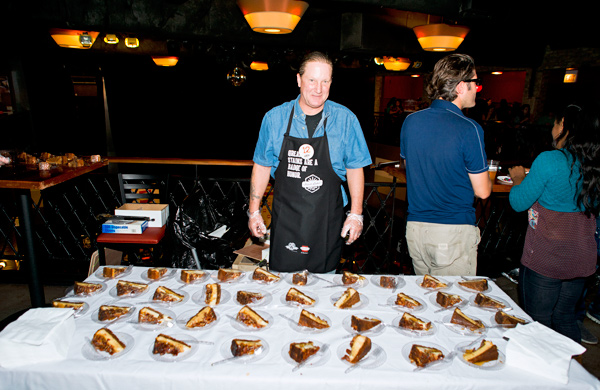 Name:
Mark (team No. 12, bacon pecan pie)
Why he's here:
A longtime baking enthusiast, Mark is currently scouting locations to open a real bakery.
Fun fact:
Although he did make the cheesecake himself, it does not contain any bacon, except on top.
Surprise surprise: crowd favorite No. 9 took home the prize. Congratulations, Kevin and Sean!
Photo: © Timothy Burkhart, Groupon
BY: Nathalie Lagerfeld
Guide Staff Writer
Nathalie is a writer and editor on the Guide's food team. Originally from Virginia, she now lives in Chicago, where she regularly indulges her love of tortas, bibimbap, and Cheez-Its. Follow her on Twitter @maviswillsaveus.