Here's Looking at You, Dinner Guests
BY: Amelia Buzzell |
Jan 15, 2014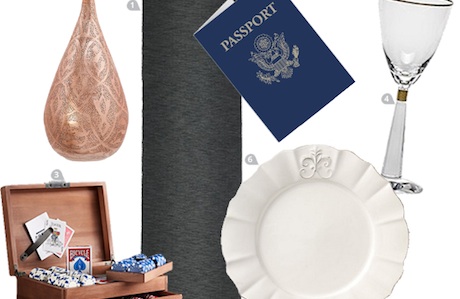 Round up the usual suspects: it's time for a "Casablanca"–themed dinner party complete with Moroccan–style lanterns and a deluxe poker set.
You may not have Paris, and you may not have a friendly piano man waiting to play your favorite song upon request. But if you're looking to celebrate Valentine's Day in Chicago, you can always count on one thing—the
Music Box Theatre's annual screening of Casablanca
(complete with a sing-along!). Of course, you don't need a special day to take romantic inspiration from a film as iconic as this one, so why not throw in a DVD and decorate a table that looks like it belongs inside Rick's Café Américain?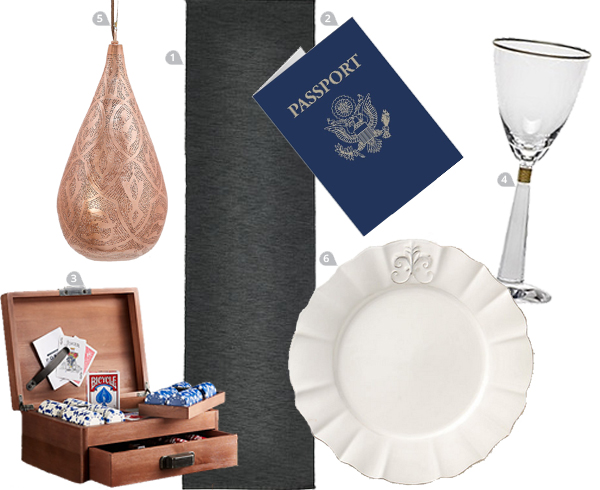 Emulate Rick's white suit coat and black bow tie with a crisp white tablecloth topped with a sleek black runner. Notecards masquerading as passports help guests travel to their assigned seats, where they can settle in for a round or two of poker over a glass of brandy. A filigreed copper lantern casts Moroccan patterns onto walls and a soft glow across the table, where plates stamped with fleurs-de-lis may inspire guests to sing a rebellious chorus of "La Marseillaise." And if you're inviting someone over for the first time, who knows—it may just be the beginning of a beautiful friendship. 1. Marit table runner;
IKEA
($6.99) 2. Passport notecard;
Zazzle.com
($2.75) 3. Deluxe poker set;
Restoration Hardware
($219 on sale) 4. Moser Casanova goblet with 24-karat gold accents; available at
Elements Chicago
(741 N. Wells St.) ($310) 5. Copper filigree teardrop pendant;
Terrain
($368) 6. Fleur-de-lis salad plate;
Anthropologie
($12)
BY: Amelia Buzzell
Guide Staff Writer
Amelia is a Senior Writer who owns about 600 houses' worth of housewares. She daydreams about throwing parties and amassing more housewares.