Holiday Gifts for Tea Drinkers with Help from Argo Tea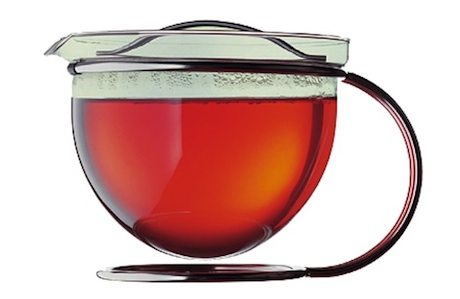 Although I guzzle a mug of tea practically every hour on the hour (you can set your watch by me), there's plenty I don't know about the hot infusion. So to find the best holiday gifts for tea-drinkers, I consulted Jill Lawrence, who heads up the café business for Chicago tea chain Argo Tea. Read on for her advice.
EQUIPMENT
Utilitea Kettle ($59 at Adagio Teas)
For someone who doesn't have the luxury of an instant hot-water tap, this stainless-steel kettle is the next best thing. It has two different temperature settings: boiling for black and herbal teas and 180 degrees for greens and whites. "Water temperature is a detail that is often overlooked," Lawrence says. "Many times people use water that is too hot and causes the leaves to burn or bruise, which can change the flavor."
Timolino Travel Mug ($34.50 for 16-ounce size at David's Tea)
This sleek mug has double-lined walls that keep tea hot for hours, a leak-proof lid, and a perforated sip guard (which is removable for easy cleaning) to ensure leaves don't pass from the infuser into your mouth. There's even a hidden chamber in the lid for stashing an emergency ounce of tea.
Tea-Cup Strainer ($8.95 at Argo Tea)
Do not get a pincer-style infuser. With use, the basket will stop closing properly, letting leaves seep out. A good tea-cup strainer like this one fits on top of most mugs and has small perforations so that even tiny rooibos leaves can't escape.
Lawrence recommends Argo's mono pot if you need to infuse more than a cup at a time. It has a "large basket that allows tea leaves to fully open and infuse for maximum flavor," she says.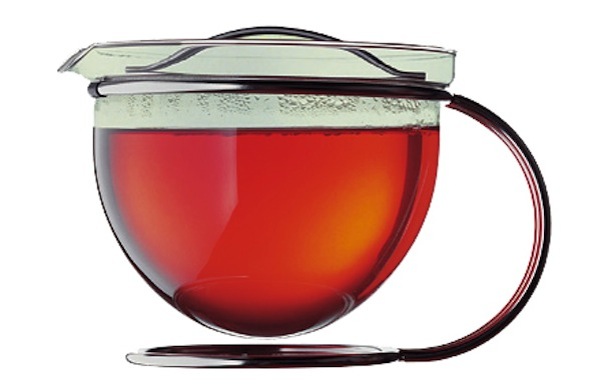 TEAS
Argo Tea Holiday Sampler Set ($12.95 at Argo Tea)
For the uninitiated tea drinker
Lawrence recommends a tea sampler "for someone who wants to try tea, but doesn't know where to start." Argo's holiday set has three different varietals, including winter spice, an herbal blend of orange flower, cassia (Chinese cinnamon), cocoa shells, orange peel, and almond. There are also plenty of tea-of-the-month clubs out there; Adagio Teas has a six-month option for a shorter commitment.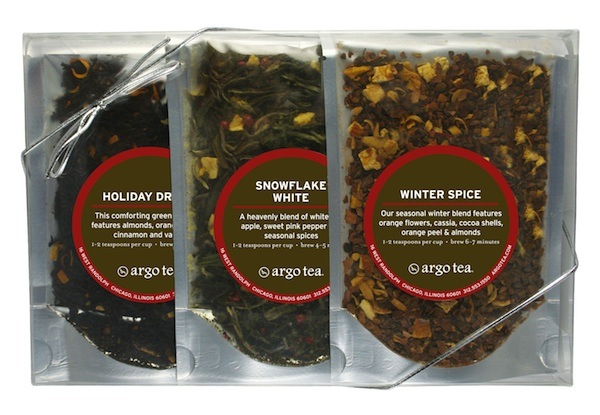 Coffee Pu'erh ($7.50 per 50 grams at David's Tea)
As an alternative to coffee
This dark, fermented Chinese tea is sprinkled with whole coffee beans and has an earthy, chocolate taste, but only moderate caffeine. For a more stimulating option, try a mate, the South American staple. Adagio Teas has a mate sampler that includes Argentine and Brazilian varietals.
Cream Caramel Rooibush ($9.26 per 100 grams at Tea Gschwendner)
Best-flavored rooibos
A good, vanilla-y rooibos (or red) tea is surprisingly hard to find. This caffeine-free blend contains bits of caramel for a rich and creamy infusion that needs no milk or sweetener.
White FrosTEA Chocolate ($4.45 for 16-ounce size at Argo Tea)
A cup of holiday cheer
This scrumptious-sounding tea drink "combines rich white chocolate with mint, white tea, and steamed milk," Lawrence says. "The white tea provides lots of antioxidants, but is low in caffeine so you can have a couple."