Hot Yoga Heats Up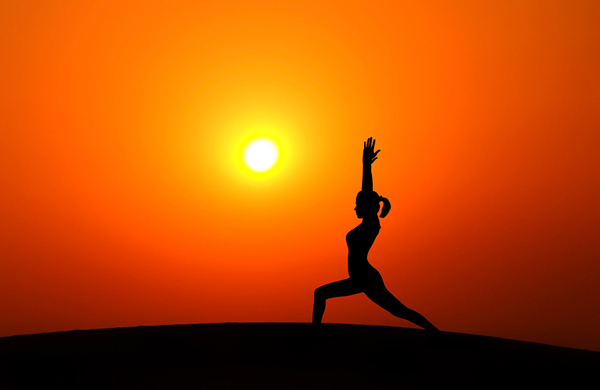 Hot yoga is so haute right now. The intensely physical and sometimes spiritual practice of doing 90 minutes of traditional hatha yoga poses in 105-degree rooms has been swept from a fringe movement to the mainstream, as devotees praise its benefits and curious onlookers seek to find out what all the fuss is about.
Hot yoga was first introduced in America back in the 1970s by Bikram Choudhury, who cranked the thermostat to recreate the climate of his native India. It wasn't until 20 years later that the movement began to pick up steam, when Bikram started training instructors around the country. There are now thousands of certified teachers of this sweaty and exhilarating style of yoga, although the predictable knock-offs have sprung up as well.
All thrive on the belief that the warm room helps muscles to relax, which in turn increases flexibility and strength and allows students to go deeper into poses. The hour-and-a-half sessions are also said to have a detoxifying effect, thanks to the constant rejuvenation cycle of sweat and hydration. It's no wonder every student is required to bring a towel to class.
In cooler climates like Seattle, hot yoga has the added appeal of feeling as if you've been temporarily transported to a tropical setting. For many intrepid yoga goers, local Bikram locations provide a convenient excuse to enjoy the heat, take in a little exercise and get away from the cold and rain for an hour or so.
Urban Yoga Spa in downtown Seattle takes the feel-good mission to the next level. This popular loft-like spot not only offers a variety of hot yoga classes, anyone in need of a bit of relaxation can sign up for spa services like massages, manicures and pedicures.
Or try dropping into a session at one of the Breathe Hot Yoga locations throughout Seattle. The temperature is mercifully turned down to 85 degrees, and instructors are not required to stick with the traditional Birkam format. These relaxed and unintimidating guidelines mean that hundreds of students look to go with the vinyasa flow every week, so get there early to claim a spot.
And just remember: While classes at hot yoga studios will always be filled with seasoned students, they're equally welcoming to newcomers, encouraging them to stick with it in order to get the full benefits that so many have warmed up to.
BY: Gayot
Gayot
GAYOT.com serves as a leading worldwide authority on the good life. Millions of readers turn to Gayot's savvy, professional reviews on dining, travel and lifestyle. From "Best of" lists and travel guides, to a searchable restaurant and hotel database, Gayot provides dependable coverage while keeping up with the latest trends and news.