How to Create a Smoky Eye with Makeup Artist Hayley Kassel
BY: AMELIA BUZZELL | 4.4.2013 |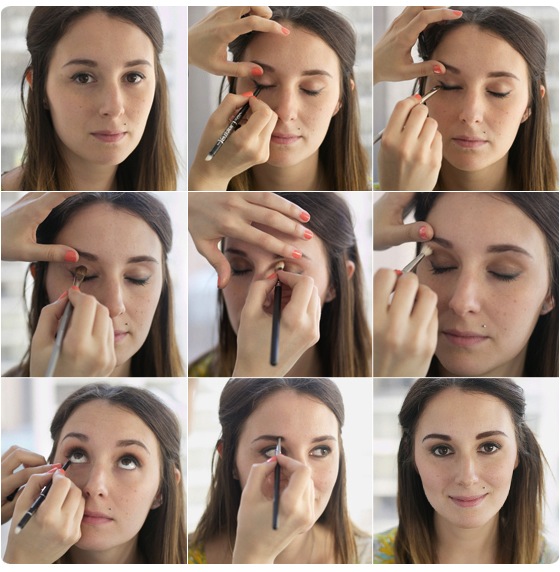 In her work for magazines and movies, makeup artist Hayley Kassel has created avant-garde looks with everything from neon colors to googly eyes. But even she understands that, when it comes to makeup, sometimes the simplest things are the most daunting, like creating a smoky eye that's smoldering but not scary. "[A] misconception about a smoky eye is people think it needs to be huge and smoked out, when the ones that look the best are the minimal ones that are tight around the eye," Kassel says. "A lot of people think the [only] color for it is black, but one of my favorites is a bronze or a deep brown."
Here, Kassel shares step-by-step tips for creating her favorite kind of smoky eye:
1. Start by lining the eyes in black or brown eyeliner. "The line doesn't have to be perfect at all since you'll be smudging it out," Kassel says.
2. Take a small, flat smudge brush, a q-tip, or any other preferred tool, and begin smudging the eyeliner in back-and-forth and up-and-down strokes.
3. Dip the smudge brush in a dark brown shadow, and brush it in the middle of the lid up to the crease.
4. Take a fluffy brush with a flat head—Kassel's favorite is MAC's 217—to brush a lighter brown shadow into the crease.
5. With a clean, flat-headed fluffy brush, blend color out above the crease.
6. With the eyeliner, draw a tight line over the bottom eyelashes.
7. Dip the smudge brush into the same dark brown shadow from Step 3 before smudging the bottom eyeliner.
8. Optional final step: fill in eyebrows with a precise matching shade, using short strokes to emulate the natural brows.
BY: Amelia Buzzell
Guide Staff Writer
Amelia is a Senior Writer at Groupon who owns about 600 houses' worth of housewares. She daydreams about throwing parties and amassing more housewares.