How to Make a Korean Vegetable Soup with a Recipe from Mia Park
BY: Aimee Algas Alker |
Oct 2, 2013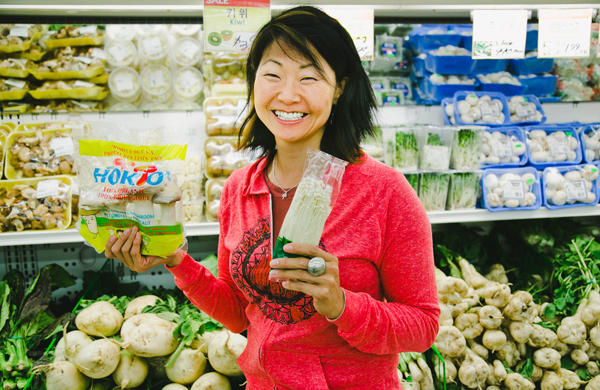 Mia Park can be hard to pin down. I met with her on a sunny fall afternoon in front of
Joong Boo Market
(3333 N. Kimball Ave.) to shop for the ingredients of her favorite soup. Our first stop, however, was the cafe inside, where a famished Mia ordered a fresh-made bowl of veggie bibimbap. She chattered away as she showed us how to eat bibimbap properly: douse it in equal parts of the oil and hot sauce, then slice the egg with a spoon, then toss everything, making sure egg, rice, and veggies get equally coated with the bright red sauce.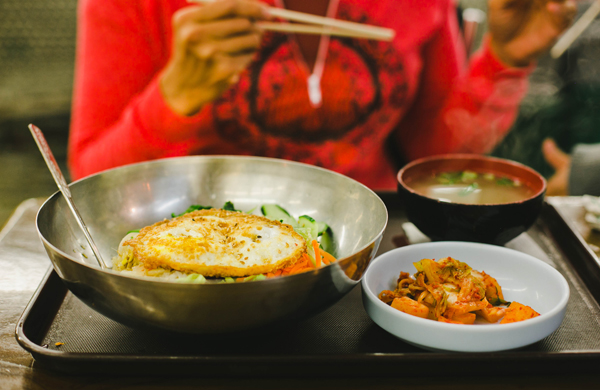 She's got the energy of an 8-year-old, which serves her well as she makes her way around the city: to the TV studios of the kids' dance show
Chic-A-Go-Go
(which she's hosted since 1997) to the serene studios at
Moksha Yoga Center
(multiple locations) to rehearsal where she beats the skins as a percussionist in
Girl Group Chicago
. It's her vegetarian diet that gives her the fuel, I think, to make it from morning to night.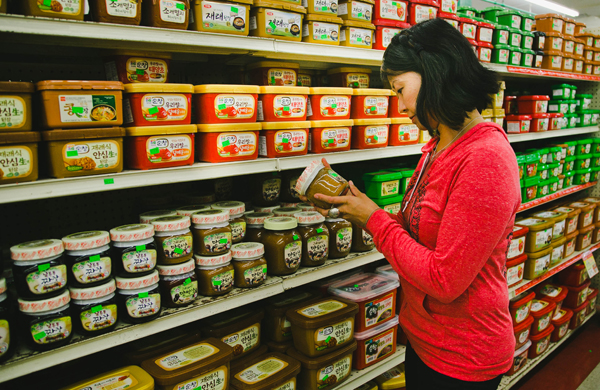 It was that energy that directed us through the bustling aisles, where shelves neatly displayed a tumble of brightly colored cans and containers labeled in Asian alphabets. Our first stop was for the
dehng jang
. She moved down the aisle, placing her hand on a bright green container. "That's not it," she murmured, keeping her hand there as her eyes ran over the rest of the aisle. "This is it!" she said, grabbing a tub that (to me) was nearly identical, save for the mocha color. Still, her eyes were moving down the aisle, and they landed on a glass jar of brown paste: "This is the old-school stuff. This is what my grandmother would have had in her pantry." We were shopping for the ingredients for a Korean soup called
dehng jan jigae
. The
dehng jang
is the main ingredient, a fermented soybean paste that's "like miso but chunkier," according to Mia. The soup is Mia's comfort food—one of her mother's staples after Mia gave up meat at the tender age of 14 and one of the only vegetarian dishes her whole family relished. After the
dehng jang
, we made our way to the produce aisle. "Any veggie works in this soup, but I would definitely get these," Mia said, holding up a packet of mung bean sprouts, "and these funny mushrooms." All the mushrooms were trippy looking, to be sure, but these had cartoon mushrooms dancing on the package. "Very Asian," we agreed. The last item on the list was radishes, identifiable only by shape, which Mia said she'd thinly slice into the soup.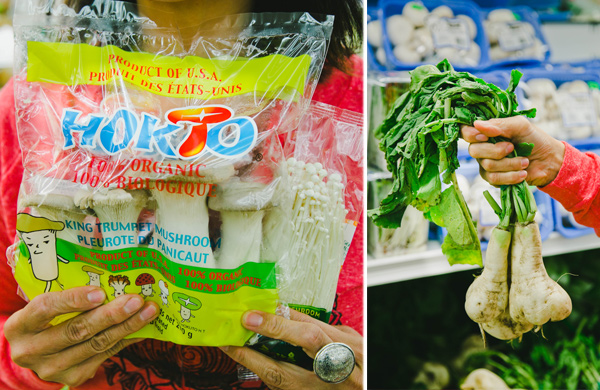 So here's the recipe for
dehng jang jigae
, or fermented soybean soup. The best parts about this soup is that virtually any vegetable tastes great in it, it cooks quickly, and it's great to make with kids, who can help with choosing which vegetables to use (and also tasting them as they cook to see if they're done!).
Recipe for Dehng Jang Jigae
What You Need:
* A tub or jar of
dehng jang
, a Korean fermented soybean paste. According to Mia, it's chunkier and more flavorful than miso. * A ton of veggies. Mia recommended spinach, zucchini, potatoes, and all those veggies we shopped for, but add whatever you've got on hand ("You can't have too many!" she said.) * Water
What You Do:
Open the jar or tub of
dehng jang
and add about 2 tablespoons to every cup of water into a big soup pot. Throw in your veggies, cut up, of course, so they cook more quickly. First put in the veggies that you know will soften faster, such as zucchini and spinach—two of Mia's recommendations. Then add the veggies that take a few more minutes, including potatoes and the items we shopped for: bean sprouts, radishes, and mushrooms. Boil everything together until the veggies are as tender as you'd like.
If your kitchen needs a time-out:
One restaurant that Mia says has a "nice, simple" version of
dehng jang jigae
is
Cho Sun Ok
(4200 N. Lincoln Ave.), but of course, she reassured me, "I make the best because I use so many veggies!" Dinner at Mia's!
Photo: © Stephanie Bassos, Groupon