Jessica Lea Mayfield Is Inspired by Almost Everything But Music
BY: Kelly MacDowell |
May 2, 2014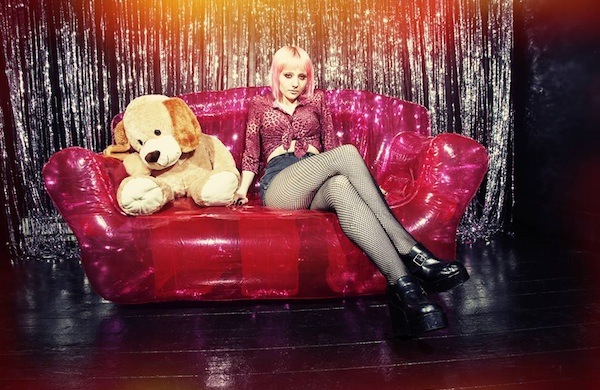 Ohio native Jessica Lea Mayfield comes from a musically rich state. Devo. Dave Grohl. Chrissie Hynde. Kim Deal. Dean Martin. Maynard James Keenan
and
Trent Reznor. The list goes on. So when we asked her which Ohio musicians she's most into, her answer surprised us. "I don't really listen to a lot of music." It seems like the most antithetical thing a musician could say—particularly one who has spent nearly her entire life with an instrument close at hand. As a child, Mayfield was in a family bluegrass band called One Way Rider, and by age 15 she was tracking her first EP,
White Lies
, in her brother's bedroom. Mayfield's the first to admit that her tastes haven't changed much since then. "I have, like, 10 bands that I listen to," she said. "Mainly all the shit I listen to is all the stuff I liked when I was 16. Nothing has changed. I like the Stone Temple Pilots, donuts and candy, and doing whatever I want." In fact, it's more common for Mayfield to know musicians' personal phone numbers than their actual work. She's toured with and befriended the Avett Brothers ("They're like family to me."), Band of Horses ("They're really cool dudes."), the Black Keys ("I did my first European tour with them!"), and Ryan Adams ("I hadn't even heard much of his music until we did that run"). So music isn't one of Mayfield's main influences, and that's fine. Thankfully, she was kind enough to share with us six things that she is inspired by:
1. Club owners
Mayfield may not be an expert on Ohio musicians, but she's got plenty of love for Cleveland-area venues. She's particularly grateful to the
Beachland Ballroom
and
The Kent Stage
and their respective owners, Cindy Barber and Tom Simpson. "When bands would come through town, they would call me and have me come open," she explained. "A lot of the club owners really helped get me out there."
2. Her husband, Jesse Newport
Newport plays bass on and coproduced his wife's newest album,
Make My Head Sing
. "My old songs are all about the throwaway people," Mayfield reflected. "First boyfriend, some dude. … They don't have the level of importance of the things I write about now." So what are the newer songs about? "They're more about when two people get to join together and you're adjusting to sharing your life with somebody else."
3. Her brother, David Mayfield
"I've been doing music my whole life. The [White Lies EP] was me and my brother just recording 'cause that's what we liked to do," Mayfield said. "That was our fun. We were home-schooled." In 2011, David also helped his sister record a retooled version of Nirvana's "Lounge Act," which was featured on
Spin
's 20th-anniversary tribute to
Nevermind
.
4. Her guitar
"I started [
Make My Head Sing
] with the song 'Party Drugs' because I got this guitar I really liked, this Gretsch Baritone. It inspired the whole record."
5. Herself
"If I'm not really feeling like coming up with words, I can play around on the guitar pedals and come up with a melody," Mayfield said. "Then I can have that on the backburner for when I do come up with lyrics that meet my standards." All of that sounds easy enough, but Mayfield can be hard on herself when it comes to putting words on paper. "With the last record, there was a lot of pressure lyrically. I felt like nothing was good enough. Now, I feel like I can inspire myself and help myself a little more."
6. Living in the moment
As far as her music is concerned, Mayfield manages to stay pretty levelheaded. "I don't have any big expectations because that's no way to live," she said. "If you're doing something and waiting for some sort of reward, then you're doing it wrong. Because what you're doing should be the reward." That, and donuts and candy.
Jessica Lea Mayfield plays the Empty Bottle on Friday, May 9, at 9 p.m. Tickets are $15 and can be purchased here.
Photo courtesy of Jessica Lea Mayfield
BY: Kelly MacDowell
Kelly's first concert was Fleetwood Mac and her first career was in the beauty industry. Now a style and music writer, she loves Project Runway and her dog, Watson.