Kurt Warner: Grocery-Shelf Stocker, NFL Quarterback, Reality-TV Host. In That Order.
BY: Charles Austin |
Apr 9, 2013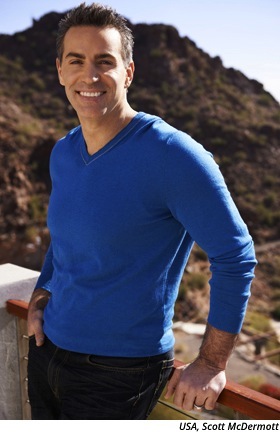 Kurt Warner's professional-football career appeared over before it started. When no team would take him after college, he took a job stocking shelves at a grocery store in Cedar Rapids, Iowa. But a redemptive stint in the Arena Football League reenergized his career, leading him to the NFL, where he would play in three Super Bowls, winning one and posting the top three Super Bowl records for passing yardage (414, 377, and 365, respectively). Today, pro football is behind him, but the lessons that led him from the canned-goods aisle to the Georgia Dome remain central in his life. On Thursday, April 11, USA Network premieres Warner's series
The Moment
. The series chronicles his efforts to help nine individuals achieve their own dreams. We spoke with Warner about his past as a quarterback, his future as an inspirer, and the etiquette for wearing a Super Bowl ring appropriately.
On The Moment, you help people to reach for their dreams. Do you try to think about the people who helped you achieve your dreams when you're helping others?
I try to use my entire story. There were so many times when people told me to give up, or people told me I was too old, or people told me I would never get a second chance.
So I often think about the coach that really gave me a second chance—that met me in a hallway and just said, "There's something about you that's unique and special and I want to give you a chance."
That's really what this show is all about. We hope to convince people in a couple weeks that they have the talent to chase after whatever career it is that they're chasing. But more importantly, the interview and audition part comes down to individuals selling themselves and showing people that there's something unique about that.
And to me that's what life is all about. And that's what I love [about the show]. … We're really just giving them an opportunity to prove that they can do what they've always wanted to do.
While working on the show, have you learned anything you didn't expect to learn?
I think the biggest thing I've learned is—so often we sit at home and go, "Well, if Kurt Warner came and knocked on my door, I'd chase after my dream too." We sit at home and we come up with excuses for why we're not chasing our dream.
And most of these people have some kind of fear, you know? Something holding them back from truly chasing what they know they're supposed to be doing. I mean, they know they believe—everybody you talk to believes—"This is what makes me tick. This is what I love doing; this is what makes me happy on a daily basis." Yet still they're in some other job doing some other thing due to whatever that fear is that they have in life.
Let's talk football for a minute. With the emergence of young quarterbacks who can run as well as pass—Cam Newton, Robert Griffin III, Russell Wilson—do you feel their style of play will be a lasting trend, or will it fade away?
I think it really depends on how well they continue to play in the pocket. If they can continue to throw the football from inside the pocket the way they have early in their careers and have the physical ability to run like they can, there's no question.
I think it's very difficult to survive in this business being a running quarterback. But what makes these guys unique is that they're unbelievable passers and they can win games for you with their arm.
I still believe that the NFL is built with the quarterback inside the pocket. And as long as you can play there and have success then I think—if you have an athletic quarterback that can add different parts to their game—you can definitely be successful.
I want to ask you some questions about Super Bowl–ring etiquette. I'm going to give you some everyday situations and then you tell me whether or not you would wear your ring in that situation.
OK.
You're at a friend's wedding and the ring bearer tears his ACL and they need you to step in. Do you wear your ring while presenting the ring?
I might do that, that'd be kind of cool.
You're at the USA Network Christmas party and the actor playing Santa Claus tears his ACL. They need you to step in. Knowing that Santa never won a Super Bowl but he does like fancy things, do you wear your ring?
No question. If I'm at a USA party, I'm definitely wearing it whether I'm dressed up as Santa or not.
You're in the produce section at the grocery store and Dan Marino asks you to hand him a navel orange. Do you wear the ring?
Yeah, if Dan Marino's asking me. I want to try to impress him. But if I'm in the grocery store and I'm doing what we call facing shelves—where I have to straighten out the cans and little jars to make sure that they're facing out and it looks pretty—I'm not wearing my ring because it's too gaudy and it's going to knock over my cans and screw up my work.
You're at the office-supply store and Steve Young asks you to hand him a ream of copy paper. Do you wear the ring?
Yeah, no doubt.
You're traveling through an enchanted forest in Middle Earth with some Hobbit friends and your Fellowship is attacked by Orcs. Do you wear your ring knowing that it will make it easier for the Dark Lord to find you?
If it gives me no powers, then absolutely not.
The Moment
premieres Thursday, April 11, at 10 p.m. ET/9 p.m. CT on USA Network.
BY: Charles Austin
Guide Staff Writer
Before joining our editors, Charles Austin was a Daily Show intern. Charles eats Iams® ProActive Health™ Adult Original cat food to maintain his active lifestyle.