Meet the Artist: Actress Mildred Marie Langford
BY: Catherine Bullard |
Aug 23, 2013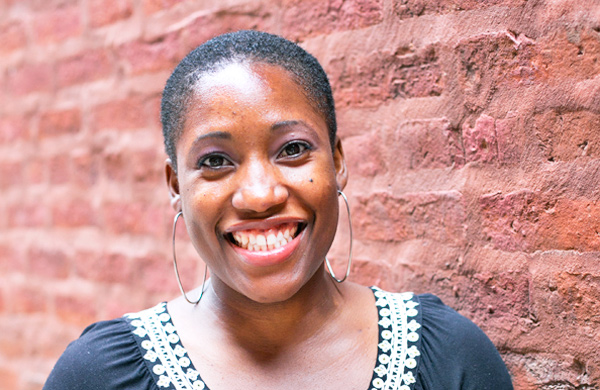 Even if you've never met her,
Mildred Marie Langford
may look familiar. That's because she's basked under the stage lights at renowned theaters including
Steppenwolf
,
Victory Gardens
, and
TimeLine
, where she is a company member and about to star in
A Raisin in the Sun
. Her artistic career began in her native Virginia, but everything changed when she attended the School at Steppenwolf in the summer of 2006. "I was like, 'I have to come here,'" Langford says. But when she arrived midwinter, she almost changed her mind. "I [thought], 'Maybe I can't do this, it's a little too cold,'" she laughs. Luckily for the Chicago theater scene, Langford powered through.
On Chicago:
"It was open arms from the very beginning," Langford recalls of her move to the city. "Everyone just has this commonality of wanting to do really good work. There are so many people who are wanting to spark change … and I think that is there is this sort of selflessness within the community."
On socially conscious theater: 
Langford's résumé is punctuated by projects that deal with human rights, race, economics, and politics. "I don't think it was something that I had been seeking out," Langford remembers. However, when she started work on
Sarafina!
—a musical about student uprisings against apartheid in South Africa—her worldview changed. "I think theater helps to spark conversations … a lot of times uncomfortable conversations," she says. At talkbacks following
A Raisin in the Sun
at the
Milwaukee Repertory Theater
, where Langford played Beneatha, she recalls that "it just sort of came down to having these conversations about race, and about power, and about privilege, and about status." Postshow discussions are just the beginning, though. "You hope that when people walk out of the theater … they're changed in a way—mentally, emotionally. From there they can use that spark in other parts of their lives."
On revisiting Beneatha in TimeLine Theatre's upcoming production of A Raisin in the Sun:
"I just want to go deeper with Beneatha," Langford says. "Doing it a second time has really been a great advantage because things I didn't discover enough about her fully—I think I really get to take advantage of [that] this time. And I really just get to ask myself deeper questions about who she is and the things that she wants."
On art as a form of spirituality:
"A friend of mine told me that every time he goes out onstage to perform, that is a form of praise and worship for him," Langford says. "I had never thought about that. When I think about praise and worship, I think about going to church and all that." But Langford realized that "you can praise God in anything you do." For her, that means being onstage sharing her gift "to the best of my ability, no holds barred. … It's a form of praise because it's saying thank you for giving me the gift to be able to do this." She's discovered a community of artists in Chicago who approach their work in a similarly spiritual way. "Working with them is inspiring," Langford says, because "you're all on the same wavelength about what it is you're doing, how you want it to affect people, and why you want it to affect people."
On her favorite places to catch a show:
"Can I say TimeLine? Definitely TimeLine," Langford says, laughing. "I would say
Silk Road [Rising]
; I think the work Jamil [Khoury, founding artistic director] is doing is amazing."
Lifeline Theatre
makes the list, too: "the way they take literature and adapt it to the stage is quite amazing." She also loves Victory Gardens and "definitely Steppenwolf. I've had really good experiences there: the Garage Rep, my first big show."
Catch Langford in
A Raisin in the Sun
, which runs August 28–November 17 at TimeLine Theatre (615 W. Wellington Ave.). See the website for showtimes.
Photo: © Stephanie Bassos, Groupon
BY: Catherine Bullard
Guide Staff Writer
Here are some of Catherine's favorite Chicago things: hole-in-the-wall theaters, taquerias, bike lanes, live blues, neighborhood bars, and that it smells like chocolate downtown. When she's not enjoying these things, Catherine can be found acting, cooking, and shamelessly self-promoting.