Oh, the Seuss-Themed Parties You'll Throw!
BY: Amelia Buzzell |
Mar 12, 2014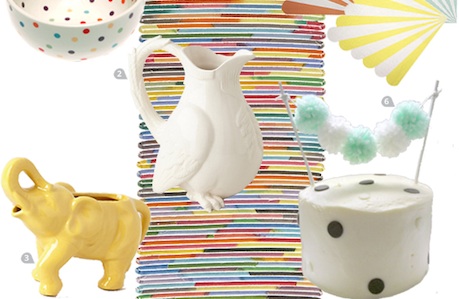 They may not eat them on a boat. They may not eat them with a goat. But your guests will certainly eat anything you serve them on this cheerful spring table inspired by the colorful, bold world of Dr. Seuss. A multi-hued table runner emulates the winding, rainbow-colored roads in
Oh, the Places You'll Go!
, as do napkins with bold stripes. An abstract bird pitcher evokes the Dr.'s otherworldly characters, while an elephant-shaped creamer is a perfect stand-in for Horton—just make sure it doesn't try to sit on the deviled eggs. Finally, a set of whimsical, polka-dotted bowls look even sweeter when filled with scoops of ice cream or slices of a cake topped with pompoms that sway as softly as the
The Lorax
's beloved Truffula trees.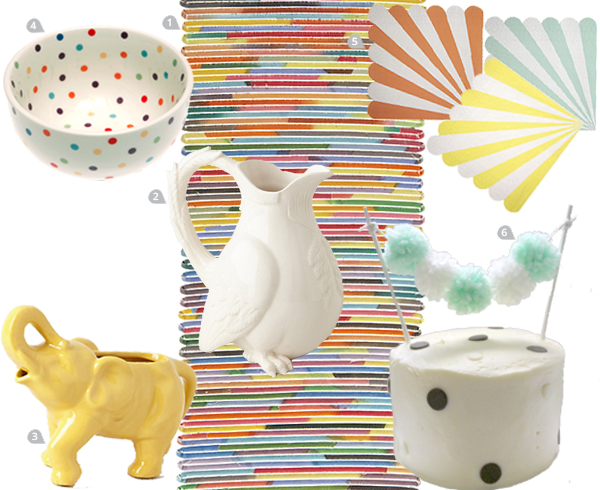 1.
Anu runner
; CB2 ($59.95) 2.
Gallus pitcher
; Anthropologie ($68) 3.
Ellie creamer
; Anthropologie ($16) 4.
Polka-dot cereal bowl
; Fishs Eddy ($12.95) 5.
Toot Sweet striped large napkins
; Meri Meri ($5.95 for 20) 6.
Pompom cake topper
; Chicago-based HerJoyfulStudio on Etsy ($11.75)