Ommegang Brews Beer for "Game of Thrones" (for Daenerys Targaryen, Specifically)
BY: Shannon Jewitt |
Mar 21, 2014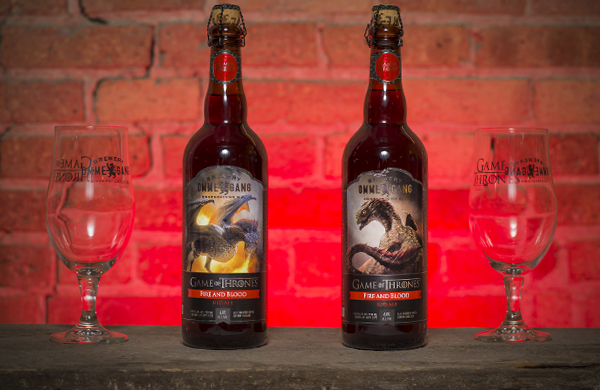 There are almost 3,000 craft breweries in the United States. In this edition of Beer Stalker, we investigate Brewery Ommegang's Fire and Blood, its collaboration with HBO, and what other beers pair well with
Game of Thrones
.
The beer:
Brewery Ommegang
's Fire and Blood
Malts:
Pilsner, Cara 60, Rye, Spelt, and Midnight Wheat
Style:
Red ale brewed with ancho chilies
Hops:
Columbus, Styrian Golding, and Tettnang
Color:
A deep chestnut that makes it a more appetizing alternative to the book's "bowls of brown"
How did this collaboration originate?
After speaking with a short list of breweries, HBO asked Brewery Ommegang to produce four
Game of Thrones
beers. "Our style of brewing fits the mystique of the show," said Andrew Berlanstein, Brewery Ommegang and Boulevard Brewing's market manager for Chicago and Indiana. "We brew what we call esoteric styles, kind of antiquated, Old-World classic styles."
What was working with HBO like?
HBO has a vision for each
Game of Thrones
beer Brewery Ommegang produces and provides the brewery with a name, label, and theme. With this beer, the channel provided the name Fire and Blood, a label with dragons on it, and a Daenerys Targaryen theme. Using this information, brewing expertise, and knowledge of the show, the brewers created a beer. In this case, they took a literal approach. "We wanted every aspect of the beer to call out elements of fire and elements of blood," Berlanstein said. The red ale is the color of blood, and its brewing process incorporates ancho chilies, which provide spice or heat.
Doesn't Ommegang usually stick to Belgian tradition?
Yes. "We've never done a beer with chilies," Berlanstein said. "We've never done a beer with a hot spice to it." The scale of this beer's production also sets it apart. The brewery made four batches of its first
Game of Thrones
brew, Iron Throne, and those sold rapidly. This time around, it's making 18 batches, which is "as much as we can possibly handle," Berlanstein said.
What Game of Thrones moments would pair well with beer?
Berlanstein would pair The Fall of Winterfell with
Tallgrass Brewing Company
's oatmeal stout, Buffalo Sweat, whose name implies hard work and battling. "You could drink Buffalo Sweat after the battle, after the fall, and kind of rejoice with it," he said. The wedding of Dany and Drogo would go well with the Pop-Up Session I.P.A. from
Boulevard Brewing Company
. "It's a nice celebratory beer," he said. And, it has a low ABV, so you can drink many of them. When it comes to King Robert's funeral, "We need a sad beer for that," Berlanstein said. He would go with
Brooklyn Brewery
's Black Ops, which is also a stout, but bigger and stronger than Buffalo Sweat. "It would be appropriately full-bodied, strong, and bitter for King Robert's putting under," he said.