GROUPON GUIDE TO WASHINGTON-DC
One Must-Do Activity at America's 10 Busiest Airports
BY: Tyler Clark |
Dec 22, 2014

Whether you're traveling for the holidays or catching a routine business flight, milling about the airport is usually an experience worth forgetting. However, we've found 10 hidden attractions at America's busiest airports that can turn a layover into a more positive, and memorable, part of your trip.
1. Hartsfield-Jackson Atlanta International Airport (ATL)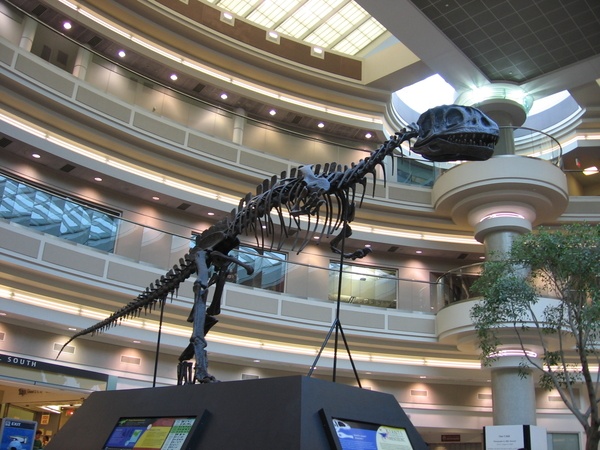 What to do: Treat the airport like a museum.
Where? Throughout the airport

In addition to being one of the world's busiest airports, ATL has one of the world's best airport art collections. Exhibits range from breathtaking Zimbabwean stone sculptures in the Transportation Mall to Atlanta-designed, Italian-made mosaics on the concourse floors. Swing by the main terminal atrium to see a fearsome Yangchuanosaurus skeleton on loan from the Fernbank Museum of Natural History.
2. Los Angeles International Airport (LAX)
What to do: Soothe preflight nerves with puppies
Where? Airline boarding-gate areas

Nervous about flying? Maybe a puppy can help. That's the thinking behind LAX's Pets Unstressing Passengers (PUP) program, which pairs travelers with trained therapy dogs for some preflight cuddle time.
3. Chicago O'Hare International Airport (ORD)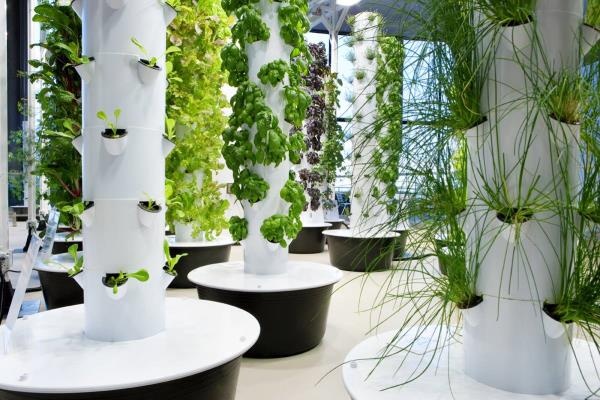 What to do: Visit the Aeroponic Gardens
Where? Terminal 3

Savvy travelers know that Tortas Frontera is the best place to dine at O'Hare. However, most probably don't know that the restaurant gets many of its ingredients from inside the airport. Pay a visit to the Aeroponic Garden, a self-sustaining green space where lettuce, basil, chard, cilantro, and other plants grow in 26 tall, leafy columns.
4. Dallas-Fort Worth International Airport (DFW)
What to do: Catch a classic movie
Where? Terminal D

As you wait in DFW's international terminal, Jimmy Stewart and Katharine Hepburn might be there to keep you company. Many of the flat screens at the airport's Terminal D Theaters are always showing Turner Classic Movies—just plug your headphone jack into a seat's armrest to tune in. Other viewing options include CNN and TBS.
5. Denver International Airport (DEN)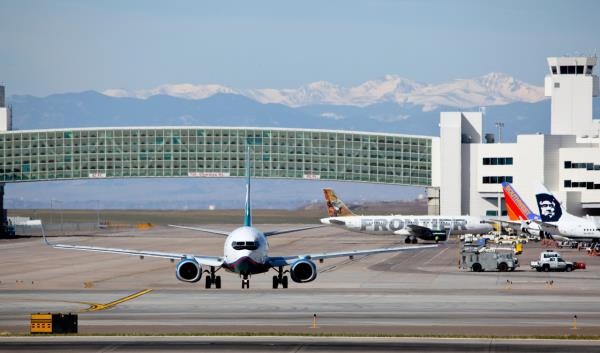 What to do: Get a bird's eye view of your plane
Where? The Passenger Bridge between Jeppesen Terminal and the A Gates

The Passenger Bridge crosses over one of the Denver airport's taxiways. Stand in the middle to watch arriving and departing planes pass gracefully beneath you, with a view of the Rockies in the distance.
6. John F. Kennedy International Airport (JFK)
What to do: Indulge your Shake Shack cravings
Where? Terminal 4

Shake Shack is slowly expanding its burger empire, but its home base will always be New York City. Our recommended order? A spicy SmokeShack with fries and a Fly Me To The Shack, a fudge-filled concrete loaded with chocolate custard, truffle cookie dough, and Mast Brothers chocolate chunks.
7. San Francisco International Airport (SFO)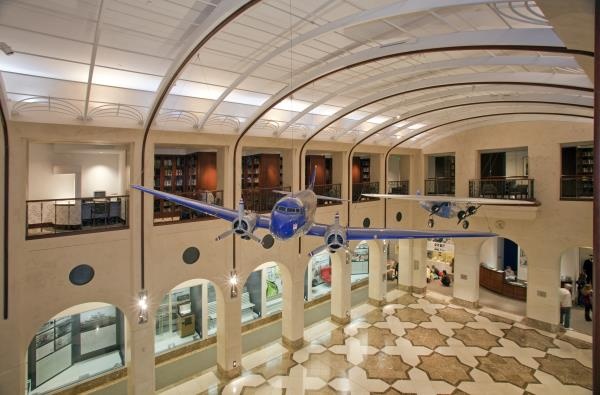 What to do: Relive aviation's most exciting moments
Where? International Terminals Departure Level

The space that was the San Francisco airport's passenger lobby in the 1930s is now the Louis A. Turpen Aviation Museum, where you can examine photos, maps, and airline artifacts that detail the American West's contributions to aviation history.
8. Charlotte Douglas International Airport (CLT)
What to do: Rock away your layover in a rocking chair
Where? Atrium

What began as a temporary exhibit in 1997 is now a Charlotte airport mainstay. Locally handcrafted Troutman rocking chairs made of sturdy North Carolina oak are the perfect place to bask in the sunlight as it floods the atrium.
9. Las Vegas McCarran International Airport (LAS)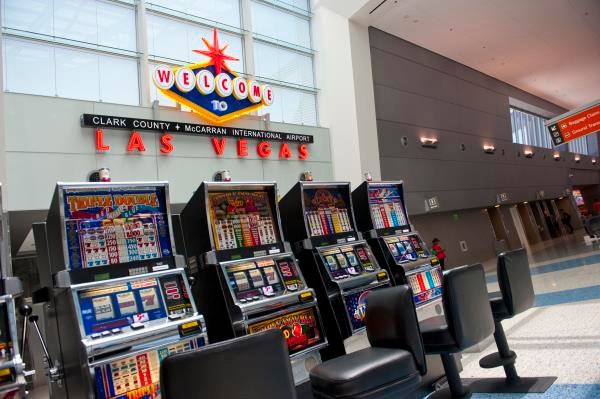 What to do: Spend your loose change at the slots
Where? Throughout the airport

Layover in Las Vegas? Hope you brought quarters. True to its city's reputation as a gaming capital, McCarran has banks of slot machines scattered throughout the terminals (and, like all things Vegas, open 24 hours a day).
10. Phoenix Sky Harbor International Airport (PHX)
What to do: Experience first-class service on the ground
Where? Terminal 4

You don't have to be a frequent flyer to access VIP-style amenities at Phoenix's Sky Harbor. For just $35, you can become a (temporary) member of The Club at PHX, where you'll find complimentary cocktails, WiFi, and other perks.


Photos: Friendly Neighborhood Dinosaur by David Rosen under CC BY-SA 2.0, Aeroponic Garden courtesy of Chicago O'Hare International Airport, Passenger Bridge courtesy of Denver International Airport; Louis A. Turpen Aviation Museum courtesy of San Francisco International Airport, Slot Machines courtesy of McCarran International Airport