GROUPON GUIDE TO NEW YORK CITY
Paleo in NYC: Where to Eat, How to Shop, and Why to Try It
BY: Rachel Matuch |
Apr 17, 2013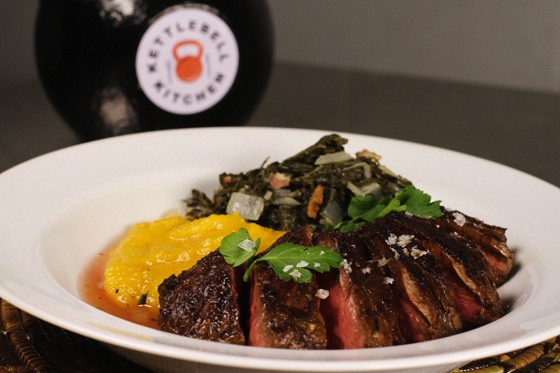 Our cave-dwelling ancestors got a few things right. Jenna Shannon tells us about the meat-centered paleo diet that got her to give up vegetarianism.
A ready-to-eat paleo meal from Kettlebell Kitchen: grilled hanger steak, butternut-squash purée, and braised collard greens. Photo courtesy of Kettlebell Kitchen.
Jenna Shannon spent 10 years as a vegetarian. Today, she's an evangelist for a way of eating that's all about meat.
She says that while vegetarianism complemented her yoga practice, she knew she wasn't feeling her best. So she did a dietary 180 and started eating paleo. Today, she swears by that meat-and-veggies approach: she's written a book, and she also offers dietary coaching and writes about eating paleo on her website, Lean Machine NYC. For Jenna, the best part is seeing her clients get results. "It just makes my day," she says.
The paleo diet focuses on high-quality proteins, such as meat, fish, and eggs; vegetables; fruits; and healthy fats. It also eliminates grains, dairy, and legumes. Proponents argue that it's the food humans evolved to eat. They're "the foods we were eating before the Agricultural Revolution," says Joe Lopez, president of Kettlebell Kitchen, which delivers ready-to-heat meals to CrossFit gyms across New York City.
But it's not all about cavemen. "The paleo diet, first and foremost, tries to eliminate processed foods and added sugars and things that shouldn't be in your diet," Joe says. While some people's systems "may have evolved to be able to handle grains and dairy," he says many people don't realize these ingredients are causing "inflammation" in their systems.
Both Jenna and Joe say they want others to discover the benefits of eating paleo—things like fewer hunger ups and downs, more steady insulin levels, and better workouts. New York City may not have caves, woolly mammoths, or lost time travelers blundering through the underbrush, but Jenna and Joe have plenty of tips for making the paleo lifestyle work here.
Eating Out
Jenna says that the meat and vegetables nature of the paleo diet actually lends itself well to ordering at a restaurant. Paleo meals are "based on a protein, and that's how chefs build their meals," she says.
She says that more upscale restaurants tend to use the kind of high-quality oils extolled by paleo proponents. But adherents still have to be careful. "There's a lot of research that has shown that canola oils and vegetable oils are not good for you, especially when heated at high temperatures. They oxidize," Joe says. "Some restaurants even reuse oils over and over."
Jenna and Joe both recommend Hu Kitchen, which focuses on unprocessed, natural foods. The chefs often cook with coconut oil, and they use grass-fed meat and other quality ingredients. Joe also enjoys ABC Kitchen, which brings in ingredients from local farms. Jenna's family loves Monster Sushi for the "giant slabs of raw fish." Paleo eaters should look for sashimi on sushi menus, she says.
For people who want to go a little meat-crazy, Jenna says Brazilian churrascaria restaurants—renowned for their endless rounds of roasted meat—can be a fun choice.
Grocery Shopping
"New York has become a great place to be a home cook," Jenna says. "That wasn't always the case; it used to be all about the restaurants." Today, you can find high-quality food at places such as Chelsea Market and Whole Foods, she says. Joe seconds the Whole Foods recommendation "because you can see exactly what you're getting in your meals, and you can find paleo options."
But what you bring home is more important than where you shop. "It's becoming possible for people to get very high-quality meat from very caring farmers and producers," especially in New York State, Jenna says. "That's important: to buy your products from people who really care about you (the consumer), the product they're producing, and the environment."
"Keep your refrigerator stocked with [fruits and vegetables]—especially vegetables," Joe says. That way, you'll be a lot more likely to chow down on something healthy.
Cooking at Home
"The key to [eating paleo] is definitely learning to make some paleo recipes," Jenna says. "If you can learn to make 5 to 10 really kick-ass recipes and they're good," the paleo diet will be a lot easier, she says.
To build a paleo meal, Jenna says "you always want to start with your protein and build from there." Next come vegetables and fats. Joe's list of healthy fats includes coconut oil, macadamia oil, sesame oil, and olive oil.
But don't stop at a single meal when you're cooking. One of the hardest components of eating paleo can be the need to cook more often—hence the niche market for Kettlebell Kitchen's ready-to-eat paleo meals. When you can't stop for fast food or microwave a frozen dinner, it's more important to be prepared with your own healthy cooking. That's why Joe recommends doubling up on ingredient prep. "If I steam a bunch of broccoli and carrots the night before, I'll put it in a scramble with eggs for breakfast," he says.
Jenna says that a lot of recipes are actually pretty simple because they're focused on high-quality ingredients that taste great all on their own. "You wouldn't want to mess with a strawberry because it's fantastic," she says. You could say that's the whole point of the paleo diet. It's less about living like a caveman and more about regaining our ancestors' simple appreciation for food.