PAPER/PLATES' Amina Elahi on Bringing Literature Into the Kitchen
BY: Alison Hamm |
Nov 23, 2015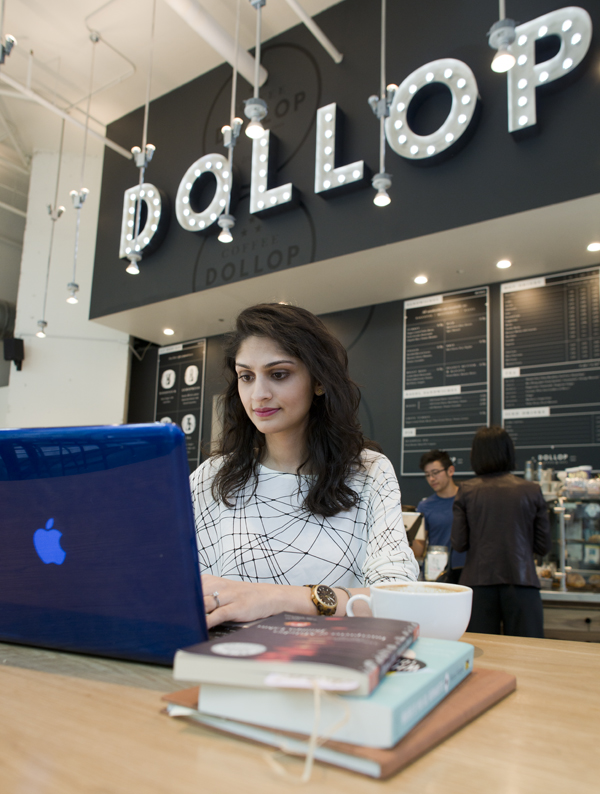 Amina Elahi is a fellow bookworm's dream coffee date. She's the founder and editor of PAPER/PLATES, a blog that's part book recommendations, part recipes inspired by the books. I met with her recently at her favorite neighborhood coffee shop, Dollop (345 E. Ohio St.) to talk about food, books, and her blog.
When PAPER/PLATES launched in the summer of 2012, she was working full time at an advertising agency while reviewing books for a website on the side. She then left the agency and started working on the beginnings of the blog with some friends who quickly turned into the site's team of contributors.
"None of us are superfancy chefs or anything like that," Amina said, "but we can find our way around a kitchen, basically."
When pairing books with food, PAPER/PLATES takes it to more of an unexpected place than, say, reading Charlie and the Chocolate Factory and telling readers to create a chocolate river of fondue. "It's more about interpretation," Amina said, "and I think that's been fun for people."
And it's been fun for Amina and her team, too. "To take a book and really translate its themes into food, even in an abstract way, is kind of a fun brain exercise," she said. "It's an intellectual but relaxing activity."
Books were the main focus of our chat at Dollop, given our mutual love of Jhumpa Lahiri and recent readings of Neil Gaiman's The Ocean at the End of the Lane. Amina and I are also both of the mindset that even though it's difficult to abandon a highly recommended book, it's better than forcing yourself to finish a book you don't enjoy. (Amina always asks "What is the last book you abandoned?" in her At the Table With interviews with fellow bloggers.)
Like PAPER/PLATES, Amina is equal parts book and food lover, so she also shared some of her favorite places to eat in the city and why she'd want to serve an outdoor, strawberry-inspired meal to the late author Gerald Durrell.
Amina's Picks
For brunch:
Bite Cafe (1039 N. Western Ave.) "I recently discovered this place in Ukrainian Village. I've been there a couple of times, and I really like it. They have a great brunch."
For a night out with friends:
Friends Sushi (710 N. Rush St.) "I love Friends Sushi—whenever someone is like, 'What do you want to do tonight?' I say, 'We could go to Friends!'"
To stock up on cheap and delicious Pakistani snack food:
Tahoora (2345 W. Devon Ave.) "I love the beef samosas, which you can buy uncooked and frozen. I think I have 18 in my fridge right now; I love frying a few up for a quick snack once in a while. The pistachio kulfi is also out of this world. Highly recommended."
If she could create a menu for a favorite author or literary character:
"I would create a menu for Gerald Durrell, the author of this book I really love, My Family and Other Animals. It's about his adventures as a little boy when his family moves to a small Greek island. The book is hilarious and is one of those books I turn to whenever I am unhappy or need something to make me feel good. Gerald Durrell was a naturalist by profession, so although it's sort of autobiographical in nature, it also focuses a lot on natural life, and that's something I'm starting to explore more in my life. My husband calls me a plant lady because I'm building a windowsill garden. We don't have a balcony, which is like, the greatest despair of my life right now.
The menu would involve strawberries because one of my favorite stories in the book is about a tortoise the family adopts who is obsessed with strawberries. I'd want to do a light outdoor meal, with flavored lemonades, strawberry–poppy seed salad (my mom's recipe), some finger sandwiches, roast lemon-herb chicken, and, for dessert, a plum crostata."
Photos by Timothy Burkhart, Groupon
BY: Alison Hamm
Guide Staff Writer
Alison would rather interview a chef or food blogger than actually cook. She never says no to a Hamm's Beer on special.