Pinball's Past and Present: A Chicago Gaming Guide
BY: Collin Brennan |
Jun 25, 2013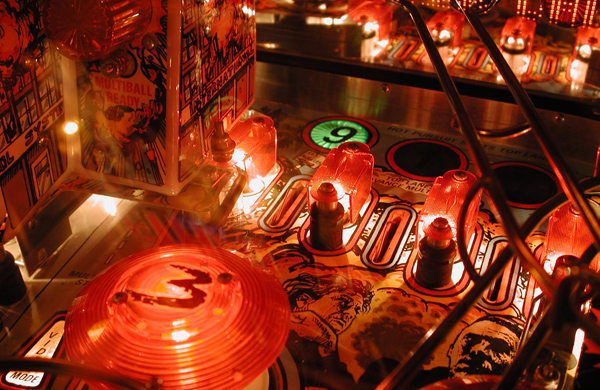 On game day, you can almost hear the roar of Wrigley Field's crowds from the leafy stretch of Addison Street where pinball giant D. Gottlieb & Co. once stood. The hallowed ballpark has recently been a hot topic in the media, as a new push for renovations has brought up some key questions about America's national pastime: What is sacred? What is worth saving? Next year, the Cubs will likely play in a restored and refurbished Wrigley. Gaming enthusiasts, however, will continue to feel the absence of America's foremost pinball manufacturer, which closed its nearly 70-year run of production in the mid-1990s. And what a run it was—the company's earliest machines pioneered devices such as the flipper, and later developments experimented with digital scoring and movie licensing. As Gottlieb rose to prominence, Chicago came to be regarded as the world's manufacturing hub for pinball machines. Williams Manufacturing Company, based in River North, became one of Gottlieb's principal competitors, drawing on the talents of local designer Steve Kordek to produce iconic games such as
Vagabond
and
Space Mission
. Unlike baseball, pinball was never America's national pastime. Even in its so-called Golden Age, the sport belonged to a niche group of enthusiasts who spent their days in darkened arcades and saw a frenetic beauty in the blinking lights, the ringing bumpers, the irrepressible randomness of the ball's movements. Pinball tournaments will probably never fill the bleacher seats, and we're still a long way from the day when video arcades will be recognized and preserved as historic landmarks. But the city that birthed pinball retains a shadow of the game's former glory. "Man will always play pinball," said comedian George Carlin in one of his more serious moments. Here are five places in Chicago that continue to prove him right.
Logan Hardware | Logan Square
Must-Play Machine:
Big Game Contrary to its name, Logan Hardware doesn't sell wrenches and drill bits. The owners of the record shop-cum-arcade museum must be handy with tools, however, seeing as how they've managed to fix up a slew of vintage pinball machines headlined by
Doctor Who
and
Big Game
. The latter is a wide-body machine notable for its open playfield and lush tropical artwork. The games are all free, but play nice and buy a record before you enter the jungle.
Emporium Arcade Bar | Wicker Park
Must-Play Machine:
X-Men Pro A newer addition to Chicago's pinball scene, Emporium pairs arcade games with 24 rotating craft beers and more than 50 whiskeys. Young kids aren't allowed inside, but they probably wouldn't appreciate the novelty of teaming up with Michael Jordan on Sega's
Space Jam
. Last year, the bar held a release party for Stern's brand-new
X-Men Pro
game, which served to underscore its ties with Chicago's last remaining pinball juggernaut.
Headquarters Beercade | Lakeview
Must-Play Machine:
RollerGames Like Emporium, Headquarters recognizes that most kids who grew up on pinball are now of drinking age. A night out at this Lakeview bar typically turns into a full-blown nostalgia trip, thanks to more than 30 vintage arcade games and retro decor. The bar is currently in the process of expanding to 8,000 square feet, which can only mean more games are on their way. For now, a kitschy
RollerGames
machine from the early '90s remains the highlight.
Bottom Lounge | West Loop
Must-Play Machine:
Bobby Orr Power Play Known more for its punk and alternative shows than for its pinball machines, the Bottom Lounge nevertheless ranks as one of Chicago's premier arcade venues. Most of the machines are located upstairs, where drums and amplified guitars drown out the in-play soundtracks of
Creature from the Black Lagoon
and
The Addams Family
. Downstairs, Blackhawks fans can relive the glory days on
Bobby Orr Power Play
.
Northdown Café and Taproom | Lakeview
Must-Play Machine:
The Simpsons Pinball Party While Northdown isn't a full-blown arcade bar like some of the other entries on this list, it holds its own in the pinball department with three machines located toward the back. Stern's
The Simpsons Pinball Party
steals the show with its two-level playing field and a soundtrack that features original dialogue from the show's voice actors. When you're done saving Springfield from the specter of boredom, celebrate with one of 12 draft beers.
BY: Collin Brennan
Guide Staff Writer
Collin is a senior editor and a staff writer for Consequence of Sound. He self-publishes zines and moderates writing workshops for The Chicago Publishers Resource Center (CHI PRC).