Seattle's 10 Craziest Pizza Toppings (Plus One Wild Card)
BY: Kristin Price |
Aug 1, 2014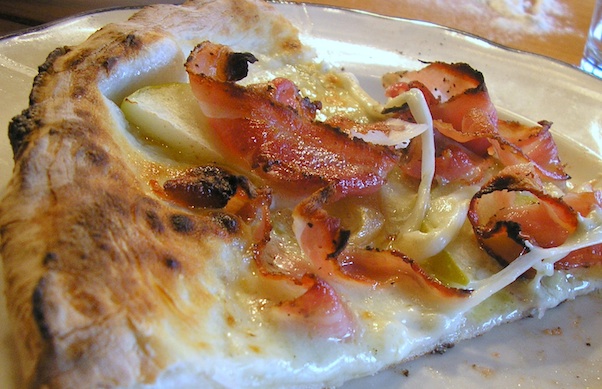 Sometimes a pure and simple pepperoni
pizza
hits the spot. But with the proliferation of unlikely toppings popping up on pies all over Seattle, our definition of the Friday-night dinner staple is changing. Below, we highlighted 10 pies with toppings mouthwatering enough to tempt us away from our usual slice (plus one for those with an appetite for adventure).
Pesto Chicken Pizza at Talarico's Pizzeria (4718 California Ave. SW)
Pesto on pizza is nothing new by itself, but Talarico' s version of a pesto pie is the perfect marriage of tradition and innovation, incorporating brie cheese and spiced walnuts along with pesto-marinated chicken, classic marinara sauce, and mozzarella.
No. 6 Classic at Flying Squirrel Pizza Co. (three locations in Seattle)
The toppings list on the No. 6 reads a lot like a classic steak-house menu—sans steak. Potatoes roasted with lemon, herbs, and garlic mingle with St. Clemens blue cheese, chive oil, and spinach, along with a generous sprinkling of mozzarella.
The Locks at The Alibi Room (85 Pike St. #410)
There's no shortage of creative pizza toppings at The Alibi Room—asparagus and bacon, blue cheese and grapes—but in this seafood-loving town, one stands apart. Featuring an olive-oil base topped with smoked salmon, dill cream cheese, red onions, and capers, The Locks is like a classic New York bagel in pizza form, though without a single pesky poppy seed.
Tropicana Pizza at Jet City Pizza Co. (multiple locations in western Washington)
Pineapple on pizza has long been a mainstay, but Jet City takes the Hawaiian-pizza concept further, starting with pineapple and canadian bacon, then adding mandarin oranges, sliced almonds, and coconut. Bring your own mini marshmallows and you've basically got an ambrosia salad on a pizza.
Cowardly Apricot at 'Zaw Artisan Pizza (multiple locations in the Puget Sound area)
The chefs at 'Zaw pride themselves on using unique, locally sourced toppings for their take-and-bake pizzas, and this sweet and savory concoction is no exception. Roasted free-range chicken breast joins apricots, fresh basil, maple-syrup-caramelized onions, and a blend of gorgonzola and mozzarella atop a crust brushed with olive oil.
Pizza di Nutella at Queen Margherita (3111 W. McGraw St. #103)
This sweet and simple dessert pizza is exactly as simple as it sounds: a pizza crust slathered with the chocolate-hazelnut spread. Think of it as a big, shareable crepe and suddenly it doesn't seem so strange.
Il Segreto di Pulcinella at Pizzeria Pulcinella (10003 Rainier Ave. S)
While perfect for dessert, we could totally picture ourselves devouring this pie first thing in the morning. Creamy mascarpone and espresso and coffee liqueur are spread upon the crust, which is then baked in a wood-fired oven. The final touches: drizzles of chocolate sauce and dollops of whipped cream.
Thai One On Pizza at Zeeks Pizza (multiple locations in the Puget Sound area)
For the nights when one takeout staple simply won't do, this pizza combines the classic flavors of pad thai—chicken, bean sprouts, carrots, fresh cilantro, and peanut sauce—with mozzarella and an olive-oil glaze.
Two-Cut Cubano at The Station Pizzeria (14505 148th Ave. NE, Woodinville)
The classic components of a cuban sandwich are all represented here, even down to the grainy dijon mustard. Add to that pulled pork shoulder, smoked ham, housemade bread and butter pickles, and pepperoncini. One small exception: the usual swiss cheese is swapped out for provolone. This is a pizza, after all.
Reuben at Rocco's (2228 2nd Ave.)
For further proof that great sandwiches make equally great pizzas, look no further than this Belltown original, topped with with mozzarella, corned beef, sauerkraut, and thousand island dressing. If only someone would invent a marble-rye pizza crust.
Big Moses at Ballard Pizza Company (5107 Ballard Ave. NW)
The chefs choose the toppings on this pie each day, meaning every meal is a surprise. While there are no guarantees, past incarnations have included everything from peaches, spicy salumi, and chives to cherries, arugula, and guanciale.