GROUPON GUIDE TO WASHINGTON-DC
Save That Steak with a Recipe for Reviving Cookout Leftovers
BY: Aimee Algas Alker |
Jul 7, 2014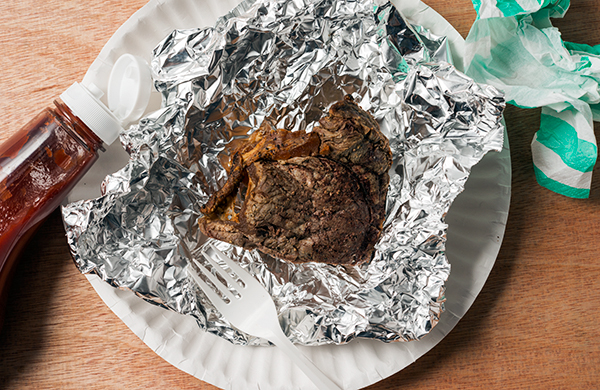 When a good barbecue ends, the cleanup is pretty straightforward. Extinguish the tiki torches. Sweep the streamers and balloons into the garbage. Gather all the half-filled red cups and combine the contents to tie-dye your socks. It's difficult, however, to know what to do with barbecue leftovers, especially when they include
steak
—amazing fresh off the grill but rubbery and tough the next day. Rather than using it as a temporary doorstop, extend the celebration by transforming it into an entirely new meal. For guidance, we went to Brian Key, executive chef at Chicago's
Gibson's Bar & Steakhouse
, who took a minute from flipping chops to share this recipe for steak tacos. You could speed it up by using the leftover salsa and slaw from your party.
Chef Brian Key's Steak Tacos
What you need:
6 oz. leftover steak, cut into strips
6 soft corn tortillas
1/2 cup taco slaw (see recipe below or use your own)
1/4 cup charred-tomato salsa (see recipe below or use your own)
Preheat the oven (toaster or conventional) to 350 degrees. Arrange the strips of meat on a baking tray and place in the oven just to heat through. Warm the tortillas in the same oven. For each taco, double up the tortillas, add slaw and meat, and then drizzle salsa on top. Makes three tacos.
Taco Slaw
What you need:
1/4 lb. white cabbage, shredded
1 1/2 oz. red cabbage, chopped
1 oz. carrots, shredded
1/2 tbsp. cilantro, chopped
1/2 tbsp. lime juice
1 1/2 tbsp. sriracha mayonnaise
1 1/2 tbsp. mayonnaise
1/8 tsp. kosher salt
1/8 tsp. fresh-cracked black pepper
Combine all the ingredients in a mixing bowl. Makes about a half-pound (8 oz.).
Charred-Tomato Salsa
What you need:
3/4 lb. tomatoes
2 oz. spanish onion (about half a small onion)
1/4 jalapeño, seeds removed
2 tbsp. corn oil
1 clove garlic
1 tsp. chopped cilantro
3/4 tbsp. tomato paste
1/2 tbsp. lime juice
2 1/2 tbsp. tomato juice
1/2 tsp. kosher salt
Cut the tomatoes, jalapeño, and onions into thirds, then toss them in the salt and oil. Place them on a sheet tray and put them under the broiler until they start to char. Add the garlic and char a few more minutes. Remove to cool, then add to blender along with remaining ingredients and purée. Makes about 2 cups.
Photo by Andrew Nawrocki, Groupon
Shop for deals at steakhouse restaurants.