Screenprinting with the Professionals at Galerie F
BY: Will Landon |
Nov 15, 2013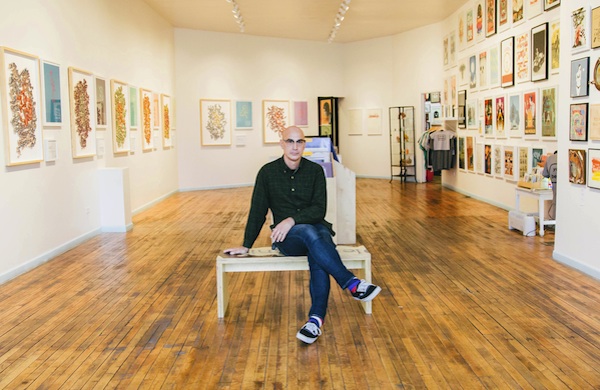 My first silk-screening success came toward the end of a two-hour class at
Galerie F
(2381 N. Milwaukee Ave.), a Logan Square gallery and teaching studio dedicated entirely to the art of screenprinting. I listened attentively as gallery co-owner Billy Craven gave step-by-step instructions for printing on the thin fabric of a tote bag. After introducing the studio's revolving four-color press and demonstrating how to apply ink to the screens, he stepped aside to let his students give it a try. I printed two colors—black and canary yellow—before lifting the screen to see the gallery's two-toned circular logo emblazoned on my bag. My first attempt was far from perfect: looking over my shoulder, Craven charitably described the faded, dappled left side as reminiscent of a "vintage" effect. Still, this minor success was enough to help me understand why so many people find screenprinting addictive.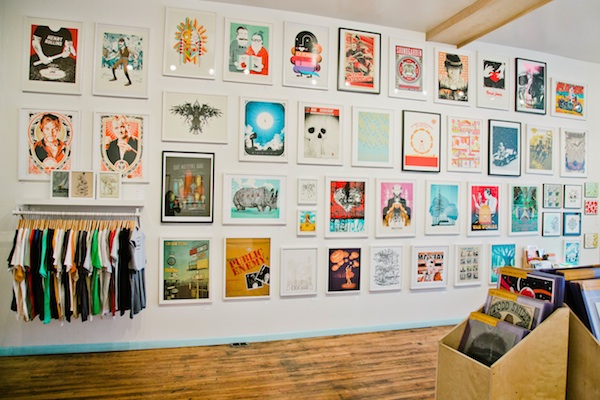 A Portrait of the Artist as a Gallery Owner
I returned a few weeks after that first class to talk with Craven and another of the gallery's owners, Allie Whalen, about how they became involved in the screenprinting industry. It turns out that both of them had discovered Galerie F's parent studio,
FugScreens Studios
, in the same way I had—as a student. Now that they've learned the ropes and are full-time partners, they help the studio print out hundreds of gig posters for artists ranging from M. Ward to the Misfits. Some of these posters make it into the storefront gallery, which features printed artworks in nearly every style imaginable—digital and hand-drawn, cartoonish and photorealistic. Craven and Whalen often speculate about why their province of the art world seems so diverse. Many printers opt to work with a full palette of colors, claims Whalen, but other artists embrace limitations as a challenge. "If they can't make a poster in three colors," she explains, "they've failed." For their part, Craven and Whalen are attracted to a handmade aesthetic. Their personal tastes gravitate toward prints that look like they've been drawn by hand, rather than with the help of computer-based tools. Their voices even carry a hint of pride when they confess that they've never bothered to learn Photoshop.
A Tour of Galerie F's Collection
The artists that inspire Galerie F's staff hail from around the world, but some are based right here in Chicago. Craven and Whalen are quick to sing the praises of
Ryan Duggan
, who achieves a "sign-painter aesthetic" with old-fashioned imagery and visible pen strokes. They also admire the duo behind
Sonnenzimmer
; their colorful geometric designs, Craven explains, "just make me feel good." When asked what inspired him to commit full-time to screenprinting, Craven singles out one gig poster. "I got a
[Tokyo Police Club] poster
by
Delicious Design League
, and I hung it above my desk at home. I look at it every time I'm near that side of the house."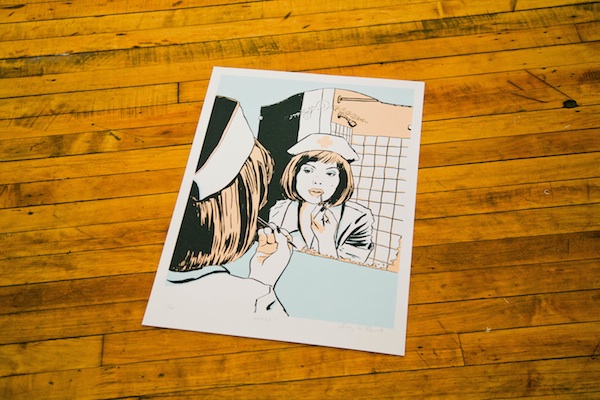 Whalen led me on a tour of her favorite works currently hanging in the gallery. The first stop was a
Casey Burns
–designed image of a nurse peering into a mirror. "It's an art print of a Sonic Youth poster that he made in 2007," she says. Next up were a pair of 12"x12" prints by Minneapolis-based artist
Erica Williams
. Her penchant for fine lines, Whalen says, results in "intricate drawings that are very sweet and ephemeral." One of the gallery's most striking artworks is a
Dan MacAdam
print titled
Ides #2
. It depicts a bridge on Chicago's South Side. "You can see [it] from I-55 if you're heading south," Whalen says, "and it's been there for as long as I can remember." Upon first seeing the print, I thought it was actually a photograph. This is a credit to MacAdam's precise color-matching and eye for details such as the "DTC" tag spray-painted onto the bridge truss. Their meticulous approach might have something to do with why artists have a reputation for stubbornness. Craven and Whalen admit that they are personally guilty of this—they insist on creating their screen images with rare
Rubylith
masking film, for example. "Artists are very superstitious," Craven says. "[If] they learned with something, they will stick to it till the end." And what if that product goes off the market or becomes harder to find? "They'll just quit screenprinting, probably," he says with a laugh.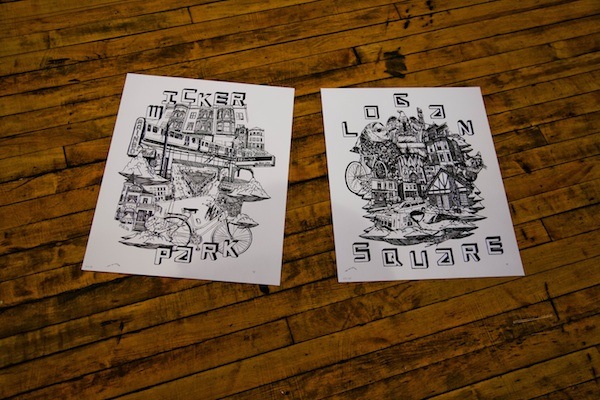 "As DIY as You Want"
Galerie F's next show is called
Made in the Midwest
and opens on Friday, November 22. It features artists based throughout the Midwest, including a few from long-standing Chicago studios. But the gallery is always changing, and so are Craven and Whalen's lists of favorite artists. To keep up with the gallery's current exhibitions, check their website's
events page
frequently. And if you're interested in learning the basics of screenprinting on both paper and fabric, consider attending one of Galerie F's classes, which run from 7 p.m. to 9 p.m. on the first and third Tuesday of each month. Supplies for further printing endeavors can be purchased at
Chicago Silk Screen
(882 N. Milwaukee Ave.) or
Genesis Art Supply
(2417 N. Western Ave.), though you'll learn in class that much of what you'll need can also be made by hand. In Craven's own words, screenprinting can be "as DIY as you want."
Photo: © Stephanie Bassos, Groupon
BY: Will Landon
Will Landon is a Chicago-based writer who sings punk rock songs with the Blue Ribbon Glee Club and occasionally works for free as an assistant stage director.