Something New: Is a Custom Wedding Dress the Right Fit for You?
BY: Emily Wachowiak |
May 13, 2013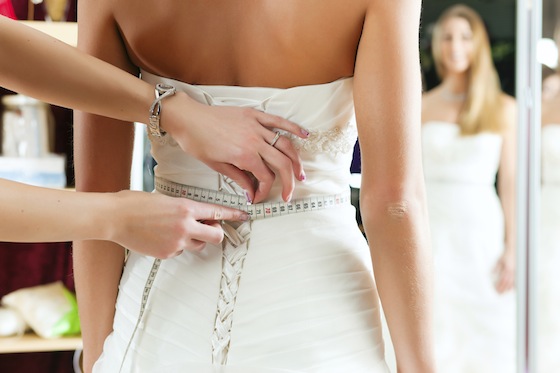 Don't call her a seamstress.
Julia Needlman
is a dressmaker. "[A seamstress] doesn't do anything but sew seams. I create things," she explains during our interview at her Ukrainian Village studio. Inheriting her name and talents from her great-grandfather, a Russian-born tailor, Needlman picked up a needle at the age of 6 and hasn't put it down since. Her specialty is wedding wear, and many brides come to her for custom creations. Needlman walked me through the custom-dress process and answered a lot of FAQs along the way.
What do I need to bring to my first visit with the dressmaker?
"Thirty adjectives," Needlman says, and she means it. She suggests brides share 30 words that describe themselves, their wedding, and even their fiancé. "I like to remember that this is connected to a whole family of people who have a relationship to this person already, and they want to see her as she is." In fact, Needleman recommends bringing friends and family along. "All of the people who are gonna have a say in this thing, bring 'em." Ideally those closest to you will share their honest opinions about what fabrics and styles make you look like you. And of course bring along any pictures that inspire you. Also good to have on hand: any shoes or accessories you know you want to wear and the knowledge of styles you've already tried on.
Can you make my dress look just like this picture?
Needlman warns that she often has to "talk people down" from the pictures they've brought in. Especially if it's a celebrity's red-carpet gown. "Those dresses are very different from what you think," she says. "They are sprayed on, stuck on, kept on," and can be quite painful to wear. They can also cost $30,000. Haute couture designers use rare, expensive fabrics that simply "don't exist" in the world of everyday dressmakers. Unless you have an unlimited budget, going in with down-to-earth expectations will streamline the entire process. That said, bringing in a photo can be helpful when used as a reference point. But be able to verbalize exactly what catches your fancy about a particular design. Two sets of eyes can see the world very differently.
How much is my custom wedding dress going to cost?
A college professor once told Needlman, "I can't spend $1,000 on a dress for one day." Needlman suggested she think of it a little differently: "You spend $1,000 on a class that teaches you how to see yourself and how other people see you, and then you get a dress at the end of it." Yes, a custom, made-from-scratch wedding dress starts at about $1,200, not including fabric, but this cost often includes extensive consultations, fittings, and a veil to boot—not to mention the crash course in self-discovery. You won't necessarily save money buying off the rack. Needlman regularly sees $300 gowns turn into $1,000 gowns after she's forced to alter nearly every stitch. "And there are such things as dresses that you buy that do not fit you that cannot be fit to you," she says. "The way you save money is to be conscientious about who you are and what you want in a real way, and then use [your] words as a map so that you don't make the mistake of choosing the wrong dress."
How long does the custom-dress process take?
Needlman spends about 40­–60 hours on each dress, but she prefers that it not be the 40­–60 hours before the wedding. Though she's had clients come to her a year in advance for an initial meeting, she says that four months is plenty.
What if I change my mind?
"You don't have something in hand when you have a custom; you have to go on faith," Needlman cautions. If the idea of not holding a finished product in your hand until several weeks before the wedding bugs you out, then a custom dress may not be for you. While the custom-dress process can be very collaborative and usually evolves along the way, trust and honesty are always paramount. You not only have to trust that the dressmaker will realize your vision, you also have to be truthful about what your vision actually is. On this subject Needman has very direct advice: "You don't lie to your doctor, and you don't lie to your dressmaker!"