Talking High Scores with Emporium Arcade Bar's Reigning Champions
BY: Tyler Clark |
Sep 6, 2013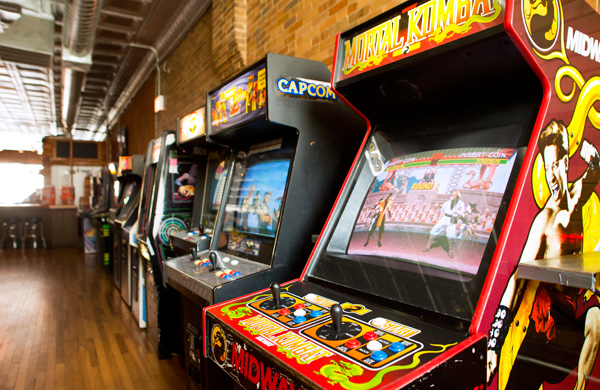 At Wicker Park's
Emporium Arcade Bar
, an enormous chalkboard keeps tabs on the high scores for 20 classic arcade games. The numbers are staggering. Some scores spiral effortlessly into the millions, untouched by erasers since the day they were written. The players behind these scores, however, are hardly impressed by their own efforts. For them, it's all just part of the job.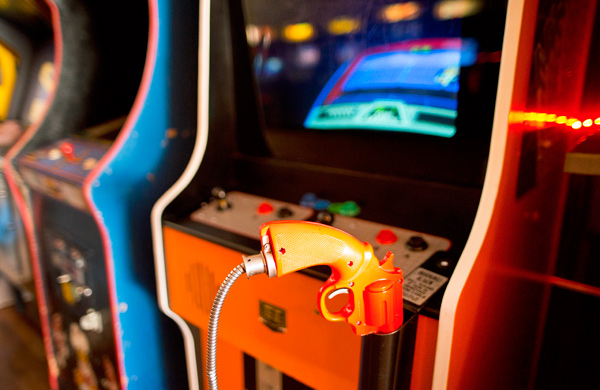 Ben Lenet: Light-Gun Sharpshooter
High Scores:
Duck Hunt
, 675,200;
Hogan's Alley
, 160,800 Light guns are finicky, difficult to aim, and slow to register. But in the hands of Ben Lenet, 28, they become precision weapons. The current record holder for both
Duck Hunt
and
Hogan's Alley
, Lenet doesn't boast the gaming pedigree you'd expect from a double-threat sharpshooter. "I had never played either game before Emporium opened," he admits. "I was never a big video-game guy. I used to go to Navy Pier every once in awhile when they still had that arcade up on the third floor, but even then I was more into athletic games like Pop-A-Shot." Lenet's hand-eye coordination didn't suffer from a lack of childhood practice. Within a week of his first visit to Emporium, he had snagged the high score on
Duck Hunt
. Soon, he even found himself embroiled in a faceless rivalry. "There was a period of time when I was going back and forth with some other guy I've never met. We kept one-upping each other. I'd come in and ask, 'Has he been here? Did he take my score?,' and the owners would say, 'We've gotta get you two together because you both come in and ask about the other person.'"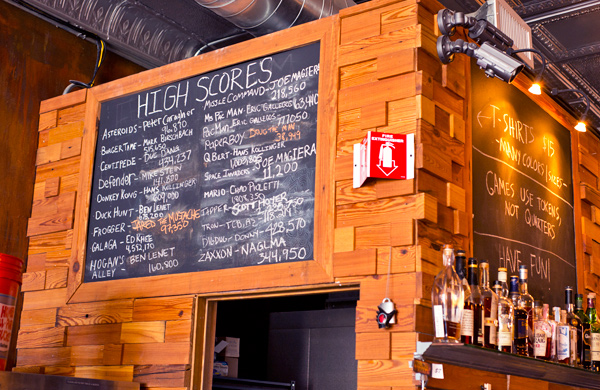 Finally, Lenet had a breakthrough. He racked up his current high score on the first quarter of the night. His rival conceded, and Lenet claimed sole possession of the record. The
Hogan's Alley
record soon followed, making Lenet one of just three two-time record holders on Emporium's leader board. Still, he's humble about his accomplishments. "People will say, 'Oh, you're the high scorer! Let me watch you play,' and it's like, you're going to be so thoroughly disappointed. I'm not doing trick shots; I just don't miss a lot. It's interesting for about 30 seconds, and then it's horribly boring." If replicated under approved settings, Lenet's current
Duck Hunt
score would place him second on the world-record list at
Twin Galaxies
, the gaming world's online hall of records. But he balks when discussing a move to claim first place. "When I put up 675,000, I was like, 'I wonder what the world record is?' I looked it up. … I was basically two-thirds of the way there. And then I was like, 'This is the dumbest, most life-wasting pursuit that I could possibly rationalize. This will consume your life.'"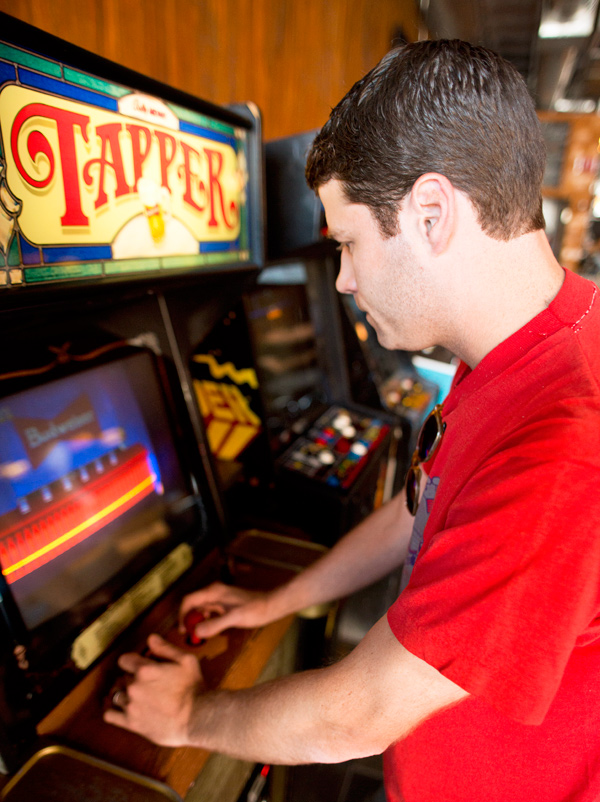 Scott Hoyer: Virtual Bartender
High Score:
Tapper
, 2,235,750
Tapper
is the quintessential Chicago arcade game. Developed in 1983 by the city's own Bally Midway, the game puts players in the shoes of a put-upon bartender tasked with slinging brews to an endless barrage of customers. Despite
Tapper
's
Windy City connections, an Ohio import is Emporium's king of the virtual draft handles. Growing up in Akron in the 1980s, Scott Hoyer, 34, used trips to the arcade with his older brother to take his mind off the despair of being a Browns, Cavaliers, and Indians fan. "Back in the late '80s, arcades were seedy places," he explains. "I'm 12 years old, in this place at 10 o'clock at night with my brother because our parents are out of town or something, and everybody's just chain-smoking. I thought that was so cool—the seedy underbelly of the gaming world. All the other kids were going to Chuck E. Cheese's, and I was like, 'Nah, man, I want to play the arcade games. The real ones.'" The game whose record he now holds wasn't among those "real ones." Hoyer's appreciation for
Tapper
came later, once he unlocked the secret to putting up seven-digit scores. "It's really an auditory thing. You have to hear the game. … I've played it when it's packed in here, and it's almost impossible." Once he cracked the code, it was only a matter of endurance. Hoyer notes that, unlike many games from the same era,
Tapper
doesn't feature a "kill screen"—a programming error that renders the game unplayable after a set number of levels. Theoretically, the game could go on forever; for Hoyer, four hours was long enough. Although he's currently retired, Hoyer still touts
Tapper
as one of the Emporium's most underrated games. He also keeps tabs on his fellow players' accomplishments. "The guy who has the
Galaga
high score is ridiculous. It's actually close to the world record. That's a hard game, and his score's untouchable."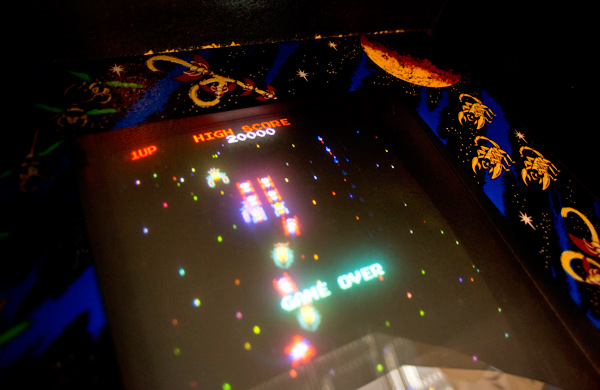 Ed Rhee: The Galaxy's Greatest Hope
High Score:
Galaga
(Marathon settings), 4,592,170 According to Twin Galaxies,
4,525,150 is the current world record
for
Galaga
on Tournament settings. It's a record that leaves little room for error—Tournament settings give players only five ships with which to amass millions of points. It's also a record that Ed Rhee, 32, has in his sights. "I'm very, very sure I could beat it," Rhee says, and he has the practice to prove it. Although his score of 4,592,170 was achieved on a machine configured to Marathon settings (which grants players extra ships for every 70,000 points until they reach 1,000,000), he earned it with the five-ship limit in mind. He's contacted Twin Galaxies and Emporium's owners for information on how to configure a machine for a verifiable world-record attempt. The Chicago barcade scene may have its first true master. A Twin Galaxies world record would be the culmination of Rhee's decades-long love of
Galaga
's elegant space combat. After all, it was the game, which Rhee found in a grocery store in his hometown of Chattanooga, Tennessee, that acted as the gateway to all other arcade games. "I was probably 5 or 6. … This store had a couple of games, but
Galaga
was the one that seemed the most popular at the time. I just started watching everyone play—started watching to see what they were doing." "One guy in particular was really, really good," Rhee remembers. "He was by far the champion at the grocery store. He took me under his wing a little bit. He ended up showing me how to play. He was probably in his teens or early 20s, but I thought he was 50. They all seemed so old." Before long, Rhee was routinely beating his teacher—a fact that didn't sit well with the older man. Betrayal was swift and disgusting. "I didn't know what he was doing at the time, but he was dipping as he was playing. He had a big chew in and would spit the dip juice into a cup. I was like, 'Hey, what's that?,' because it smelled kind of minty to me. And he was like, 'Why don't you try some?' He basically tricked me into drinking dip juice when I was 8. So this guy, needless to say, was not happy that I was beating all of his records." Although he wouldn't find another regular outlet for his space-combat skills until Emporium opened, Rhee picked up right where he left off. "If you're really good at something like that, you never really lose it. I remember sitting down at a
Galaga
machine 10 or 15 years later, and [I] pretty much scored the same." His feelings about Emporium's place in Chicago's gaming community strike a similar tone. For Rhee, the barcade is a kind of time machine, helping gamers of all stripes reawaken the awe and amazement of childhood. "I think a lot of people are embracing that more than they want to admit."
Photo: © Timothy Burkhart, Groupon
BY: Tyler Clark
Tyler is a writer, storyteller, and musician from Chicago. His stories have appeared on stage at shows including Mortified, Story Club, and Lethal Poetry.