The Candid Concierge: Josh A. Johnson of the Hard Rock Hotel Chicago
BY: Melanie Faetz |
Jul 16, 2013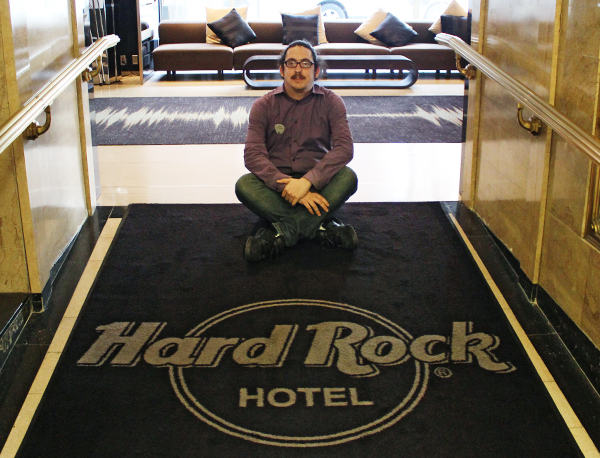 Chicago's professional restaurant recommenders—hotel concierges—reveal where they actually spend their hard-earned cash.
Tennessee transplant Josh A. Johnson has worked at the
Hard Rock Hotel
since he moved to Chicago in 2008. Through a lot of exploration and eavesdropping, he's achieved near-native familiarity with the city's dining scene—from its signature sandwiches to its most gourmet alley offerings. It's unlikely that many Chicago tourists ask Josh for recommendations on good southern food when they visit his desk, so they never hear the name of his personal favorite place to eat in the city:
Honky Tonk Barbeque
in Pilsen. "I love the place," he says. "Their fried green tomatoes are like, well, I'm from the South, so it can be hard to find fried green tomatoes [in Chicago], or even just green tomatoes in general. They have a really good hot link as well. Pretty much everything is delicious. And I like the atmosphere—it's got a real honky-tonk, old rustic feel, with country music [playing]. A little neighborhood gem." On the topic of Chicago-style food, he says, "If I could put
Al's Beef
on a
Portillo's
bun, that would be like the ultimate sandwich." He prefers the beef at Al's because "it usually has a little bit of a kick to it, even if you don't get any peppers." But in his opinion, Al's buns just don't pull their weight. "The meat has so much juice that the bun doesn't hold up. At Portillo's, you can dip [the sandwich], and it still holds up through the last bite—which is key when you're eating a large sandwich. You can't have your bun falling apart. It makes a mess." If you're looking for the opposite of slop, Josh suggests
Henri
. "It is probably one of the most quaint, nice, romantic spots I've been to. It's the only place I've ever been where they ironed my tablecloth before I sat down. They ironed it in front of me—with a portable iron."
EL Ideas
bridges the gap between elevated cuisine and casual atmosphere by offering what Josh claims to be the coolest dining experience he's ever had both in the city and in his life. "It's in an alley at 14th and Western. You'd never know it was there; it's all by word of mouth. There are only 18 seats. The chefs prepare anything from a 12- to 16-course meal, the menu always changes, and it's BYOB, which is super cool. It can be kind of hard to get a reservation; but [once you're there], the cool thing is that it's very personable. There are only three chefs and a dishwasher, and they like, invite you into the kitchen—a big, open kitchen. They'll teach you how to plate the food. They encourage you to take pictures. They'll even let you serve the food if you want. It's just a very unique dining experience. It's almost like you're eating dinner with a bunch of friends." The one thing Josh hasn't been able to find in Chicago, not even in the alleys or on the fire escapes, is good sweet tea. Stop by his concierge desk if you have any suggestions.
BY: Melanie Faetz
Guide Staff Writer
Friendly but generally nervous 20-something who prefers to be holding a cold beer so that she can blame her sweaty palms on the condensation.