The Gold Web's Revolution Will Be Televised and Full of Feathers
BY: Tyler Clark |
Feb 28, 2014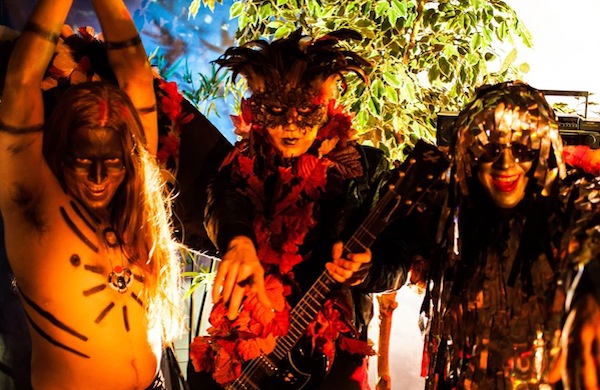 Fear not, stranger. The feather-coiffed and foliage-draped men of The Gold Web come in peace and would like to take you on a musical journey.
Saying that Chicago's
The Gold Web
is hard to classify is like saying that the wind off of Lake Michigan has been a little chilly this winter. Take the above photo, for instance: in it, the band's three garishly costumed members stand leering against a backdrop that looks like a nightmare rear-ended a community theater's prop room. Cloaked in fake foliage, face paint, and feathers, frontman Max Perenchio beckons with an outstretched hand, pulling viewers in with a magnetic stare that raises more questions than it answers.
Where are we going? Will we be safe once we get there? Will we ever want to leave?
Musically, things are a little clearer—and even more irresistible. Trafficking in a brand of off-kilter pop marked by burbling synths and rump-shaking beats, the band populates its
SoundCloud page
with songs that sound like a forced breeding experiment between an Animal Collective album and a Passion Pit cassette tape. "Stay Cool" is the clear standout: a product of the summer heat, the song's slow-mo tempo and repeated urgings to "stay cool" make it the perfect jingle for an air-conditioning ad. It probably wouldn't sound too shabby blasting from an open car window on Lake Shore Drive, either. With their upcoming appearance at the
Double Door
, The Gold Web is bound to earn some converts to their gospel of warm-weather vibin'. At the very least, they'll knock the boring right out of a mundane Thursday. Whether they're grinning demons from the plane of elemental psychedelia or just three local guys who know their way around a killer hook, that's a pretty admirable goal. (Thursday, March 6, at 8:30 p.m. $5;
buy tickets here
)
Watch the music video for "Stay Cool":
BY: Tyler Clark
Tyler is a writer, storyteller, and musician from Chicago. His stories have appeared on stage at shows including Mortified, Story Club, and Lethal Poetry.