The Hunt for the Great IPA at Avondale's Beer Temple
BY: ALISON HAMM | 6.21.2013 |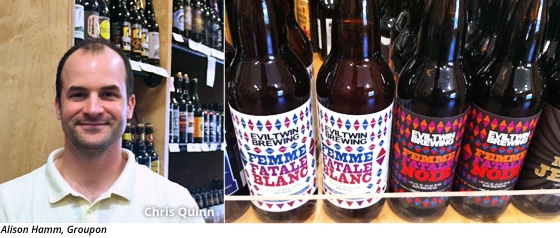 Chris Quinn breathes beer. He seriously would if he could. During his recent taste test of top-rated IPAs in cans, he said he'd make an air freshener out of Alchemist Heady Topper if science could catch up with him. That's all just part of his quest to drink and share great beer.
After a lot of swishing and sniffing—he likens Heady Topper to a lemon tart or a tropical scent like papaya—he takes a taste, visibly swirling the beer around in his mouth. "It's so interesting," he said. "It's so hop-forward. It's very mildly bitter as well, which makes it highly drinkable."
Chris, a certified cicerone (aka beer wizard), runs his search from The Beer Temple, a craft-beer shop he opened this year on the corner of Elston, Belmont, and California Avenues. On a sunny afternoon, light pours in through the front windows, bouncing off bottle after bottle.
When I visited The Beer Temple recently, Chris gave me a taste of Heady Topper, which some have called the best in the world. Chris doesn't act like a man whose search is over, though. He's still tasting beers and preaching what he knows in his ongoing series of web episodes (he's now up to nearly 200 episodes). And of course, he's always tasting and sharing beers at the store. In fact, on the afternoon I visited, a man from Michigan stopped in with a six-pack for Chris. As with the Heady Topper, Chris will end up sharing these beers with customers, who he described as "a nice mix of locals, regulars, and out-of-towners."
The neighborhood has been incredibly welcoming and excited about his shop, Chris explained. When I first moved to Chicago in 2008, barely a block away from where The Beer Temple now stands, I wish he'd been there. I probably would have drank significantly less Modelo. Here's what Chris had to say about a few of the IPAs he's found on his search:
Pipeworks Ninja vs. Unicorn Double IPA | Chicago, Illinois
Great for those who want to stay local with their IPA choice: Pipeworks' small-batch brews are made on Western Avenue. Before Chris had much to say about this one, a customer walked up to the counter eyeballing it: "Is this one for sale, man?" Not sure if it was the ninja or the unicorn that lured him in, but he left happy.
[Read our Q&A with the Pipeworks founders.]
Oskar Blues Deviant Dale's IPA | Longmont, Colorado
Deviant Dale's is Chris' favorite, it seems (other than a Bell's Two Hearted from Michigan). "It's a little different," he said, with aggressive hops and what he called a "chive flavor"—which could also be described as a garlic or onion flavor, but he finds that saying "chive" sounds better.
Ballast Point Sculpin IPA | San Diego, California
Chris is a big fan of these West Coast–style IPAs. "They're all about the hops," he said. The Sculpin IPA was the gold-medal winner in the World Beer Cup 2010 in the International Pale Ale category. Chris described this one as "hop-forward, aggressively bitter, dry, and citrusy."
Stone Sublimely Self-Righteous Black IPA | Escondido, California
Almost the color of a porter, black IPAs aren't as heavy as they appear. Yep, it's still bitter and hop-forward, and this one is what Chris said you should expect from a black IPA—typical hoppiness with just a hint of porter flavor. Or, as Stone puts it on its website: "Its bitterness hits our sweet spot. Its blackness lightens our hearts. Its liquid dichotomy pulls it all together in this sublimely sacrosanct ale." In other words, it's sublimely self-righteous.
Flying Dog Raging Bitch Belgian IPA | Frederick, Maryland
"Very Belgian and very IPA," Chris said as he plopped a six-pack of Raging Bitch on the counter. According to Chris, this means it balances out the yeast flavors typical of Belgians with the expected IPA characteristics. (For something so well-balanced, it makes me wonder why it's so angry.)
Evil Twin Femme Fatale Blanc | Mount Pleasant, South Carolina
Evil Twin, a gypsy brewer, followed in the footsteps of its beer-making brother, Mikkeller. With roots in Copenhagen, Evil Twin makes the concoctions at other breweries around the world (hence the gypsy-brewing title). This particular beer was made at South Carolina's Westbrook Brewing Co. It's also a brett IPA, meaning it's made with brettanomyces, a funky wild yeast. Chris described it as an "earthier, bone-dry" IPA—and though that sounded just fine and all, I admit that I left the store with a bottle of this one mostly because of the gypsy-brewer story. (And what lady wouldn't want to drink an IPA called Femme Fatale? I mean, duh.)
[Read our chat with Evil Twin owner Jeppe Jarnit-Bjergsø about imperial stouts.]
The Beer Temple is located at 3185 N. Elston Ave. and is open Tuesdays–Saturdays from 11 a.m. to 8 p.m. and Sundays from noon to 5 p.m. There's free parking behind the building.
BY: Alison Hamm
Guide Staff Writer
Alison would rather interview a chef or food blogger than actually cook. She never says no to a Hamm's Beer on special.