Tips for Moms-to-Be from Chi Baby Concierge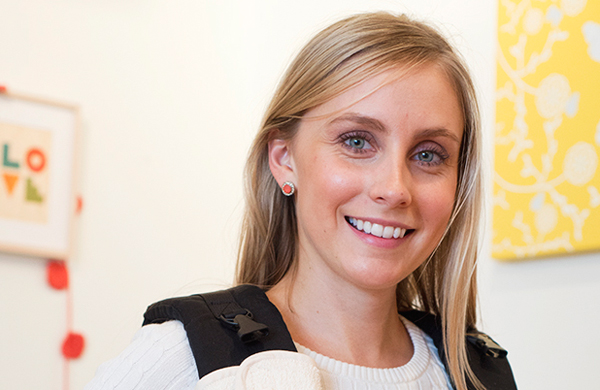 Though you can estimate your due date and line your pockets with spare pacifiers, one truism applies to every baby's arrival: there will be surprises. That's why an increasing number of moms and dads in the city have been turning to baby concierges such as
Chi Baby Concierge
, founded by Jessica Foch (pictured). These businesses prep parents-to-be for the lifestyle changes that come with an infant, providing services from product recommendations to childcare referrals. As an expectant mama myself, I was especially curious about how a concierge could ease the transition into parenthood. I met with Jessica at organic children's boutique 
Sprout San Francisco
(1943 W. Division Ave.) where she shared her tips and favorite products to ready your home and yourself for a newborn.
On getting started:
Most concierges have a basic starter package that covers registry planning, nursery design, and a home safety assessment. At Chi Baby Concierge, Jessica meets with each family to develop a personalized plan.
On fitting a nursery in limited space: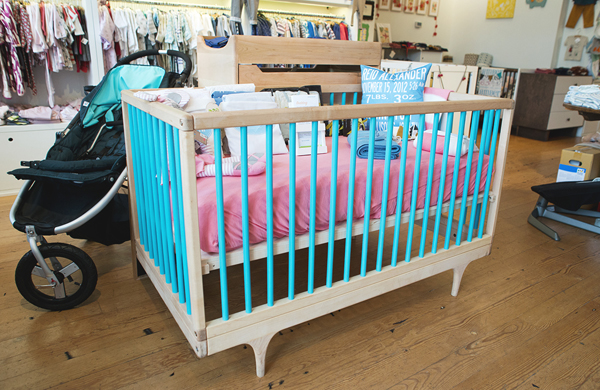 Opt for sleek, modern furniture like the caravan crib pictured above ($895 at Sprout San Francisco)—it's more compact, and gives the room a streamlined look. "Low-profile cribs are a great way to keep a space open and airy," Jessica says. Wall-mounted changing tables free up the floor, and collapsible items such as pack-n-plays and toy-storage bins are key.
On going eco- and baby-friendly:
"When doing a childproofing assessment, one of the things I always look at are the cleaning products," Jessica says. A passionate adherent of living green, she uses "old-school" products on her own home, including vinegar, water, borax, and castile soap recipes. And, though she understands that you can't go all-natural all the time, she says that an organic mattress is a must. Her pick: the Naturepedic lightweight series starting at $259.
On her favorite products for expectant and new moms: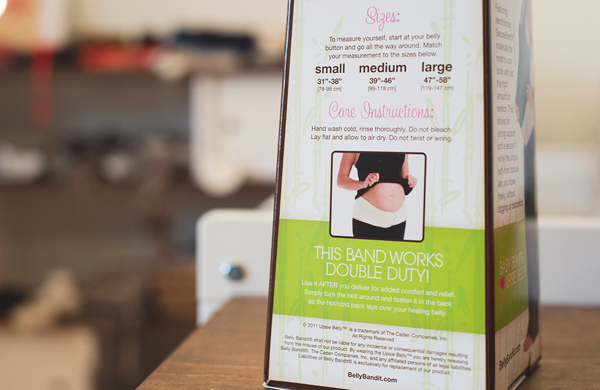 Upsie Belly
 (pictured): A support band for your belly that helps minimize stretch marks and supplies back, hip, and leg support. It's even beneficial after a delivery—fastening it in the back allows the hot/cold pack to soothe your healing tummy.
Signature hands-free pumping bra
by Simple Wishes: An adjustable bra that enables multitasking while pumping. The B3 All-In-One (for nursing and pumping) made its debut at this year's ABC Kids Expo, and is set to come out in January 2014.
Beco Gemini baby carrier
: Jessica's favorite baby carrier accommodates a baby's many stages of growth. A thick fold-down pad provides newborns with plenty of neck support, while hip- and back-carrying options make toting a toddler more comfortable.
On overcoming common challenges:
Many new moms struggle with breast feeding. Jessica mentioned some local lactation consultants, and then added (with envy-worthy perspective): "If a weight is lifted from using a bottle of formula, then just roll with it." She also emphasized the importance of developing a habitual nighttime routine. However, the most reassuring thing that she told this mom-to-be was this: "Your little baby already knows you and loves you, so remain calm and think logically about what the baby needs. At the end of the day, they're just little versions of us, and need the same things we do—sleep, food, a bath, clean clothes, and tons of love."
Photos: © Timothy Burkhart, Groupon