What Should You Really Put on a Baby Registry?
BY: AIMEE ALGAS ALKER | 6.30.2014 |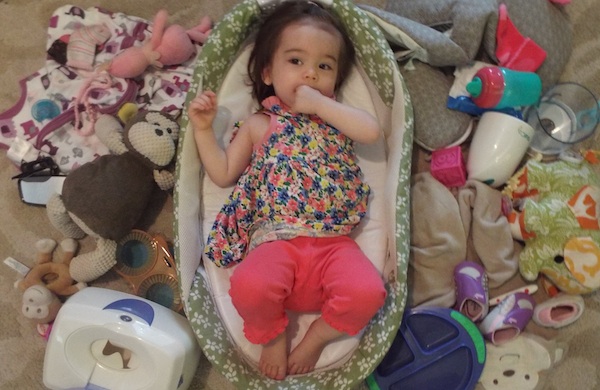 Almost 18 months after my child was born, I still have a shelf's worth of unopened baby items. With the tags still on. And they're all things I registered for.
Building a baby registry can be overwhelming (diapers cost how much?!?), confounding (what's the difference between a swaddler and a swaddle blanket?), and exasperating (pee pee shields ... really?). Some items—car seat, footie pajamas, stroller—are things you'll clearly need. But do you really need a Pack 'n Play and a bassinet? What about a wipes warmer? (Spoiler alert: no.)
So what should you register for? To find out, we polled actual moms and dads from Groupon as well as our Facebook parenting groups, and they gave us the rundown on what you—and your kid—really need.
ADD THESE TO YOUR LIST NOW
Rock 'n Play
Far and away, moms lauded the Rock 'n Play. It's a bassinet and swing all in one. Also, baby sleeps inside it at an incline, which is helpful for those with gas and acid reflux. Best of all, it's at bed height, so it can double as a sidecar co-sleeper in those first few months. Any item that knocks three others off the list is a MUST.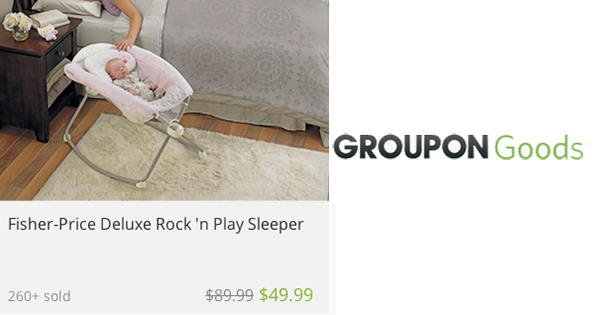 Video monitor
Though a few parents were meh about the monitor, many loved it because it saved them from hovering at the door trying to decipher the urgency of their kid's cries. My husband was amazed by the fact that he could look into the monitor to see if the pee-detecting stripe on our daughter's diaper had changed colors. Technology for the win!
iTunes/Google Play gift cards
From Facebook mom Andrea: "There are so many apps I used that helped me get through the first year, and while you can find free ones, the paid apps are worth the cost ... but they add up." Useful downloads include: feeding and health trackers, auto-readers for Dr. Seuss books, and TV shows to quiet a crabby kid in restaurants.
Pack 'n Play
For us, this was an invaluable piece of gear. She napped in it in the living room during the day, and it also functioned as a first-floor diaper-changing station. Now that she's older, she plays in it while I'm cooking and can't keep close watch. We've used it as a travel crib, too. "It's also a great catch-all for kid clutter when cleaning up for guests," says one Facebook dad.
Honorable mentions:
NoseFrida: This works way better than the rubber bulb for clearing little nostrils.
Baby Einstein Take Along Tunes: The lights and noise distract and calm little ones, and the classical piano music never gets annoying.
White-noise machine: Baby will sleep like a metaphorical baby, and not like an actual one.
Breast-feeding supplies: A Boppy or other pillow, lanolin ointment or gel pads for soreness, nursing pads for leaks, and a double-electric pump (if your insurance doesn't cover it).
Aden & Anais swaddle blankets: Light and airy, with an open weave, they're easy to swaddle with and very breathable.
Car-seat cover for winter: Since it's unsafe for babies to wear heavy coats in the car seat, this keeps them warm on chilly days.
YOU WILL NEVER USE THESE THINGS. SERIOUSLY. NEVER.
Baby food processor, food mill, food steamer, or any other appliance designed specifically for baby food
I made the mistake of registering for a baby food steamer because it had a cute little smiley face on it. I used it twice. After that, I steamed veggies on the stovetop or in my rice cooker. When puréeing foods for your little one's first meals, your grownup food processor, immersion blender, or potato masher will work just fine.
This category includes freezer trays made specifically for baby food. One Groupon dad never used his for their intended purpose: "I now use them for large ice cubes for cocktails."
Fancy clothes; newborn clothes that go over the head (rather than snap on); anything with buttons
"Nobody wants to deal with a button-down shirt for a tiny baby," says Facebook mom Meaghan. And guiding a shirt over a newborn's wobbly, delicate head can be nerve-wracking. If you have an event coming up, the baby might need special-occasion clothes, but as Meaghan declares, "PJs and comfy clothes are the way to go."
Changing table
Facebook mom Adrianna thought she was saving space when she got a crib/changing table combo, but the reality is, you end up changing a kid's diaper anyplace that's handy. A changing pad atop a dresser works just as well as a changing table, and so does a changing pad atop the floor, the couch, or even the coffee table.
Shoes
Is there anything less purposeful than putting shoes on an infant? As one mom put it: "So cute but not worth cramming them on." Also, they always, always, always get lost. We bought little socks that had shoes printed on them, like these from Trumpette. They stay on really well and still fit.
Wipes warmer
"They dry them out." "They get cold as soon as you pull them out of the container." That's just a sampling of the arguments against a wipes warmer, which I admittedly have and used, but only because my sister (who is not a mom) thought it was unimaginable that we didn't have one. My child now keeps her infant shoes in it; it's one of her favorite toys.
Honorable mentions:
Baby bathtubs: It's much easier on your back to bathe baby in the sink.
Receiving blankets: Even if you don't register for them, you'll get them by the truckload and still only use one or two.
Pacifiers, pacifier accessories: Some babies never use them. Mine gnaws on the handle.
Pacifier wipes, high-chair wipes, toy wipes: You don't need a different wipe for everything; regular baby wipes are good enough.
YOU SHOULD PROBABLY WAIT AND SEE
Bumbo, and other similar baby seats
We loved our Bumbo chair so much we got one for my mom to use at home, which she never did. But for us, it functioned mostly as a high chair—we didn't really do much else with it. Another caveat: those deliciously chunky baby thighs. Mom Adrianna was excited to use hers, but never did: "He was too chubby for it."
Wrap, carrier, or other baby-wearing gear
Some moms say they couldn't survive the first year without them, as it allowed them to keep their hands free while their baby napped or snuggled against them. Groupon mom Jinah says, "This was the only way to get my husband to 'multi-task,' which is a necessary skill when you become a parent."
Others feel they're more trouble than they're worth, especially the type that require you to wrap swathes of fabric around yourself. As Andrea says, "Cooking, cleaning, forget about it. You still have a baby in front of you. I ran into stuff all the time because I misjudged the distance between me and said object."
Reusable diapers
I was gung-ho about using nondisposable diapers, until the baby came and I realized I'd rather sleep than do all that laundry. Wait to see how your schedule shakes out; you can always find another way to shrink your carbon footprint.
High chair/feeding chair
There are so many feeding-chair configurations that it's worth it to wait and see how you'll use it. We got a standalone high chair as a hand-me-down, but my husband and I rarely eat in our dining room. When we do, we use a clip-on high chair that also travels well.
BY: Aimee Algas Alker
Guide Staff Writer
Though Aimee stays up to date on the latest food trends for the Guide, most of her meals are served cold and cut into tiny, toddler-sized bites.