GROUPON GUIDE TO WASHINGTON-DC
10 Crazy Pizza Creations, Ranked by Craziness
BY: Shannon Grilli |
Feb 27, 2015
With the growing popularity of hybrid foods, you'd be hard-pressed to find a popular dish that hasn't already been crossed with pizza—trust us, we tried. This raises the question: does pizza make everything better?
We've compiled 10 crazy pizza creations—ranked from least to most bizarre—that prove pizza is the most versatile food on the planet.
10. Falafel Pizza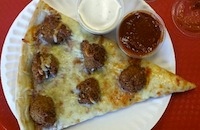 At Benjy's Kosher Dairy Pizza Restaurant & Sushi Bar in Flushing, NY

This mash-up of two classic street foods was described as "a delicious Middle Eastern-Italian fusion mess which any rabbi should approve of" by a reviewer at Serious Eats, who also recommended topping it with hummus or baba ganouj.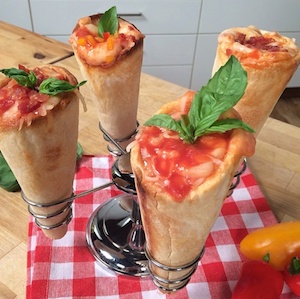 9. Pizza Cone
At Kono Pizza in Edison, NJ

With locations in Australia, Asia, and Europe, Kono Pizza and its signature pizza cones are old news to most of the world. Hungry Americans can only feed their curiosity about the handheld treat—pizza baked into the shape of a cone—at a single location in New Jersey, though the company has plans to expand. Pizza purists who balk at the pie's unorthodox shape should note the pizza cone was invented in Italy.
8. Pizza Pot Pie
At Chicago Pizza and Oven Grinder Co. in Chicago, IL

Chicago Pizza and Oven Grinder Co. has quite literally been dishing out pizza pot pies since 1972. Available in half-pound or 1-pound incarnations, the individual pies feature a stone crock filled with housemade sausage and sauce, whole mushrooms, and a blend of cheeses, which is then covered with a heaping mound of dough and baked. When the pie arrives at the table, servers turn it upside down and pry the bowl loose, resulting in a dish that is less like a pot pie and more like gooey pizza soup in a bread bowl.
7. Sushi Pizza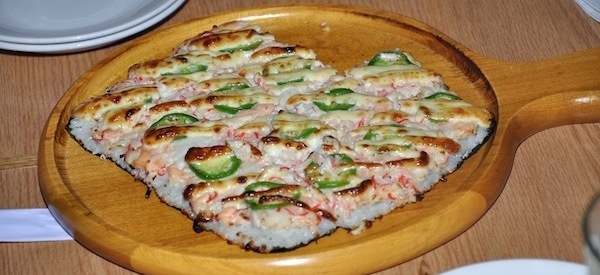 At Shokudo Japanese Restaurant & Bar in Honolulu, HI

Granted, the flavor profile of this inspired creation is more sushi than pizza. But the crazy pizza dish is sliced party-style and served on a wooden pizza board, so it certainly looks the part. Chefs start with a base of baked sushi rice, then pile on salmon, scallops, crab, onion, and jalapeños.
6. Pizza Donut
At Dough Exchange at Playground in Santa Ana, CA

Given the long-standing popularity of the pizza bagel, it's a bit of a head scratcher that the world has gone without pizza donuts for so long. The bakers at Dough Exchange start with a fried-to-order donut, then slather it with San Marzano tomato sauce, sprinkle it with mozzarella and fresh basil, and bake it to melty, donut-y perfection.
5. Pizza Beer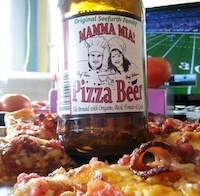 From Mamma Mia Pizza Beer (online only)

Mamma Mia Pizza Beer is the perfect solution for those who love to pair their pie with a cold one but hate to chew. The label on the bottle describes it as "ale brewed with oregano, basil, tomato, and garlic," but the company's website yields a more exciting description. According to its creators, the beer is made with a real margherita pizza, which is "put into the mash and steeped like a tea bag."
4. Pizza Cake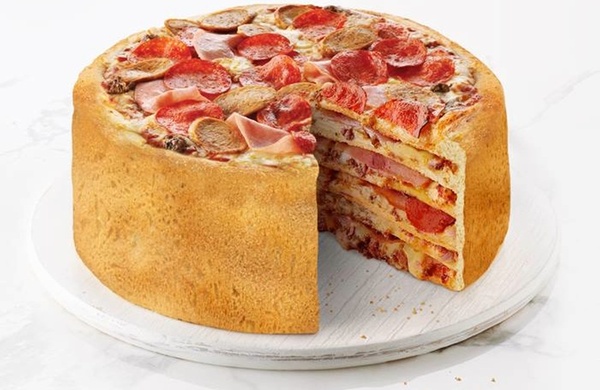 At Boston Pizza (various locations)

This Canadian chain caused quite a stir when it launched a competition for fans to vote on its next pizza-themed creation. The winner: the pizza cake, which features six pizzas stacked on top of one another, encased in an outer layer of dough, and topped with more cheese, pepperoni, ham, and sausage. While there's no word on whether the cake can actually be ordered from one of the pizzerias, the idea inspired many copycat pizza cakes, including this DIY version from Pillsbury.
3. Pizza Ice Cream
At Little Baby's Ice Cream in Philadelphia, PA

When you think about it, is eating pizza ice cream really so different from eating a slice of cold pizza? It may be in texture but certainly not in flavor or makeup. The savory ice cream—made from fresh cream blended with garlic, tomato paste, basil, and oregano—is certainly worthy of this list. However, it also inspired another (better?) pizza-centric creation. Which leads us to …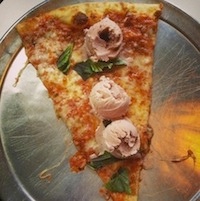 2. Pizza Taco
At Pizza Brain in Philadelphia, PA

Officially dubbed the Frankford Taco, this dish isn't a taco at all but simply a slice of pizza folded around a scoop of pizza-flavored ice cream and eaten like a taco. The invention is the genius idea of Pizza Brain, a so-called pizza museum, which happens to be located next door to Little Baby's Ice Cream.
1. Pizza Cinnamon Roll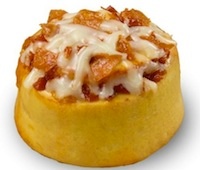 At Cinnabon (various locations)

Otherwise known as the pizzabon, this savory twist on the staple mall snack was only available at the chain's test kitchen in Atlanta, where it enjoyed a limited run in 2012 before disappearing forever. The size of a minibon, it featured classic Cinnabon dough (sans cinnamon and sugar, of course) rolled up with sauce, cheese, and pepperoni.
Falafel pizza image by Chopsticks+Marrow; pizza-cone image by Kona Pizza; sushi-pizza image by Kyle Nishioka; pizza-beer image by Mamma Mia Pizza Beer; pizza-cake images by Boston Pizza; pizza-taco image by Danya Henninger; pizza-roll image by Cinnabon
Take a look at how other familiar eats have been transformed: